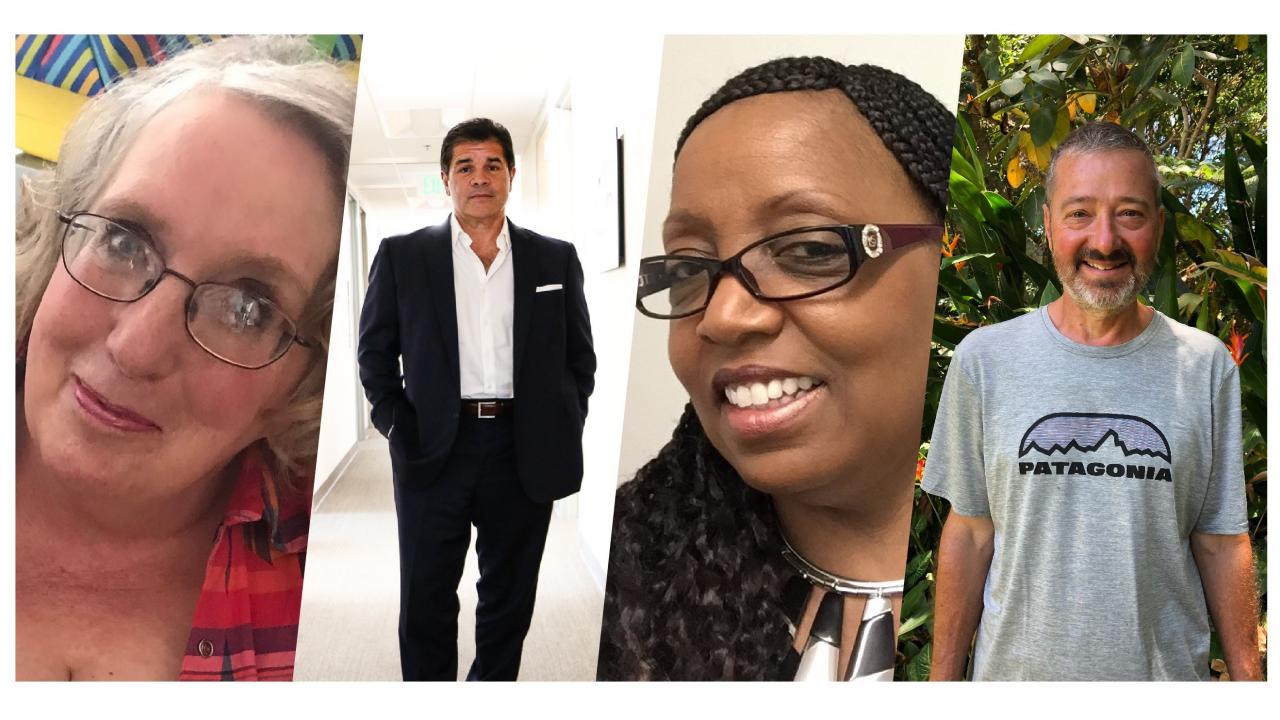 Celebrating Over 1400 Years of Service
This year, FOA bid farewell to 58 employees. We thank each retiree for their commitment and dedication to making the university a better place. They deserve our congratulations for their hard-earned achievements and we wish them health and happiness in all their endeavors!
Cary Avery

Grounds and Landscape Services- 34 years: Cary spent his entire career at UC Davis with Grounds and Landscape Services. His first job was maintaining the Chancellor's residence landscape. Since then he's been a landscape supervisor, grounds superintendent and the associate director. He says he misses the wonderful people he worked with the most. He's enjoying retirement on a two acre farm in Kauai, HI where he is focusing on sustainable and healthy living.

 

 
It's tough to see Jan, but she's hard at work behind the desk she transformed for Halloween in 2017.

Janice Basson

Shared Services Center - 19 years: Janice is wrapping up 19 years at UC Davis. She says her arrival at UC Davis is proof of the saying "when a door closes, God opens a window." She says she arrived at UC Davis during a low point in her life. It started as Blank Assistant 2 in Compensation in 2000, eventually becoming one of the original members of the Live Scan background check program. Janice says she's eternally grateful for her time on campus. She says she'll miss all of the friends she's made along the way, including the ones she made on the phone and on email. Janice says she plans to spend retirement chauffeuring her teenage granddaughter to and from after school activities, visiting her sister and Colorado and she might even rescue a dog or two.
Victor Bognot

Facilities Management - 19 years: Too hot? Too cold? For nearly a decade it was Victor's job to keep many of us as comfortable as possible by remotely monitoring and controlling heating and air conditioning in over 150 buildings. Before that he spent 11 years on campus as a technician installing and maintaining building HVAC systems. While part of his job was to react to employee requests about an office or building needing a thermostat adjustment, Victor could also fix HVAC issues before UC Davis employees, students and even animals would notice problems. While he could see how an entire building's HVAC system is performing, Victor said the technicians who make the actual HVAC repairs are just as important and the teamwork between he and the technicians shared is something he's always enjoyed. 


 
Cliff Contreras

Transportation and Parking Services - 33 years: Contreras, who after 33 years working with UC Davis (2 years with UC Davis Medical Center and 31 years on the main campus) retired back in June. In his tenure, he held three titles including manager, associate director and his longest and most recent, director. Contreras reflects on what he enjoyed most while working with UC Davis.

"I've enjoyed the people the most at TAPS, both staff and students, who I consider my family away from home. I've been fortunate to work with a lot of talented people, some of whom have developed and transitioned into larger roles within the department. I'm looking forward to spending time with my family and visiting my son, who is a Lieutenant in the Air Force living in Colorado Springs. My wife has also recently retired and we're planning on spending some time together in Spain, seeing the countryside and exploring her family roots."
Linda Fairfield

Human Resources - 37 years: Linda started at UC Davis as a temp, doing administrative work in Vet Med.  Her first job title was Sr. Typist Clerk A.  She went on to hold many different roles in Human Resources including in the areas of collective bargaining, employee and labor relations, office management, and executive support to the Associate Vice Chancellor.  Since 2007, Linda and her team recruited executive-level positions reporting directly to the Chancellor and to the Provost and Executive Vice Chancellor. According to Linda, "I enjoyed interacting and problem-solving with senior administrators, faculty, staff and students and my job allows me to do that! I was proud our team provided a "red-carpet" experience for all of our hires."

 
Philip Haman

Design & Construction Management - 18 years: Philip was a part of several capital improvement projects during his time on campus. He said while each project had their own challenges, the people he worked with rallied to solve any issue as a team. Philip says he'll miss his time at DCM, which he describes as a close-knit team that had a nice blend of professionalism, fun and team play.
Denise Eileen Jones

FOA Business Partners - 18 years: Denise retired from UC Davis after 18 years on campus that began as a temporary employee for Operations and Maintenance in May of 2001. She also worked for Facilities Management until 2013 before spending the last six years with FOA Business Partners.

 

 
Nina Mansfield

Real Estate Services - 13 years: Nina began her time at UC Davis in Resource Management and Planning. In 2007, she moved to Real Estate Services and held the titles of Lease Administrator and Home Loan Coordinator. She says she loved her 13 years at UC Davis and will miss the people she met along the way the most.

 
Bradley Rutherford

Fleet Services - 36 years: Bradley spent his entire time at UC Davis as an automotive technician for Fleet Services, which when he started, was known as the Central Garage. He says he always found the job rewarding and that he was constantly learning new skills. He says the best part of his 36 years on campus were the people he worked with. He'll miss them the most as well as the "awesome" barbecues Fleet Services held. 


 
Gerry Westcott 

Environmental Health and Safety - 32 years:
From April's Chemical and Laboratory Safety Committee newsletter:
"After 32 years with the University of California, it is time for me to begin a new life adventure commonly known as "retirement." My wife and I have many plans with a few of them involving me working around the house and a number of them with my toes in the sand.

"In my roles over the years serving as campus Radiation Safety Officer, IACUC Administrator, Controlled Substance Program Administrator, and EH&S Research Safety Manager, I have been extremely fortunate to work with a countless number of talented and brilliant faculty, staff, and students. My life's work was to support teaching and research and help our community continuously improve our culture of safety.

"The UC Davis safety culture and research laboratory safety programs have, in my opinion, significantly improved since 1986. We (research community, EH&S and IACUC staff, Departmental Safety Coordinators) have achieved this success by working together and supporting each other as one UC Davis.

"I would like to express my honest gratitude to all my colleagues for your commitment to improving our culture of safety. Nothing would have been possible without everyone's support, hard work, and dedication. I am a bit sad because I am going to miss working with the research community. Well, the truth be told, the sadness may significantly diminish upon receiving that first tropical beverage. Good luck and best wishes to all of you. I look forward to reading all about the UC Davis research breakthroughs and successes in the future."
Also Retiring in 2019
Name
Department
Years of Service
John Alarcon
Facilities Management
25 years
David Armer
Facilities Management
30 years
Tamara Ann Bennett
Design and Construction Management
6 years
Bruce Boles 
Facilities Management
23 years
Inez Brewington
Facilities Management
19 years

Scott Browne 

Facilities Management
38 years
Jennifer Calori
Design and Construction Management
22 years
Michael Cardenas
Facilities Management
21 years
Karam Chand
Facilities Management
16 years
Crystyn Chase
Safety Services

16 years

Dave Dickson
Grounds and Landscape Services
37 years
Thomas Estes
Budget and Institutional Analysis
37 years
Scott Futymoski
Transportation and Parking Services
25 years
Sally Gagnon
Facilities Management
11 years
Cindy Gibson
Design and Construction Management
25 years
Manuel Guerrero
Police Department
10 years
Kevin Halfacre
Supply Chain Management
33 years
Byron Hendrick
Facilities Management
22 years
Jesse Hoadley
Facilities Management
35 years
Ray Holguin
Police Department
19 years
Sandi Joerger
Shared Services Organization
8 years
Arnold Johnson
Facilities Management
13 years
Cindy Jones
Payroll Services
37 years
Richard Keating (See how Aggie Surplus celebrated
 Richard's time on campus)
Facilities Management
44 years 
Robert Klimper
Facilities Management
20 years
Anthony Lentino
Facilities Management
19 years
E.D. Mains
Facilities Management
32 years
Laurie Malicki
Supply Chain Management
5 years
Morgan Meier
Design and Construction Management
18 years 
Allison Mitchell
Capitol and Space Planning
30 years
Raymond Nakatani
Supply Chain Management
8 years
Annamalali Natarajan
Budget and Institutional Analysis
18 years
Steven Neri
 Design and Construction Management
37 years
Jeff Page
Facilities Management
22 years
Diane Plocher 
Accounting and Financial Services 
40 years
Lewis Pollock
Facilities Management
17 years
Alice Provost
 Academic & Staff Assistance Program
13 years
Aurelio Reveles
Supply Chain Management
32 years
Maxine Rogers
 Human Resources
13 years
Steve Roth
Human Resources
28 years
Eric Rothgarn
Budget and Institutional Analysis
38 years
Roy Saldana
Facilities Management
32 years
Michael Sebastian
Facilities Management
33 years
Kathleen Smith
Human Resources
38 years
David Stiles
Fire Department
34 years
Theodore Tauzer
Supply Chain Management
19 years
Mark Tingley
Police Department
5 years
Freddy Torres
Facilities Management
23 years
Theresa White
 Facilities Management
29 years
Jerome Williams
Administrative IT
24 years
Jay Yang
Facilities Management
22 years
Winston Young
Facilities Management
25 years
Category
Tags