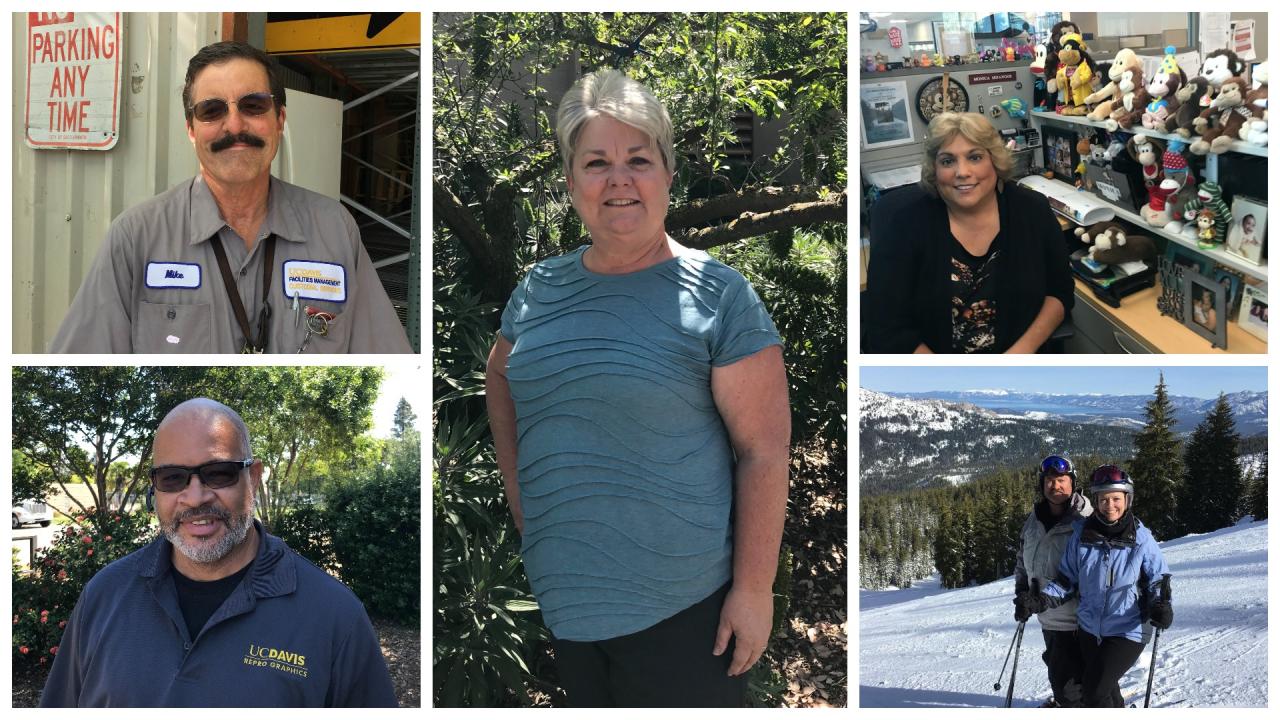 Celebrating Over 800 Years of Service
Thank you and congratulations to our 2018 Retirees! Take a look at the stories recognizing the service and dedication of our retiring employees.
Barbara Ashby
Human Resources - 28 years - Barbara came to UC Davis in 1984 for graduate school and never left. In 1990, she was hired as the first campus Child Care Coordinator and since 2005, she has managed the WorkLife and Wellness program - providing resources that enable employees and students to be effective at work, school and home. Barbara is essentially the "mother" of the university Breastfeeding Support Program and for her, "being part of such a diverse and dynamic academic community inspires me to be curious, creative, resourceful and innovative." Barbara is looking forward to moving to the Midwest to be near her children and grandchildren, to continue her Reiki practice, take up birding, and travel with her husband.
Jennifer Garcia
Police Department, 24 years - After 24 years of service, Jennifer retires as the Captain of Police of the UC Davis Police Department. Jennifer started her career at UC Davis in 1994 in the department's emergency Police and Fire dispatch center. From there, she worked her way up through ranks to where she is now, serving as the second in command to the Chief of Police. Her favorite part of working for UC Davis has been "the tremendous people [she works] with." Jennifer is also looking forward to the next chapter in her life, which will include "volunteering, gardening, playing guitar and spending lots of time with [her] hairy beasties."
Dwayne Ginn
Repro Graphics, 26 years - Dwayne retires as a Courier for the Repro Graphics shipping department after 26 years of service. Prior to working in Repro Graphics, Dwayne worked in the warehouse at the UC Davis Medical Center for 3 ½ years. Going into retirement, Dwayne will miss the great relationships that he has fostered with his coworkers and clients, as well as his day to day routine at Reprographics.
Kerie Holck
Repro Graphics, 40 years - Following 40 years of service at UC Davis, Kerie retires as a Client Services Representative. Prior to working in Repro Graphics, Kerie started her career at UC Davis in the Physical Education Department. Her favorite thing about her job is "working with clients and helping their vision become a reality." Recently, Kerie was awarded with lifetime status as a certified graphics communications manager, which is the highest professional achievement that in-house printing managers can receive. In retirement, Kerie looks forward to spending time with her family.
Ric Howe
Distribution Services, 24 years - Ric celebrates 25 years at UC Davis, now retiring as a Senior Mail Processor. Throughout his time at the university, Ric has had the chance to meet a lot of wonderful people on campus, having built many business relationships that turned into great friendships over the years. His favorite thing about his job was getting to work at the same university as his mom, as well as being a part of a fantastic university and town as a whole.
Dale Makishima
Arboretum and Public Garden, 38 years - Dale has served as a groundskeeper for over 38 years. If you ever attended a major event on campus, Dale was there to help, wherever needed, with a level of customer service only he could provide. He takes great pride in helping with campus special events — in the past 38.5 years, he never missed a single Picnic Day (he worked a total of 39)! Dale is loved by many, always has a smile on his face and is widely admired for his positive attitude.
Alex Matsis
Administrative IT, 30 years - Alex has served UC Davis for 30 years, and will be retiring as an Information Technology Supervisor. In his role, Alex has most enjoyed learning new technologies and techniques that can be applied to projects and shared with his coworkers. In regard to some of his favorite memories at UC Davis, Alex recalls all the good times spent during TFGS Week: "It makes me realize that I am very fortunate to have worked for such a great organization, and very proud that I played a small part in contributing to UCD's overall mission."
Christine McUmber
Capital and Space Planning, 31 years - Following 31 years of UC service, Christine is retiring as the Director of Capital and Space Planning. Prior to the 17 years she spent at UC Davis, Christine spent over a decade working in the UC Office of the President. As for the favorite part of her job, Christine appreciates, "the collaboration with campus partners to achieve the best outcome for the university. Everybody really cares about this place." In retirement, Christine looks forward to pursuing new endeavors, and hopes that the future of UC Davis will satisfy the needs of both student and faculty growth.
Monica Mijanos
Supply Chain Management, 33 years - Monica recalls her first day at UC Davis — September 10, 1984 to be exact — in which she started at the university as a file clerk. Nearly 34 years later, Monica retires as a Procurement Analyst. The buyer says she will miss the people within her department the most, as well as the vendors she has met all over the country. In retirement, Monica is looking forward to "getting healthy, spending time with the grandkids, and taking trips with [her] husband," whom she met at UC Davis!
Lorraine Mowery
Operations Support, 20 years - Lorraine retires as a Facilities Management Specialist after 20 years at UC Davis. Prior to her current role, Lorraine worked at the Facilities Work Order Desk for 18 years. "To this day, it's the custodians and the people down at the custodial office that make my job fun each and every day," Lorraine said. "That's what I'm going to miss."
John Sorenson
Design and Construction Management, 24 years - After a 24-year long career at UC Davis, John is retiring as the Assistant Director of the Minor Cap Project Group at DCM. From his experience, John states that "there is no better place to have had a career than UCD, DCM. And that all comes down to the people that I have worked with and the common goal that we all share." John is appreciative for his time spent at UC Davis, thanks to his DCM colleagues, whom he refers to as his "DCM family."
Mike Tribble
Custodial Services, 38 years - Mike is retiring as a Storekeeper after working in Custodial Services for almost 39 years. In regard to what he enjoys most about his job, Mike says he'll miss the daily routine and driving all over campus every day the most. Although the work is physically demanding at times, Mike says that it "keeps [him] in good shape." In retirement, Mike is looking forward to spending time with his three grandkids and starting the next quarter of his life.
Also Retiring in 2018
Danne Brock Distribution Services - 15 years
Catherine Buscaglia Design and Construction Management - 18 years
Jeffrey Ching Environmental Health and Safety - 15 years
Elaine Fingerett Arboretum and Public Garden - 11 years
WATCH A VIDEO created by students Elaine mentored over her UC Davis career.
Betsy Fischer FOA Business Partners - 36 years
Mark Fortin Building Maintenance Services - 23 years
Pam Hofstad Design and Construction Management - 25 years
Michael McGuire Transportation Services - 36 years
Steven Parker Building Maintenance Services - 21 years
Garry Pflager Transportation Services - 9 years
Aurelio Reveles Reprographics - 30 years
Sandy Russo Accounting and Financial Services - 14 years
Holly Sochor Human Resources - 19 years
Katie Stevens Administrative IT - 37 years
Barry Swartwood Police Department - 35 years
Mark Tippetts FOA Business Partners - 29 years
Josie Vanta Accounting and Financial Services - 22 years
Barry Williams Environmental Health and Safety - 26 years
Ellen Zagory Arboretum and Public Garden - 33 years
Michael Griffith Arboretum and Public Garden - 29 years
Benie Contreras Custodial Services - 37 years
Category
Tags