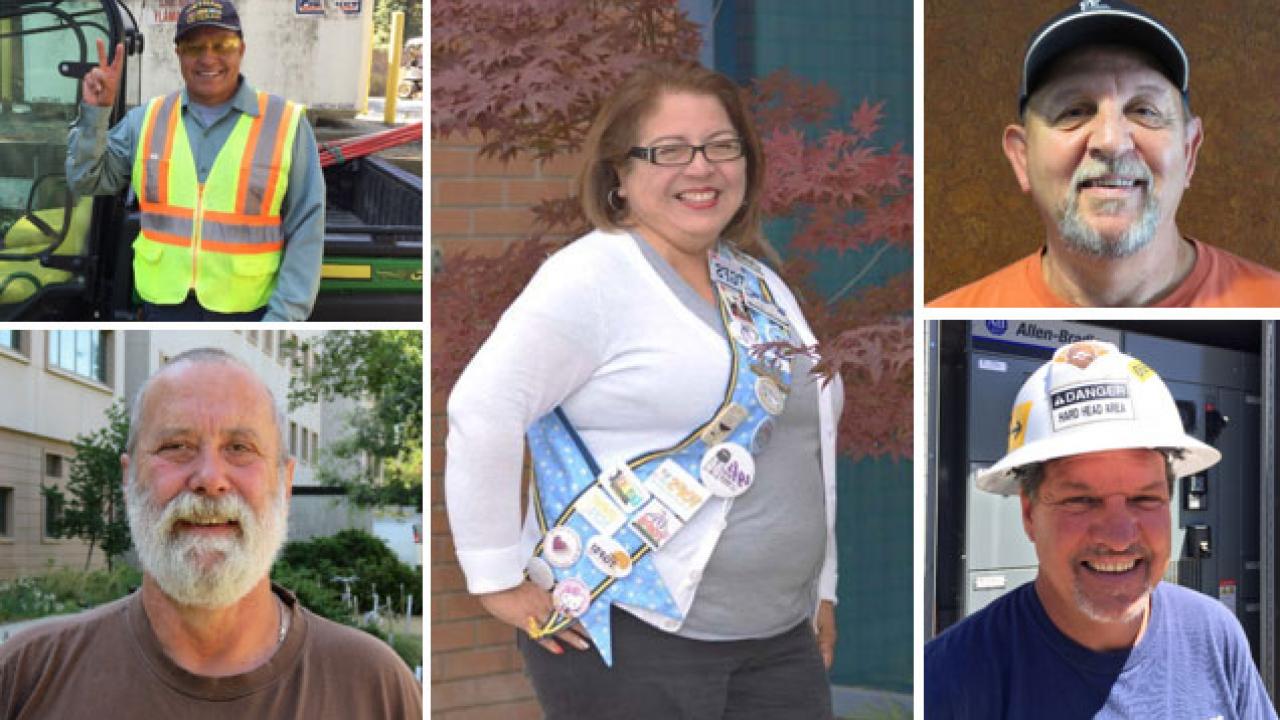 Celebrating Over 500 Years of Service
Thank you and congratulations to our 2017 Retirees! Take a look at our stories recognizing the service and dedication of our retiring employees.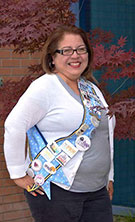 Maria Aguilera
Shared Services Center, 36 years - Maria has served UC Davis for 36 years and is retiring as a Finance and Accounts Payable Coordinator. She has worked for many departments, including Veterinary genetics, ANR, Office of Research, and Shared Services Center. Maria loves sharing time, knowledge, and experiences with her coworkers. She is also a TGFS Button collector; her coworker even created a sash to showcase the impressive collection!

Enrique Garcia
Grounds Services, 34 years - Enrique retires as an auto technician after serving UC Davis for 34 years. He is thankful for his coworkers and supervisors, and that he could "be his own boss" at work.

Gary Layton
Repro Graphics, 30 years - Gary retires as a Senior Repro Graphics Technician after serving UC Davis for 30 years. "He had great skill and knowledge in his field," his supervisor boasts, "he was dedicated and reliable, and the department will miss him." Gary is looking forward to a retirement filled with golf and time with his grandchildren.

Alex Martin
Accounting & Financial Services, 28 years - After 28 years of service at Contracting and Procurement services, Alex is "still amazed at UC Davis' breadth and magnitude in research and teaching, and its impact throughout our communities." He says that he will always remember the faces and names of people he has met at UC Davis.

Marion K. Randall
Human Resources, 30 years - Marion started out as the first female grounds supervisor, and is retiring as the Director of Operations at Human Resources. She has served UC Davis for 30 years, and is celebrating her retirement with a three month long RV road trip. She is always finding ways to make a difference while working with great colleagues. One of her favorite memories is doing the Macarena dance on the steps of Mrak Hall with the Vice Chancellor Administration. Marion will fondly miss her time at UC Davis -- there are too many great relationships and memorable experiences to count."

Jose Zendejas
Grounds Services, 11 years - Jose has been passionate about landscaping since early high school, and was already semi-retired at his own business when UC Davis took interest in his talent. He loved it here so much that he went from semi-retired to a full time landscaper for 11 years. He says his coworkers are there for him even outside of work. "They're all great people with great hearts, and hard workers as well," he explains. Every day, Jose sports his iconic Vietnam veteran hat - "The UC Davis community is amazing – sometimes students see my hat on campus and stop me just to thank me for my service."
Also Retiring in 2017
Alex Achimore Design and Construction Management - 18 years
Monica Beamish Building Maintenance Services - 16 years
Joseph Bigart Utilities - 24 years
Carol Buckinger Design and Construction Management - 17 years
Karen Casebeer Accounting & Financial Services – 18 years
Jay Chase Fleet Services - 32 years
Elijah Davis Accounting and Financial Services - 17 years
Diane Frost Accounting & Financial Services – 30 years
Armando Garcia Transportation & Parking Services – 20 years
Barbara Geisler Accounting & Financial Services – 19 years
Otilia Guzman Custodial Services – 16 years
Patricia Hodge Safety Services - 10 years
Pam McGuire Administrative IT - 5 years
Pamela Meyer Accounting and Financial Services - 28 years
Stephen "Skip" Mezger Grounds and Landscape Services - 18 years
Sandy Morgan Transportation & Parking Services – 27 years
Daniel Neff Design & Construction Management – 21 years
Vickie Palec Accounting and Financial Services - 19 years
Terri Planiden Transportation Services - 21 years
Raymond Roth Accounting and Financial Services - 9 years
Vanda Rovis Design & Construction Management – 18 years
William James Rumley Custodial Services - 17 years
Peter Schmidt Budget and Institutional Analysis - 10 years
Maya Sharma Custodial Services – 13 years
Patricia Stoffel Grounds Services – 18 years
Laura Townsley Shared Services Center – 18 years
Serafin Velasco Grounds Services – 17 years
Eric Whitehead Transportation & Parking Services – 28 years
Category
Tags