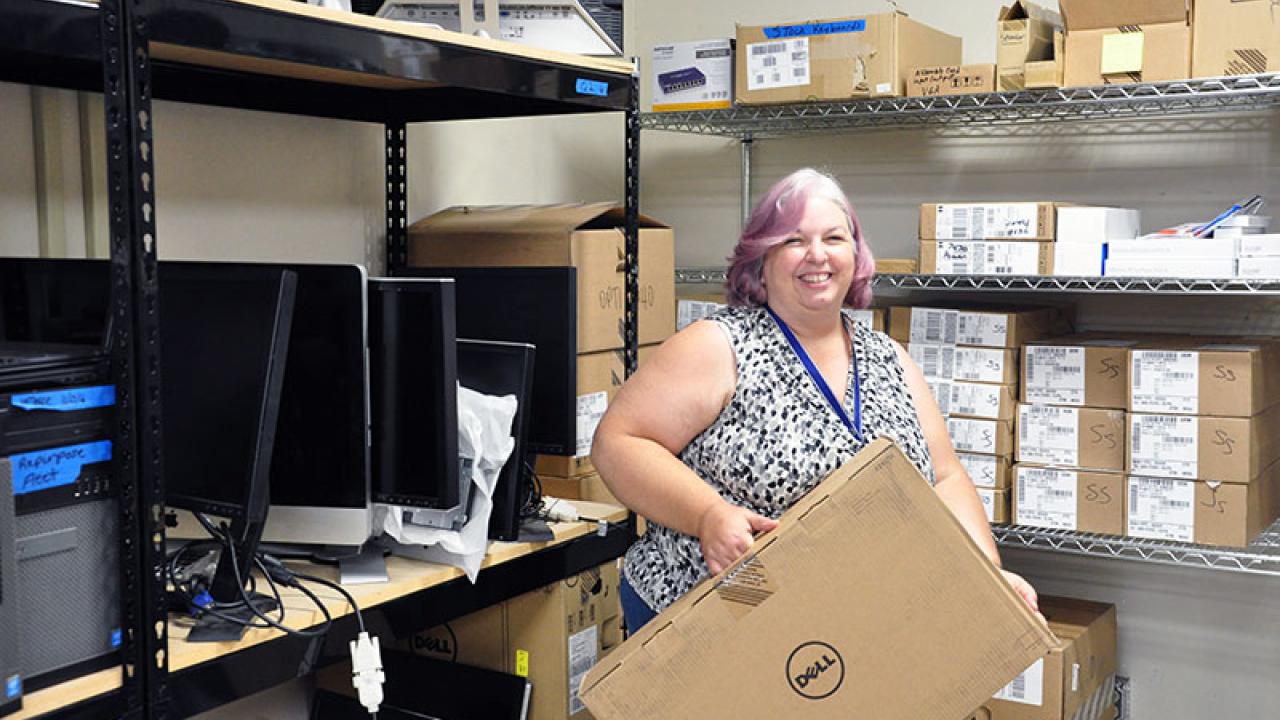 Administrative Computer Standards Program Recognized with 'Focus on Efficiency' Award
By Jennifer Eting
At the 2017 California Higher Education Collaborative Conference on October 23, UC Davis received the Focus on Efficiency award for the launch of the Administrative Computer Standards program. This initiative, focused on creating cost-saving computer standards, was a true campus-wide collaboration. It took the concerted efforts of Supply Chain Management, Office of Strategic Solutions (formerly Financial Sustainability) and the entire technology community to bring this longtime vision to reality. The award was presented by colleagues from all three California higher education systems, California State University, California Community Colleges and University of California, at an event to recognize innovations in operational performance, services and outcomes for California Public Higher Education.
Since the program launched in June, the campus has realized savings estimated at more than half a million dollars ($553K as of November 9, 2017) – and that number is expected to grow in coming months, and year over year, as more departments purchase computers under the negotiated rates of the Administrative Computer Standards program.
Strategic Solutions Director Hampton Sublett commented, "The implementation of this initiative exemplifies the impact we can have deep within departments across our campus when we come together to solve common problems."
The Focus on Efficiency award recognizes one of many campus-wide collaborations focused on increasing savings and revenue for UC Davis. To learn more, visit the Office of Strategic Solutions website. There are more than a dozen other initiatives that collectively are expected to bring in more than $20 million in savings and revenue within the next five years.
---
Jennifer Eting is Communication Manager for Change Initiatives with the Office of Finance, Operations and Administration
Bulk Purchasing Program to Save Big Money on Computers
New computer bulk purchasing program will help units save 34% on purchases this year
June 22, 2017
By Lindy Gervin
UC Davis has launched a bulk purchasing program for five desktop and laptop computer models — all Dell products — telling departments they can save about 34 percent over previous contract prices.
The program — which departments can use whether they are buying one computer or a dozen —could save both the Davis and Sacramento campuses a half-million dollars in its first year, officials said.
The campus IT community and the Financial Sustainability Initiative came together a year ago to explore the possibility of taking advantage of the university's buying power. The Administrative Computer Bulk Purchase project set standards for administrative computers to help identify the best models for bundled purchases.
The project team ended up negotiating reduced rates for two Dell desktops and three Dell laptops.
Administrative units buy more Dells than any other model, about 5,000 over the last year. But the campus also buys Hewlett-Packard and Lenovo computers, and Apple products, too — more than 200 models in all.
"Having this many models makes it difficult for the university to get the best pricing for computers," said Britany Duyanovich, a strategic sourcing manager with Supply Chain Management. "By coordinating better on purchasing, departments can get deeper discounts on new computers.
"This is a great opportunity for departments to save money. By planning ahead and identifying annual purchasing needs in advance, departments can provide more affordable, new and replacement computers."
While departments still have flexibility to purchase outside the bulk purchasing program, they will not generate the significant savings negotiated by the university's strategic sourcing team.
An added benefit of streamlining computer options is it creates a more simplified computing environment, allowing IT units across campus to handle desktop support requests quicker. With the hundreds of requests IT receives per day, improving service times is high on the list of IT priorities. IT will also be able to update or patch systems more quickly, which will reduce the risk of cybersecurity threats.
---
Lindy Gervin is a senior writer for the UC Davis Division of Finance, Operations and Administration, a unit with includes Procurement and Contracting Services.
Category
Tags