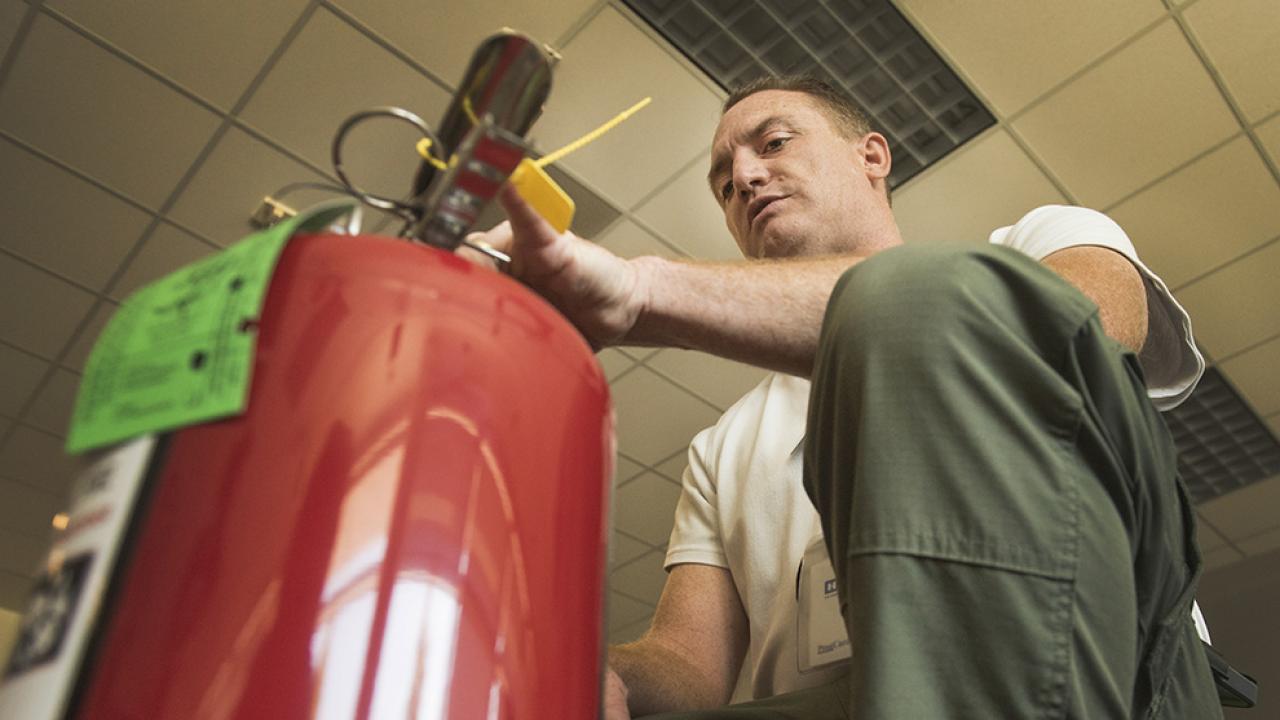 By Crystal O'Hara
Rocci Twitchell is a hot commodity, as UC Davis' fire extinguisher technician and training coordinator and as a newly inducted hall of famer in martial arts.
The Masters Hall of Fame induction ceremony took place in Hollywood, with a red carpet, movie stars, tuxedos and gowns.
The hall of fame chooses its members in recognition of their dedication to martial arts, their work in the community and their individual successes.
Twitchell founded Liahona Warrior Arts International in 1992. He has a studio in Citrus Heights, where he practices and teaches such martial arts as jeet kune do, pencak silat and muay thai. (He learned jeet kune do from Larry Hartsell, who studied under Bruce Lee.) He also teaches boxing.
On campus, Twitchell is responsible for inspecting the campus's more than 6,000 fire extinguishers and instructing people on how to use them. In addition, he is a self-defense instructor with the campus Police Department and assists with the department's Active Shooter Survival Workshops.
Twitchell said the self-assurance he's gained from his martial arts training is a valuable asset to his day job, which involves a significant amount of interaction with members of the campus community."It gives me a lot of self-confidence," he said. "Not cockiness, I don't ever want to be cocky, but I'm self-assured."
Restita DeJesus, a martial arts instructor in Seattle, nominated Twitchell for induction into the Masters Hall of Fame after visiting his Liahona Warrior Arts International studio. DeJesus, who serves as an ambassador for the Masters Hall of Fame organization, said she was impressed by Twitchell's dedication to his students and his commitment to one-on-one instruction.
"He's a quality coach not only in boxing but in the Filipino and Indonesian arts as well, and I could see the passion he had for his arts," DeJesus said.
Like many young people, Twitchell first took an interest in martial arts after being bullied as a teen. He then progressed to boxing, competing in the Amateur Boxing Federation, which included winning two gold medals and a silver in the Utah Summer Games.
"It's an individual sport," Twitchell said when asked what attracted him to boxing. "There's nobody else in the ring but you."
---
Crystal Ross O'Hara is a lead communications analyst with IT Services at UC Davis. IT Services supports Safety Services in its efforts to encourage a culture of safety in campus teaching and research. Safety Services is a unit of the Office of the Vice Chancellor and Chief Financial Officer.
Category