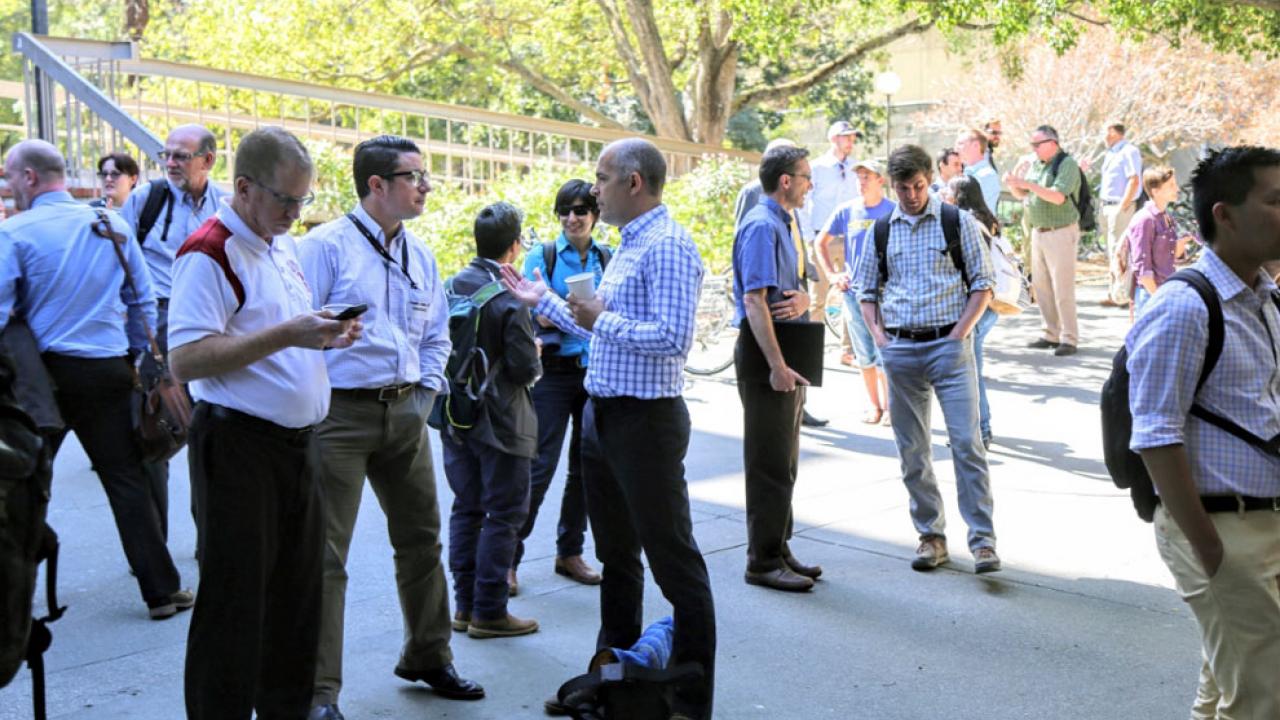 By Lauren Riebs
University energy leaders talk savings at UC Davis
On Sept 15, the Energy Conservation Office (ECO) held the first UC-wide Energy Summit UC Davis. The summit allowed energy managers from campuses throughout North America to network and share ideas, innovations and strategies to improve energy efficiency in campus buildings.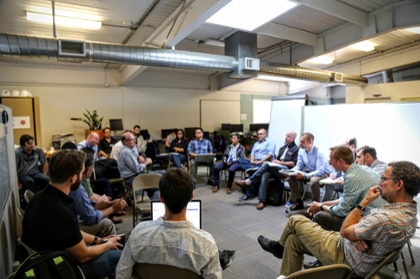 The summit resulted out of a call for more collaboration at this past June's California Higher Education Sustainability Conference. Allen Tollefson, Associate Vice Chancellor for Facilities Management and Joshua Morejohn, Energy Manager, proposed a separate, energy-focused event, inviting other energy professionals from campuses across California and beyond.
Over 40 people were in attendance, with representatives from UC Berkeley, UCLA, UC San Diego, UC San Francisco, UC Santa Cruz, UC Office of the President, Lawrence Berkeley National Laboratory, Stanford University and University of British Columbia, Vancouver. The Energy Efficiency Center on campus and several energy industry consultants also joined in the summit.
"Each campus is unique; they all face their own challenges," shared Morejohn, "But we can learn from each other's experiences and share knowledge to solve similar problems across universities."
Besides networking time and presentations on best practices from several campuses, the September Energy Summit consisted in two workshops:
The first workshop focused on finding energy savings using building control system data. Morejohn estimates that at least 50% of energy used on campus is related to heating, ventilation and air conditioning (HVAC) systems in buidings. Implementing software allows energy teams to quickly locate the source of problems in building HVAC control systems. Once these are identified, simple, often low-cost fixes can reduce energy waste across campus.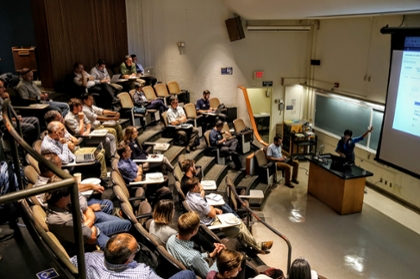 The second workshop covered measuring those savings once solutions have been implemented. Universities discussed what tools they use to report how much energy is saved through their efforts. Campus energy initiatives depend on accurate measurement of actual savings, since they can be treated as a revenue stream for the university and can funds teams of energy experts and further innovation. Existing building energy efficiency saved $500K in 2015 alone, cumulating to a total program savings of over $16M since 2009. Initial work in tuning building control systems shows an energy savings potential of 25% in many campus buildings.
Universities also had the opportunity to present some of their own campus projects and innovations. For example, the energy team from the University of British Columbia, Vancouver shared their innovative method of using campus Wi-Fi data to monitor which buildings on campus were occupied, rather than relying on expensive sensors in each room.
"We've established a network where we can continue the conversation," Morejohn shared. With multiple representatives present from each university, there was a lot of time to collaborate and discuss new approaches to energy conservation.  "We hope to continue meeting in order to solve new energy problems as they arise."
University Office of the President (UCOP) graciously offered to reimburse the costs of the summit, including room reservations, lunch and coffee. And though each university paid for their own time and travel to attend the summit, the number of participants illustrates their interest in collaboration and their commitment to creating energy efficient solutions on their university campuses.
The summit's success was echoed by all attendees. Leaders have already scheduled a subsequent summit to be held at UC Santa Cruz in early 2017. The topics for future summits have been discussed and set, Morejohn shares, including data warehousing and architecture best practices, and sharing analytics libraries and energy management team structures.