March 7, 2016
By Lauren Riebs
Near the end of January, the UC Davis Arboretum and Public Garden's Learning by Leading program hosted their first event to harvest the student-planted, educational-use fields west of the Student Farm. Thirty volunteers collected and donated 3,235 lbs of produce – roughly the weight of an average car or a Beluga whale!
The harvested fields were planted and taken care of by undergraduates enrolled in Professor Muhammad Marrush's Plant Sciences (PLS) 5, Plants for Garden, Orchard and Landscape. "The students come from all kinds of backgrounds, and grow up in cities where they don't necessarily get the opportunity to make a genuine connection to food and where it comes from," Marrush describes. "My hope is that this course and events like this will continue after I retire."
In the past, students were able to harvest the produce for personal use but it would often end up being more than needed. Through the efforts of a few conscientious and dedicated students, who ensured compliance with safety and liability regulations, all the edibles gleaned from the gardens were donated to the Yolo Food Bank.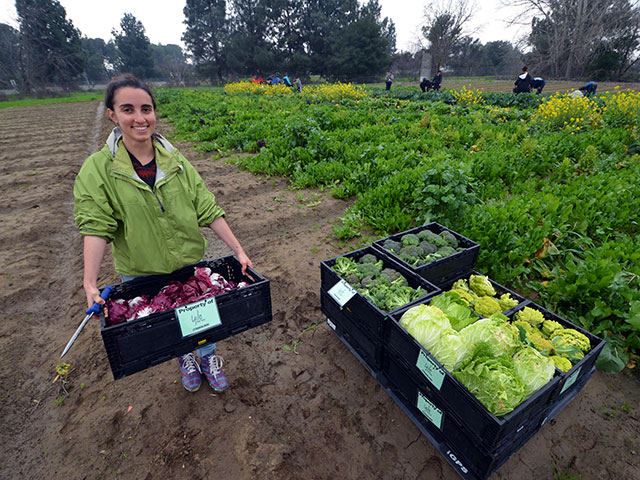 Student and community volunteers recruited by the Arboretum and Public Garden turned out and devoted three hours of their time to ensuring a beneficial home for the cultivated crops.
"Being out in the fields that Friday loading up crate after crate of beautiful radishes, cabbages, romanescos, and so many other vegetables felt so right," expressed Carli Hambley, Learning by Leading edible landscape co-coordinator and one of the students who helped develop and manage the event. "Finally, a university that talks so much about crops, food production, and food insecurity was able to provide some of this food out to the community surrounding it."
Even though the project had numerous obstacles to overcome in order to donate to the Yolo Food Bank, the students' hard work and diligence proved fruitful. In addition, many individuals and departments assisted in the process, including the Chancellor, Environmental Health and Safety, the Office of Environmental Stewardship and Sustainability, Risk Management, Contracts, the College of Agriculture and Environmental Sciences, Plant Sciences, the Student Farm, and Fresh Focus.
All the fresh produce, including broccoli, cabbage, garlic, kale, radishes, and parsley, was dispersed throughout Yolo County through Yolo Food Bank's various open distribution programs and made available to all 64 of the Food Bank's countrywide partner agencies.
"This donation was the culmination of a UC Davis student's persistence to help others and the relentless efforts of the Arboretum staff to follow through on it," said Josh Ellis, Volunteer Manager & Procurement Specialist at Yolo Food Bank. "This partnership perfectly reflects our objective to find more sustainable fresh produce resources within Yolo County."
The partnership will continue through Fresh Focus, a program launched by the ASUCD Pantry, an on campus student-run, student-served food bank. Fresh Focus will host more Student Farm harvesting events in the future and continue to donate produce to both the Yolo Food Bank and The Pantry.  
(All photos: Katie Hetrick/UC Davis)