By BreAnda Northcutt
October 1, 2015
The Center for the Built Environment (CBE) honored the UC Davis Student Community Center with the 2015 Livable Buildings Award for its design to value diversity and provide comfortable social and study space.
"The Student Community Center at UC Davis is a labor of love for so many students, staff and administrators," said Sheri Atkinson, director of the Student Community Center. "Receiving the CBE's Livable Buildings Award is such an honor and acknowledgment of all the hard work that went into creating a home away from home for our students." 
The 43,000 square foot building serves as a key hub on campus, housing student organizations, a computer lab, meeting rooms, study lounges, undergraduate research and graduate programs, and a student-run café.
"Having the chance to help create a building that directly impacts the daily lives and university experience of so many people has been one of the most rewarding and exciting opportunities," said Thomas Crowley, project architect with BAR Architects, the firm contracted to design the building. "Working with university members, student organization leaders and student representatives translated to a building that is not only safe, comfortable and eco-conscious but really a second home to so many people."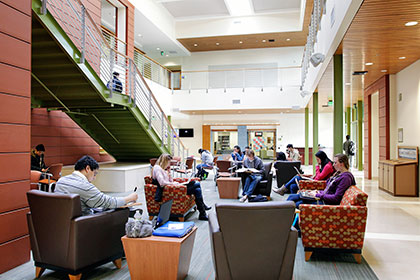 The $19 million project, funded with student-approved fees, was a collaboration of about a dozen groups, including three students who helped select the architect and fully participated in all phases of the project programming, design and construction as well as finish and furniture selection.
"This award is truly a reflection of the type of work the stakeholder programs and students in the Center develop every day: engaging in productive dialogue and community-consensus-building to create meaningful and enriching places where all feel welcome," explained Alfredo Arredondo, a former student member of the Project Advisory Committee
The award – unique among building industry awards for its focus on feedback from building occupants – recognizes the high levels of occupant satisfaction. Previous student services were unwelcoming and hard to find: hidden away in basements, back annexes or temporary structures.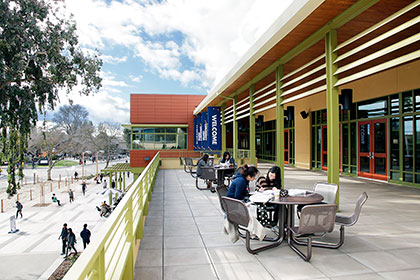 The Student Community Center building is a critical part of the university's master plan – making it the heart of a welcoming campus. The master plan features a pedestrian promenade through the campus core, from the main bus terminal to the Shields Library. Once fully complete, the master plan intends to connect the smaller Silo Student Union to the main Memorial Union and Quad, with buildings that serve student programs.
"The Student Center is a critical part of the master plan, serving as the heart of a promenade through campus core, centered around support of student success," said Clayton Halliday, campus architect and assistant vice chancellor of Design and Construction Management, a unit of the VC-CFO.
Prior to design, the project team led by Catherine Buscaglia with DCM collected feedback from occupants, learning about desires to have a building that reduced noise, provided natural light and offered more flexibility for ventilation. This lead to design that focused on operable and accessible windows, high quality acoustic ceiling tiles, daylighting and open spaces to provide a warm and inviting space for meeting and collaboration.
"We loved working with students to design a building tailored to their needs and concerns, providing features that maximize comfort, while still capturing top sustainability options to save energy, reduce water consumption and use more organic building materials," explained Camille Kirk, assistant director for Environmental Stewardship and Sustainability.
While designed for maximum comfort, experts were also able to build to the highest environmental standards, earning LEED Platinum certification from the U.S. Green Building Council.
Some sustainable features include: high-efficiency water fixtures, hydration stations on each floor to reduce bottled water use, construction waste diversion of more than 96 percent, programmable LED lighting, and much more.
For more information about other capital projects, visit the DCM Projects website.
---
BreAnda Northcutt is Communications Director for the Office of the Vice Chancellor and Chief Financial Officer, the organization responsible for the design, construction and maintenance of university buildings.