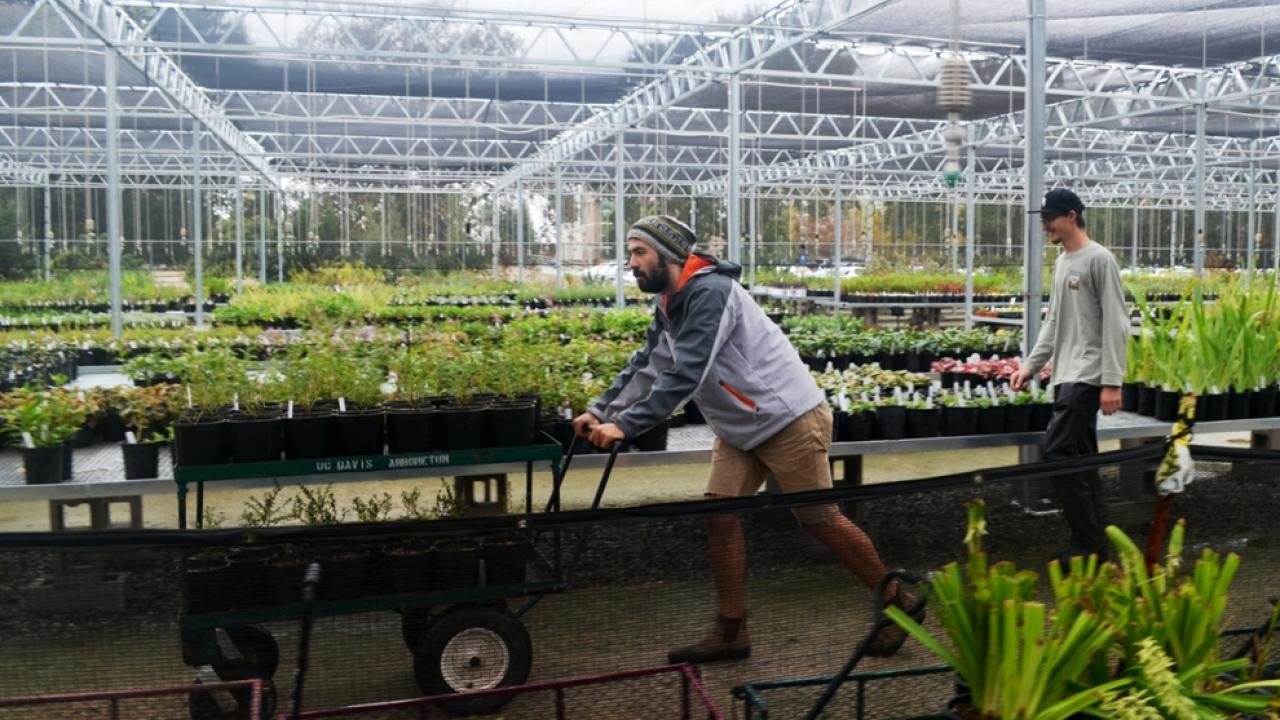 By Lauren Riebs
Tackling New Responsibilities as Plant Sales Near
In the face of challenging times, student employees in the Arboretum and Public Garden's Learning by Leading Nursery Program are stepping up the plate in preparation for one of their largest fundraisers.
After a recent surgical procedure, Nursery Manager Taylor Lewis was out on medical leave in the months leading up to the Friends of the UC Davis Arboretum and Public Garden's spring plant sale fundraisers. In his absence, Connal Hart, Jacob Siegler and other student employees are overseeing the preparations for the sales as well as taking full leadership of the nursery internship program.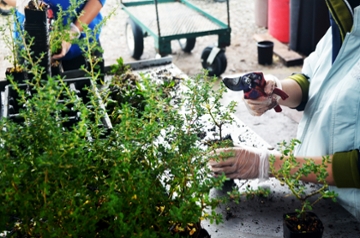 "It's an awesome opportunity - being able to design and direct a 10-15 intern program," said Siegler, a fourth year undergraduate, "I have so much respect for educators."
Every quarter, ten to fifteen interns volunteer at the Arboretum nursery, learning how to propagate and care for plants in preparation for the fall and spring plant sale fundraisers. After a year or more of care, these plants are then sold to the public. 
Siegler and Hart, co-coordinators and student employees in the Arboretum and Public Garden's Learning by Leading nursery internship, took on the additional role of planning and directing the intern program in Lewis' absence. In this new position, Siegler and Hart are the faces to whom the interns turn whenever in doubt.
"Taylor would always know what to do or where to go," said Hart, emphasizing Lewis' vast field experience, "He has the knowledge you only earn from 25 years of working with plants. As the student employees, we're the ones answering the questions from students and volunteers now."
"Assistant Nursery Manager Lisa Fowler was our rock in Taylor's absence," Siegler explains. "But we were ready for this challenge after working here for a few years. As a result of this experience I am much more confident in my abilities as a leader and a problem solver."
"Given the stormy weather last season, maintaining the nursery and its inventory was a tall order," says Fowler. "These two did an incredible job facilitating all the student work and taking on the repair of our damaged infrastructure. That's about as real world as it gets."
Thankfully, they had plenty of help staff, enthusiastic interns, and community volunteers – who consistently show up to help out and learn at the nursery, despite all the rain! While volunteers and students have always helped at the annual plant sales, this year's spring sale will really show off what they've learned in the process.
Be sure to check out the Friends of the UC Davis Arboretum and Public Garden's plant sale this season. A private sale is open to UC Davis affiliates-only on Thursday, April 20 from 3-6 p.m. and the last plant sale of the spring season is also their clearance, on Saturday, April 29 from 9 a.m. – 1 p.m.