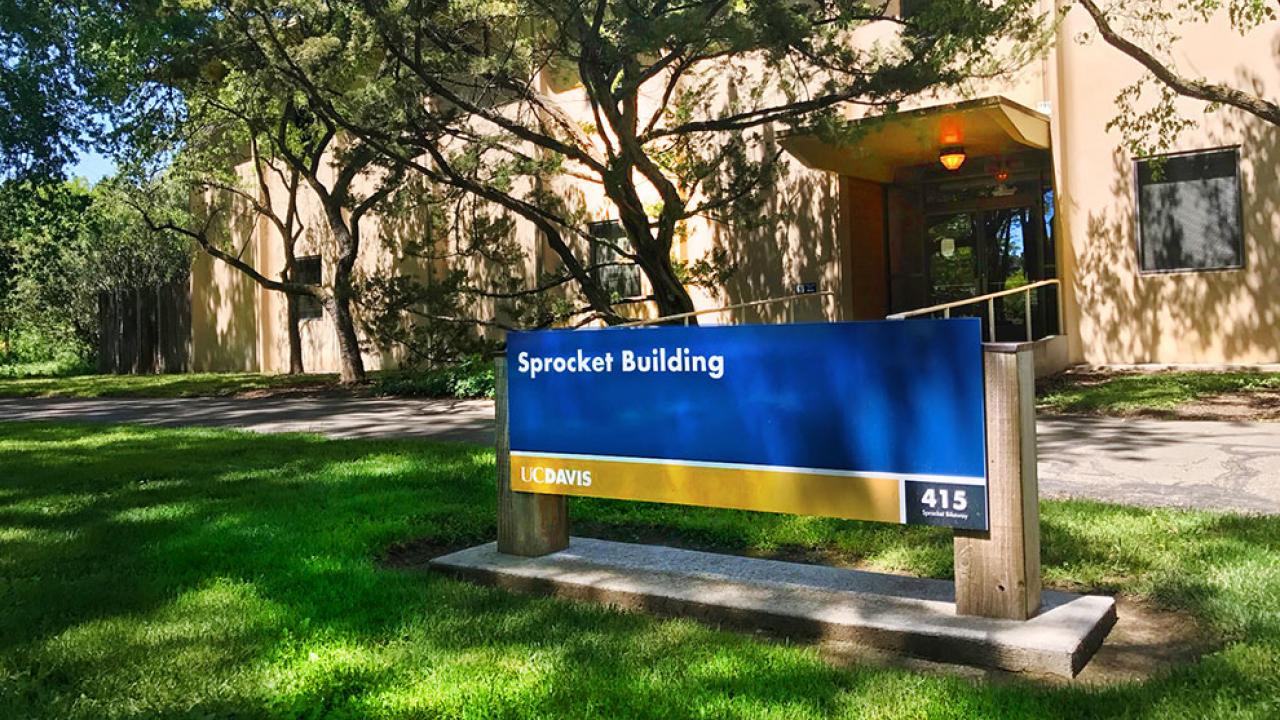 By Lauren Riebs
Campus Buildings Renamed Sprocket and Sprocket Annex
Since the Food Science and Technology department was relocated to the Robert Mondavi Institute in 2009, the old Food Science and Technology (FSTB) and Food Science and Sensory (FSS) buildings remained under-utilized and wrongly named. Located in the heart of campus, these two buildings are being renamed to Sprocket Building and Sprocket Annex respectively after the Sprocket bikeway path that travels past the buildings from California Ave to Parkway Circle.
"The campus is constantly growing," shared Rob Scharf, Facilities and Financial Analyst for College of Agricultural and Environmental Sciences, "It's important to ensure every building is best and fully utilized, no matter the department."
Sprocket Building, the new name for the building formerly known as Food Science and Technology, has an important history on the UC Davis campus. Originally built in 1964, the building was first home to the newly founded Environmental Toxicology department, officially inaugurated in 1968. In 1974, the department established the Environmental Toxicology undergraduate major, the very first of its kind in the world. As the department grew, the Environmental Toxicology moved to Meyer Hall.
Since then, Sprocket Building and Sprocket Annex, built later in 1980, have been home to a variety of programs and departments on campus such as the College of Agricultural and Environmental Sciences, Humanities, Arts and Cultural Studies, Human Ecology, Food Science and Technology and more.
"When I started working here, Sprocket Annex was being used to house mice and rats," remembers Scharf, "I would deliver clean rat cages and pick up dirty ones." With so many different uses over the years for the two buildings, the new name will hopefully work to avoid confusion for future residents.
In addition to the new name, the building is getting some renovations, too. One of the inhabitants of Sprocket Building since Fall 2016 – Humanities, Arts and Cultural Studies – are making some interior changes. Many of the rooms were set up as scientific labs, with heavy benches and industrial ventilation, and are now being converted to studios for design, textile arts, industrial design, and teaching spaces for the Departments of Cinema & Digital Media and Design.
"Originally a science building, Sprocket Building was not suitably set up for our needs," shares Karen Nofziger, Chief Administrative Officer for UC Davis Arts, "We hope these changes will make the space more flexible and comfortable for future residents of Sprocket, including students, faculty and staff." 
As the campus continues to expand and develop, Sprocket Building will be able to host a variety of units and departments for many more years to come.
--
Lauren Riebs is Student News Editor for the UC Davis Division of Finance, Operations and Administration, the unit responsible for capital and real estate, including the renaming of campus buildings and building signage