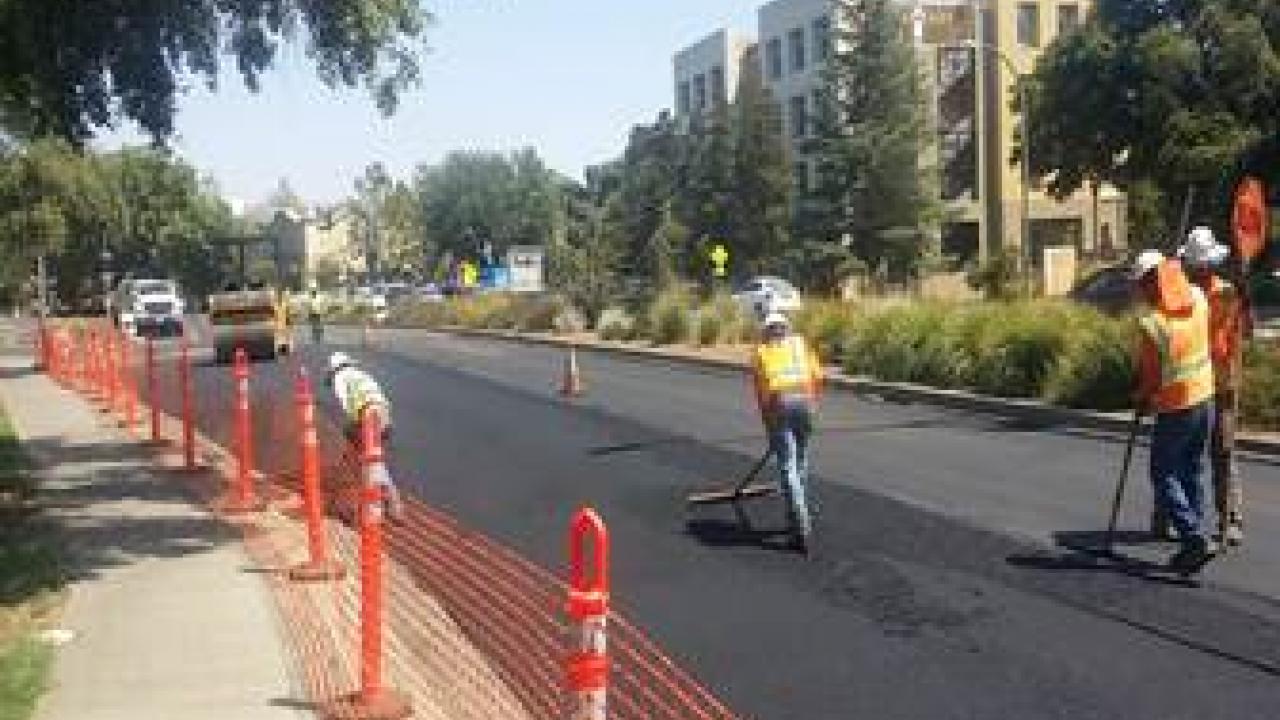 By Lauren Riebs
Nobody – no bicyclist, motorist, bus rider or pedestrian – likes a pothole. On a campus with 21,000 bikes, 15,000 plus cars and 30 buses on any given day, and a combination of 40 miles of campus roads and paths and over 18,000 parking spaces, having a comprehensive pavement maintenance program is absolutely imperative. However, repairing a road or parking lot takes time and money. 
Wear and tear is a constant occurrence on a large campus like ours. Transportation Services' Construction team can quickly fix most small repairs and potholes on site but some pavement surfaces need substantially more attention than others.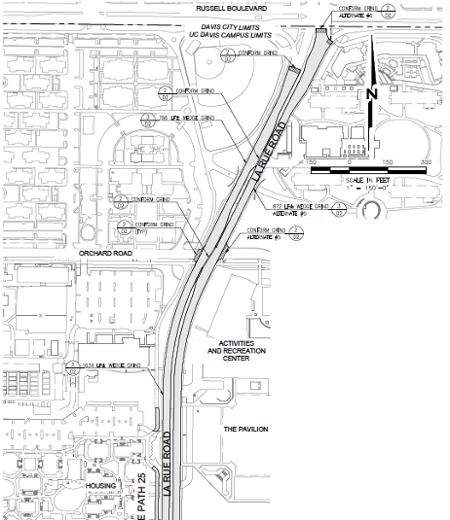 This past year, the campus invested $2 million in road and bike lane repairs on Hutchison Drive and La Rue Road.  This summer, another $2 million will be invested in reconstructing Old Davis Road between I-80 and California Avenue. 
"Our job is to provide pavement surfaces that our community feels safe using," explains Cliff Contreras, Director of Transportation Services. "Currently, nearly half of the campus population uses a bicycle as their preferred mode of transportation.  However, if pavement surfaces are not in a condition where people feel safe and comfortable, those bicyclists could possibly choose a less efficient or sustainable vehicle as their preferred means to travel to or around campus."
Bicycle infrastructure is a common concern among university commuters. The campus Travel Survey, a partnership between TAPS and the Institute of Transportation Studies, asked the campus community what would convince them to ride their bike more on campus. An overwhelming number responded that improvements to bicycle infrastructure would be a massive help, in addition to better bicycle education and bicycle enforcement. 
To meet the university's goals of reducing single occupancy vehicle use, greenhouse gas emissions and vehicle miles traveled to the campus, accessible and safe pavement surfaces for bicyclists is an absolute must.
"We are investing our resources where they're needed to facilitate all transportation modes for our campus community," shared Contreras, "Our roads, paths and parking facilities require that we implement a preventative maintenance strategy towards the management of these important campus assets."