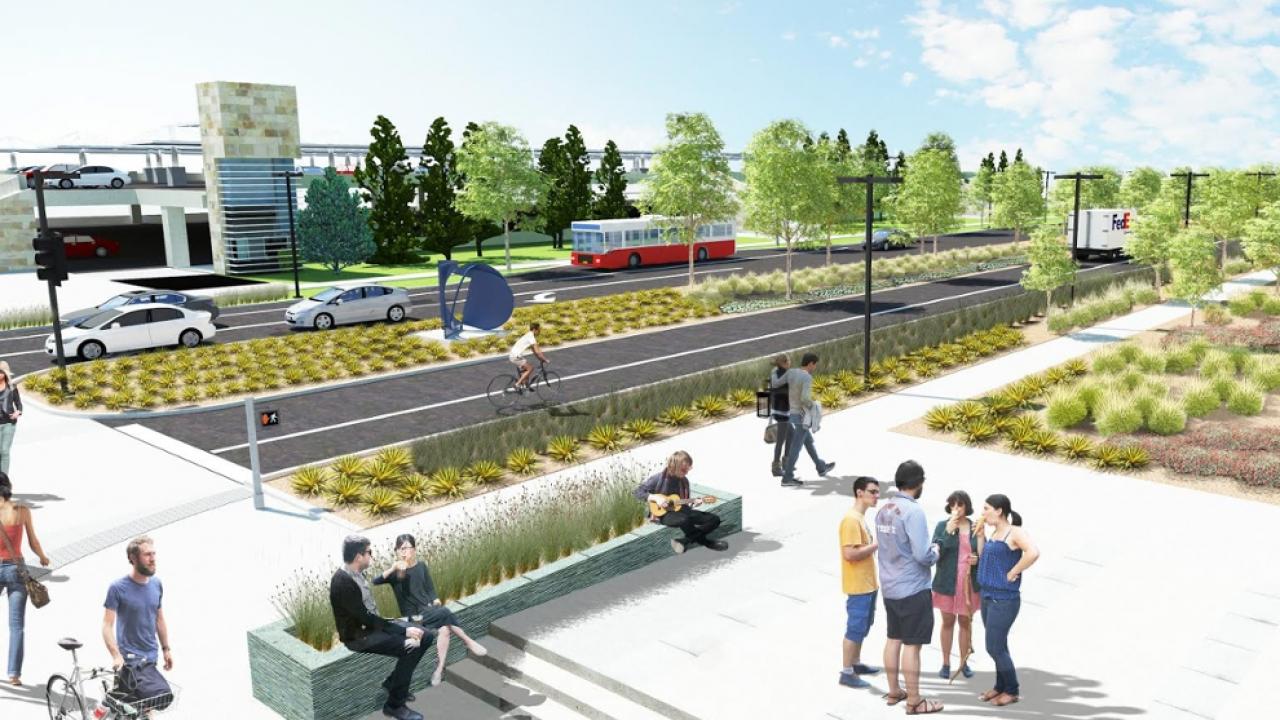 By Lauren Riebs
Sustainable landscape continues to brighten up campus
At UC Davis, even the plants have school spirit – featuring Aggie colors, yellow and blue. Along Old Davis Road, the newly planted median is home to vibrant yellow plants alongside the bold blue letter "D", a structure by artist Fletcher Benton.
Thanks to deferred maintenance funding, the need for upgrading the aging and damaged irrigation along the median – about 35,500 square feet – created the opportunity to design a more sustainable landscape. Previously covered entirely in lawn, Campus Planning envisioned a landscape that is both sustainable and beautiful.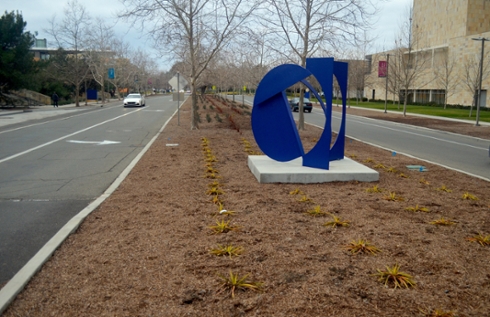 "The median on Old Davis Road is a high profile area with potential to demonstrate best practices on campus," said Christina De Martini Reyes, Campus Landscape Architect. The new landscape offers a diversity of plants that illustrate sustainable horticulture.
In recent years, median landscaping has come into a critical focus by the state. With poor irrigation and risk of run off, road medians can be a huge source of wasted water. In response to California's drought in 2015, Governor Jerry Brown and the State Water Board first issued mandatory water restrictions, including a call for cities to suspend certain irrigation practices in median landscapes.
The Old Davis Road median began its transition in late 2015. After the lawn was decommissioned (covered with bark mulch), the weed removal and thatch breakdown process took about a year and a half.  When work began this winter, the site was in ideal condition for replanting.
The new medians were also designed with utility in mind. Working with Grounds and the Arboretum and Public Garden team, Campus Planning selected plants that will work well with the existing London plane trees that populate the median.  London plane trees shed a great deal of debris throughout the year that can cause maintenance problems particularly with certain understory plants. They also helped choose plants that are a best fit for this climate, aesthetically work with the surrounding buildings, landscapes and views and will stand on their own as a composition of color, texture and form.
In addition, the median's new irrigation system reduces water use by limiting overspray and evaporation potential. The new system includes subsurface drip irrigation, high efficiency spray heads, and valves with filters that prevent debris collection in the system, which can lead to malfunctions and wasted water.  
At UC Davis, sustainability isn't only a priority - it's also beautiful. Reyes added, "The median reflects the direction that the campus is heading – with sustainability at the forefront."
Some of the new plants featured include bright yellow plants known as Yucca 'Color Guard', a New Zealand flax variety - Phormium 'Amazing Red', germander (Teucrium chamaedrys)- a low growing evergreen shrub, and the bright green mat rush Lomandra 'Breeze'. The median between the Manetti Shrem Museum and the Vanderhoef Quad includes plants that can be seen in the adjacent museum landscape such as Mexican blue sage and red bunny tails fountain grass.
Whether you are visiting the new art museum or enjoying a stroll through the quad, check out the fresh new look on Old Davis Road.