April 27, 2016
By Lauren Riebs
As a Sustainable Environmental Design major, Nguyen Nguyen is passionate about implementing sustainable and beautiful landscape throughout campus. Through the UC Davis Arboretum's Learning By Leading program, Nguyen is able to pass down his knowledge and experiences to fellow students by leading lawn conversion projects on campus. 
The Arboretum encourages student interns and volunteers to take initiative and pioneer projects on a daily basis. Learning By Leading, a program that has expanded from only three interns in 2007 to an average of 50-70 Arboretum interns per year, allows students to manage projects in environmental education, sustainable horticulture, and naturalized land management.
Over a year ago, Nguyen began his position as a student Co-Coordinator for the Sustainable Horticulture program, which focuses on design, planning, construction and maintenance of sustainable drought-tolerant gardens in the Arboretum and on campus.
"It's amazing being able to see all of our hard work and passion transform into something physical and meaningful," Nguyen shared about his work through Learning By Leading.
The UC Davis Arboretum and Public Garden spans across the entire UC Davis Campus and is filled with abundant and diverse collections of trees, flowers, and plants. The Arboretum and Public Garden has always relied on student interns and volunteers to assist in the care of the land, ever since the first redwoods were planted with the help of students in the 1930s.
Today, Learning By Leading interns are able to envision and implement realistic solutions for the future of the Arboretum and Public Garden using the newest technologies and knowledge available in the sciences and education. All programs are aligned with an academic department at UC Davis, allowing the students to work with professional staff mentors, apply academic curriculum to their real-world projects, and even earn academic credit. 
Furthermore, students in the program are able to engage with the environment and community in meaningful ways, create connections with other volunteers and professionals, and see the effects of their work come to life.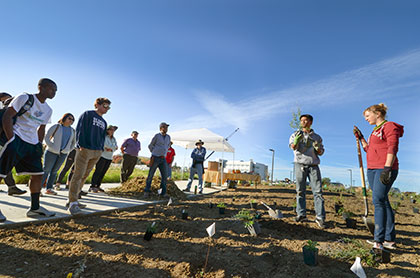 "Learning By Leading provides the opportunity for students to engage at a level that is far beyond what you can find in another on campus job," said Naftali Moed, another Arboretum and Public Garden intern, "You can make true impact through your own personal potential."
Moed is a VC-CFO intern for the Arboretum, serving as Co-Coordinator for the Natural Lands and the SEE Putah Creek Internships while studying Environmental Policy Analysis & Planning. One of his main responsibilities is capacity building for the Learning By Leading program, which includes incorporating new technological tools, increasing visibility, connecting with donors and forming partnerships with other campus programs.
"Through Learning By Leading, I have realized how much I have learned by having the chance to teach other people," notes Moed, who has been interning with the Learning By Leading program for almost two years.
The program offers quarter-long and yearlong internships, as well as multi-year commitments, for students seeking exceptional leadership opportunities and professional roles.
Interns gain experience in a variety of fields including environmental education, community outreach, facilitating and planning community events, and how to effectively teach others.
"The Learning By Leading program has given me the opportunity to pursue many of my interests," Nguyen enthuses, "It has provided me the chance to educate others, assist with sustainability efforts, design for the future, perform hands-on outdoor activities, and work with plants and our natural environment."
Learning By Leading offers students a variety of internships and positions to get involved. Additionally, all community members are always welcome to volunteer at the UC Davis Arboretum and Public Garden.