June 9, 2016
By Lauren Riebs
About a week before the California Primary Election, over 9,000 students, faculty, staff, and community members turned out to greet one of the three remaining presidential candidates, U.S. Senator Bernie Sanders.
Hutchison Field was magnetic and fiery with Davis political spirit, despite the 100° F weather. And thanks to the collaborative effort by several of our departments, the Bernie Rally was a major success.
With only a week's notice, Director of Conference and Event Services Lina Layiktez led a successful coordination of various Finance, Operations and Administration division departments to host the rally last week. Layiktez and Chief Matthew Carmichael worked through Memorial Day weekend in order to complete negotiations and work out logistics.
"We could never have pulled off this large of an event without the dozens of UC Davis employees who gave it their all," Layiktez noted. "I'm proud to work alongside such a great group of people who worked tirelessly to make this a great event.
The primary planning team was made up of Conference and Event Services, taking the lead on all logistics and services, and the Police Department, taking the lead on security and safety. Marjorie Dickinson, Assistant Chancellor of the Government and Community Relations served as a strong advisor for the planning process, specifically on all policies and laws related to hosting political events.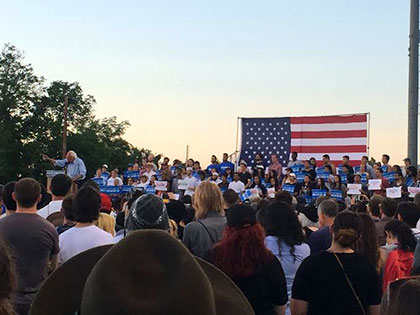 Services, facilities, and supplies were provided by Grounds, Campus Recreation and Unions, Strategic Communications, marketing the event, Transportation Services (TAPS), the Police and Fire Department, Safety Services, specifically Fire Prevention and Emergency Management, and Campus Housing.
"Because of how late the notice went out, we were really only expecting 5,000 or so," commented Layiktez. The turnout was almost double that size.
Transportation Services took on a big role in ensuring parking and traffic flow could accommodate the anticipated attendance. "Based on past experience, we were able to outline potential traffic patterns, determine parking lot impacts and utilization, and identify media parking and reserved areas for VIP guests," explained Emil Tehrani, Student Employee Coordinator. Many attendees were also encouraged to walk, bike, or ride the bus.
However, the heat posed another difficult challenge to the event planning. The Sanders campaign preferred an outdoor set up and the indoor facilities were unavailable on the selected day. In response to the weather, the Fire and Police Departments mapped out a safety plan including additional EMT support, cooling buses, an ice trailer, plenty of water coolers, and tents for shade. The Athletics Department also provided the use of two large misting fans.
Overall, the event ran smoothly, thanks to the dedicated efforts of many.