Teaching Sustainability Through Green Chemistry
By Lauren Riebs
November 3, 2016
As a global research institution, UC Davis has a strong devotion to decreasing the university's ecological footprint. Even more, the university hopes to educate future generations on limiting the potential of harmful impact, specifically in the lab; Allen Doyle, Sustainability Manager, calls this decreasing our "future print."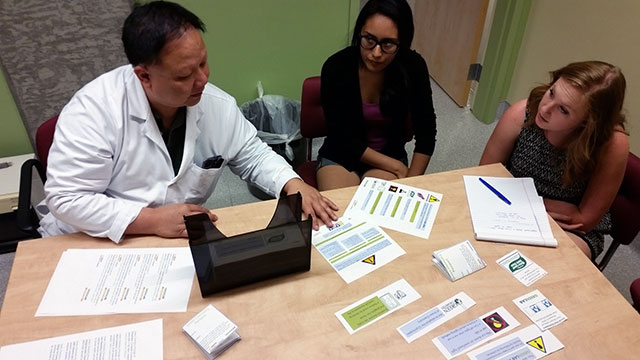 With about 1200 faculty researchers on Davis and Sacramento campuses using thousands of chemicals, sustainable practices can make a huge difference. Because laboratories consume three to five times more resources than an average office, small conservation steps can make a much greater impact than those in an office or classroom.
"We want to make environmental sustainability 'business as usual' at UC Davis," comments Doyle.
Many labs on campus are now certified as "green labs" for their sustainable practices focused on conserving water and energy as well as reducing waste and harmful environmental impact. Green Labs is a university program that evaluates research labs based on a set of criteria of best practices including energy efficiency, recycling, waste reduction and more.
This effort expanded in 2015 to teaching labs in Chemistry thanks to eager participation by Eric Rosario and Jillian Emerson. Later that year the department partnered with the Office of Sustainability in curriculum development by bringing green chemistry into lectures and teaching labs.
"This is a great honor to directly collaborate with faculty on delivering important concepts to the next generation of chemists," said Doyle.
Green chemistry is directed towards industrial production, and is based on twelve guiding principles, focusing on design of safer chemicals and minimization of harmful ecological impact. Each principle focuses on waste prevention, toxicity reduction or energy conservation in chemical syntheses.
Waste Prevention: ensure prevention of waste in general rather than managing waste after it has been created
Atom Economy: reduce atom waste and increase atom efficiency in chemical processes 
Less Hazardous Chemical Synthesis: design safe chemical reactions and synthetic processes
Designing Safe Chemicals: minimize toxicity levels through molecular design of chemical reactions
Safer Solvents & Auxiliaries: minimize the number of solvents used and ensure those utilized are the safest available
Design For Energy Efficiency: prioritize energy efficient processes that avoid heating, cooling, pressurization and vacuum conditions
Use Of Renewable Feedstocks: use chemicals derived from plant based, renewable sources
Reduce Derivatives: minimize unnecessary reactions to reduce reaction steps and prevent waste 
Catalysis: choose catalysts that help reduce waste, reaction times and energy demands
Design For Degradation: produce chemicals that can naturally degrade in the environment
Real-Time Pollution Prevention: observe chemical reactions to prevent formation and release of hazardous and polluting materials
Safer Chemistry For Accident Prevention: design chemical procedures that minimize risk of accidents
With Doyle's encouragement, the Chemistry Chair and Dean Navrotsky signed the Green Chemistry Commitment in August 2015, with the long-term goal that every student with a Chemistry major will be familiar with the 12 principles. In addition, all science majors, thousands of students, enroll in chemistry classes every year, and they will be versed in the principles as well. 
Extra Credit 
Each quarter, students enrolled in organic chemistry lab can earn extra credit for demonstrating an understanding of each principle of green chemistry. Students receive a "passport" with twelve empty spaces. To receive credit students must brainstorm and discuss with their Teaching Assistant (TA) an example of each green chemistry principle. Throughout the quarter they receive personalized and fun stamps for each principle they demonstrate understanding, until their passport is full. 
As part of the Green Chemistry Commitment, the department will design a course devoted to green chemistry. Doyle hopes that implementing green chemistry principles in undergraduate lab classrooms will empower leaders to enact these principles in their future and position graduates more favorably in an increasingly sustainable industry. 
Spreading Green Chemistry 
Many other universities have also signed the Green Chemistry Commitment, incorporating Green Chemistry into their curriculum, developing courses, degrees and centers with emphases on sustainable research. For example, the Berkeley Center for Green Chemistry works to advance green chemistry through interdisciplinary scholarship, including chemistry, public health, engineering, natural resources, law, and business. 
Teaching green chemistry helps prepare undergraduates for future careers; green chemistry is a growing enterprise, expected to save the chemical industry more than $65.5 billion by 2020. As the initiative grows, UC Davis will be focused on incorporating green chemistry into all aspects of the curriculum and department. 
Tags