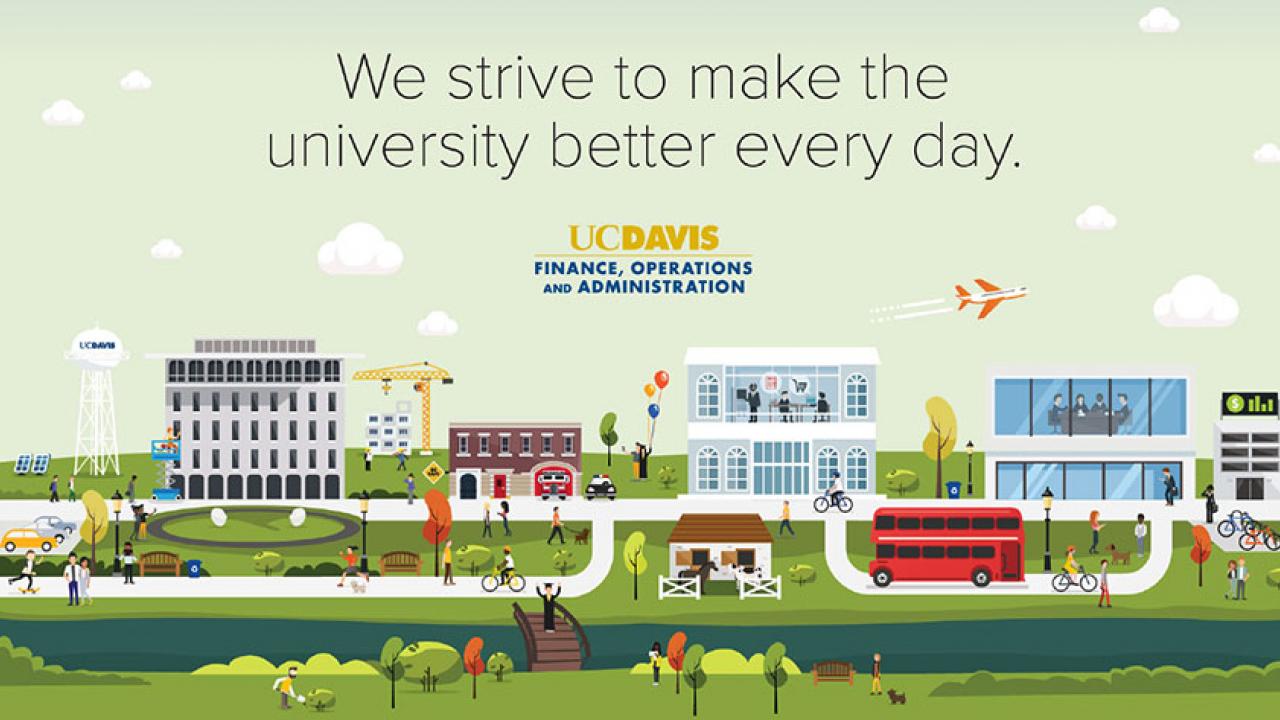 By BreAnda Northcutt
You may have seen the new colorful illustration of FOA that shows who we are and what we do in a fun and memorable way. If you haven't seen it yet, check it out here.
The illustration is meant to reflect our thoughtful, innovative and responsible stewardship of university resources, which is also our new mission statement. At FOA, we are passionate about helping make the university better every day – and that's our new vision statement.
The work we do plays an important role in helping make UC Davis a top-10 public university with a medical center ranked in 15 specialties.
Did you know you're part of a division that:
Monitors and maintains 14 million square feet of office and lab space.
Hires, develops and retains about 15,000 university and clinical staff.
Provides direct medical care to 10,000 employees per year.
Models sustainable practices across 5,300 acres of public garden.
Earned accolades for being the most sustainable university on the planet.
Operates 400 miles of pipes and vents under- and above-ground.
Provides accounting and financial services for a $4 billion enterprise.
And so much more!
FOA is unique among UC campuses – providing both financial and administrative programs. While this structure provides unique opportunities to unite the expertise of budget and business leaders with campus planning and facilities leaders, it also presents a complex network of departments.
One of FOA's challenges is helping customers quickly and easily connect with the services we provide. One of our goals over the next couple of years is to enhance customer service by creating new tools that help employees find what they need from our division, and learn more about what services are available to them.
The illustration is a first step in building the "big picture" of a division that operates programs at the scale of a medium-sized city.
With the illustration complete, other projects to help explain who we are and what we do include:
Reimagining 11 human resources websites to better serve employees, supervisors and HR professionals.
Delivering a new portal to help intuitively connect employees to FOA's programs and services.
Creating a communications toolbox for FOA departments to use with new wordmarks, slide templates and word document templates.
Launching an annual customer service survey to collect feedback on performance and quality of information.
---
BreAnda Northcutt is Communications Director for the UC Davis Division of Finance, Operations and Administration.
Tags