Ratliff: Davis Campus Moving to Reduced Operations
The Davis campus is at "reduced operations" and the return to full campus operations will be gradual
Kelly Ratliff, vice chancellor of Finance, Operations and Administration, issued the following statement (Updated June 2):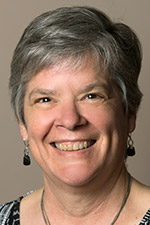 Yolo County's recent announcement that it will allow additional activities to resume operations includes offices, retail in-store shopping and dine-in restaurants.
I know Yolo County's announcement and the Davis campus's move to reduced operations is welcome news to many of you looking forward to getting back to offices on the Davis campus, back to your favorite corner in the CoHo, and back to browsing aisles in UC Davis Stores. But our return to full operations will not happen rapidly, and I urge all of you to remain patient as we continue to put measures in place to meet the county's requirements for reinstating operations and align with administrative and office work being done on the Sacramento campus.
As you may know, Chancellor Gary S. May asked me to lead one of two planning workgroups to help develop guidelines for bringing administrative employees back to campus workspaces. In short order, we have collectively developed the following guiding principles:
Comply with local, state and national public health directives regarding shelter in place, physical distancing and face coverings.
Administrative and office work should ramp-up in alignment with workload drivers that trigger the need for on-campus personnel.
Activities that can be conducted remotely should continue in remote mode to the fullest extent possible as determined and assigned by supervisors and managers.
Reasonable accommodations should be assessed and implemented using an interactive process and should consider individual COVID-19 risk status and related factors such as child care to the extent allowed by law.
Readiness to quickly add, modify or remove business practices in response to new public health guidelines and new data and information about best practices.
Currently, we are building a website toolkit to help campus departments develop worksite-specific plans, which we intend to publish next week.
Thank you for the incredible work you're doing in these unexpected conditions. We miss you, Aggies, and can't wait to have you back on campus. But until then, we appreciate your patience as we help get the campus ready for you.
Primary Category
Tags