May 10, 2016
By Lauren Riebs
Due to pre-existing back injuries, David Epling could barely lift himself up from the ground after painting baseboards on campus without holding onto something. Since 2009, he said he was "13 percent disabled" and his muscle tendons had shrunk due to underuse.
Epling accepted that this was just a part of his disability, but after a recent shoulder injury on the job, and with another five years left at UC Davis, he knew something had to change. Dr. Roger Belcourt from Occupational Health introduced Epling to the UC Davis WorkStrong program and he began meeting with one of the program's personal trainers with the primary goal of gaining confidence and strength to handle his work with ease.
"WorkStrong opened a world of physical activity that used to be closed to me," Epling shared.
Epling is one of many people who have benefitted from WorkStrong, a University of California systemwide program developed to promote recovery and prevent future workplace injuries. UC Davis Occupational Health operates the three-month recovery program at UC Davis for employees who have experienced a work injury.
The UC Davis WorkStrong program began in May 2012 and serves approximately 40 employees every year. Participants are carefully selected by the WorkStrong team based on individualized assessment of their medical condition, risk assessment, and projected benefit."
"WorkStrong emphasizes the importance of overall well-being and long term behavior change," shared Stacey Brezing, WorkStrong Coordinator. "It is not a weight loss program or just a physical wellness program. We really want participants to work on all dimensions of wellness and to empower them to take their health and well-being into their own hands."
WorkStrong offers a variety of programs to help develop healthy daily practices, in collaboration with partnering departments, Academic Staff Assistance Program (ASAP) and Campus Recreation. The opportunities available for WorkStrong participants include:
Weekly wellness coaching sessions
Individual ergonomic evaluations and recommendations
24 Personal training sessions
6 Month campus gym membership
Registered dietitian visits with 3 day food record analysis
Pain and stress management techniques including resilience training
Meditation group classes
Healthy Choices Series - Cooking Demos
"Shopping Tour" – a trip to a local grocery store with the WorkStrong dietitian
WorkStrong helps participants set personal goals with a wellness coach and track progress through weekly sessions. From the available options above, employees in the program are able to choose the path best suited for them.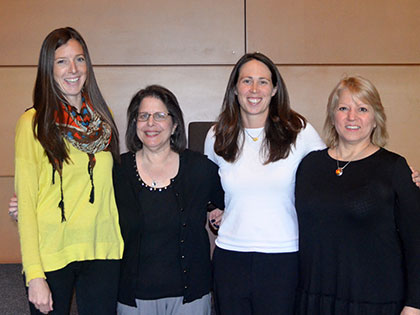 Many participants begin their program, post work related injury, with a variety of goals, such as exercise more often, improve their diet, spend more time with their children, or cope with stress at work or at home. WorkStrong emphasizes the importance of well-rounded physical and mental health and its impact on performance at work.
Personal trainer Lisa Cachia describes how she helps participants find the right balance for exercise to heal their bodies. "Everyone benefits from cardiovascular, strength, core, and flexibility exercises," Cachia notes, emphasizing the importance of following good form in these areas.
Cachia achieved her certification for group exercise and personal training 30 years ago and has worked as a personal trainer since 2003. Since starting at UC Davis in 2014, she helps WorkStrong participants perform exercises they thought were no longer possible, either due to new injuries or pre-existing conditions. 
"My job as a trainer is to continue to push their challenge threshold in a safe and supportive atmosphere with respect to their specific condition," Cachia explains, "When recovering from injury or illness, people can be very tentative about their abilities; once they move past their initial struggle, they begin to light up and feel good internally, thereby attributing it to the exercise." By making a few small but significant changes to one's current lifestyle, Cachia emphasizes, one can feel healthier and happier at work and at home, and prevent future injuries.
Another favorite workshop among participants is the group meditation class, which is open to all UC Davis faculty and staff. Every quarter, Dr. Beth Cohen leads the meditation series in the Vanderhoef Studio Theater at the Mondavi Center. The class includes:
Learning Meditation / Mindfulness Techniques
Strategies to Increase Health, Energy, Focus
Methods to Manage Pain and Reduce Stress
Discussions about Meditation Related Topics
The meditation classes pay special attention to dealing with daily stress and relieving pain by listening to your body.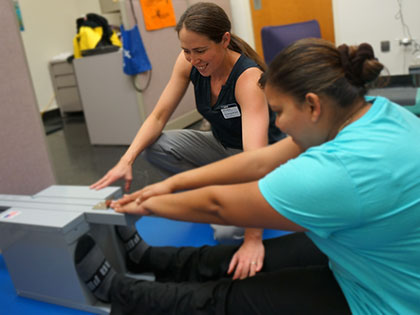 "Beth's resilience sessions illustrate the relationship between mindfulness, stress, and physical injury," expressed Joan Rowe, Professor in the Department of Population Health and Reproduction. "By recognizing when I am stressed or overwhelmed with fatigue, I can now take the right steps to prevent illness and injury in the future."
Rowe performs outside activities with livestock and, after many injuries in the field, she was concerned about strength and her ability to keep up this work. After entering the WorkStrong program and completing the entry fitness assessment, Rowe realized that she also needed to focus on cardiovascular fitness and has since been able to make the right adjustments to her routine.
"WorkStrong has made me an employee who feels safer in my workplace and happier among my colleagues," Rowe shared, "They helped me find solutions to ensure success within the framework of my current lifestyle." 
David Epling couldn't agree more. "The product of this program is a healthier, happier, more productive employee," Epling explained. "I am able to do more per hour than I did three months ago."
The results of WorkStrong don't lie! Systemwide, graduates of the program file 29 percent fewer worker's compensation claims than expected andcostsare 39 percent lower than expected. When employees are stronger and happier, fewer injuries occur in the workplace, saving money for individuals and the university.
"I was very impressed with the program's holistic approach of helping our employees improve their health and wellbeing," commented Cory Vu, a supervisor of a WorkStrong graduate from Student Health and Counseling Service (SHCS), "When an employee is healthy, they have less sick days and are happier and more productive at work.  Everybody wins!"
Employees are eligible to be referred to the WorkStrong Program if they have been injured at work twice within the last 2 years or at the request of the Occupational Health physician. Further information can be found on the Occupational Health website.