Students Get Crafty to Support Medical Center's Coronavirus Response
Face Shield Fabrication Project Addresses Supply Shortage, Employs Students
With glue guns, scissors and staplers in hand, UC Davis students are crafting a solution to a shortage of face shields at the UC Davis Medical Center as confirmed cases of COVID-19 increase.
Observing social distancing guidelines, 10 undergraduate students started assembling face shields last Thursday at the UC Davis Craft Center under the guidance of Center Assistant Director Jared Tolla and two student managers. The students followed a template from Johns Hopkins Medicine, using supplies sourced by Supply Chain Management and the Department of Biomedical Engineering.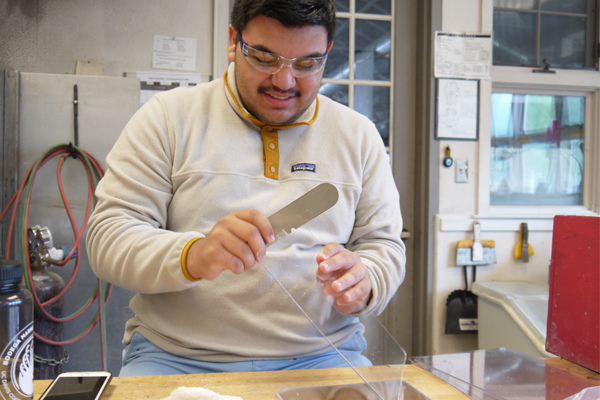 "The hope was that we would be able to produce 200 shields the first day, and we ended up completing 730," said Tolla. "Our labor force is incredible, and the Craft Center is proud to be contributing in a meaningful way."
The face shield fabrication project is a collaborative effort between several groups at UC Davis Health, the campus' Finance, Operations and Administration, the Division of Student Affairs, and Biomedical Engineering.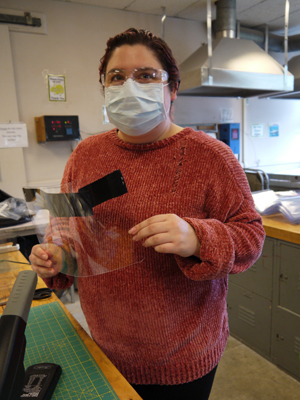 "The focus on finding a way to help has truly been inspiring," said Eric Kvigne, associate vice chancellor of Safety Services. "We've made collaborations between people and groups that don't ordinarily work together, and the extraordinary effort from everyone is amazing. This is how Aggies outgrow the expected."
More than 100 students are expected to take part in the fabrication process over the next month, with a goal of producing 10,000 shields to donate to the Medical Center. Face shields help hospital personnel extend their use of masks and respirators, personal protective equipment (PPE) typically discarded after a single use.
"When students learned about the project, they all wanted to help," said Cory N. Vu, associate vice chancellor for Health, Wellness, and Divisional Resources in the Division of Student Affairs. "It's so inspiring to see our students giving all of their heart to help protect our doctors, nurses and other healthcare workers during this difficult time."
Assembly line production looks a lot different during a pandemic, and student safety is top priority. The Craft Center is operating three daily shifts with no more than 10 students per shift. Protocols are in place to ensure social distancing. Participants watch a training video in advance of their shift, and are asked to not come in if they feel sick. Work stations are more than six feet apart and face masks are provided. Students are also sanitizing their tools before and after they start shield assembly.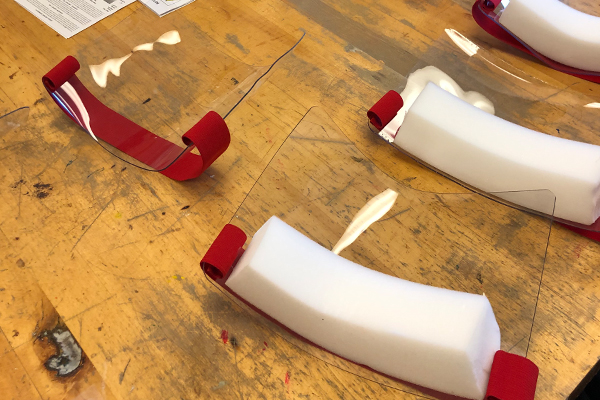 In addition to addressing face shield supply and sourcing challenges, the project offers employment opportunities for students while campus operations are suspended due to COVID-19. Student employees across campus — from Student Housing and Dining Services and Associated Students of UC Davis — were recruited to work on the fabrication project. Those taking part are being paid at their current pay rate.
"It feels very rewarding to help in any way I can, while also having the opportunity to get work hours," said fourth-year sociology undergraduate and Campus Recreation student employee Bethany Simpson. "This face shield project is an awesome opportunity to make a difference."
Related news: Supply Chain Team Quick, Creative Amid Pandemic
Primary Category
Tags