June 9, 2016
By Lauren Riebs
Looking for a fun way to enjoy the sunshine and give back to the community? In an effort to increase access to fresh food for those in need, UC Davis students are hosting a community harvest of student-grown crops for donation to the Yolo Food Bank Friday, June 10 from 9 a.m. – 12 p.m.
The cornucopia of produce was grown by students enrolled in Professor Muhammad Marrush's class – Plants for Garden, Orchard, and Landscape. It's here they learn how to cultivate edible plants and maintain a vegetable garden. Now, with summer arriving and the campus population dwindling, students are asking the entire community to participate in the harvest and share the bountiful produce with those in need.
"This teaching field is ripe and ready to pick, and we're hoping we can get some help from the community," says Natalie Dean, UC Davis student and co-coordinator of the UC Davis Arboretum and Public Garden's Learning by Leading Edible Landscaping Program. "Our fellow students worked really hard learning how to grow vegetables in this field, now we want to make sure the food gets in the right hands, but we need our community's help to do it."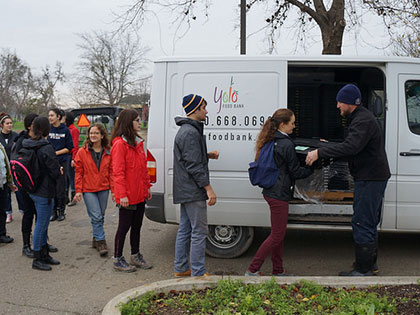 In the past, students could harvest the produce for personal use but it would end up being more than needed. Through the efforts of a few dedicated students, who ensured compliance with the rigorous campus food safety regulations and risk management requirements, the campus can now donate edibles to the Yolo Food Bank and other community providers.
"Harvests like this and a similar one we held in January, are the culmination of a UC Davis student's persistence to help others and the relentless efforts of the Arboretum staff to follow through on it," said Josh Ellis, volunteer manager and procurement specialist at Yolo Food Bank. "This partnership perfectly reflects our objective to find more sustainable fresh produce resources within Yolo County." 
Care to join? The harvest will take place on June 10 from 9 a.m. to 12 p.m. at the Plant Sciences Field. To volunteer, register online at http://stop-the-rot.eventbrite.com