Causeway Connection Launch on Schedule
Rider participation and engagement has been critical to improving the Causeway Connection
UC Davis has submitted a final draft of the Causeway Connection Memorandum of Understanding to SacRT and YoloBus for final review and approval.
Thirty-one individuals submitted comments on the draft MOU. We're happy to report that some comments can be immediately addressed. For example, the fare structure for graduate students is now the same as employees! A fair number of the other comments were already addressed in our MOU Overview document (.pdf) and the FAQs on the Causeway Connection pages
However, many issues will need to be addressed over time, as we work together to improve your causeway commute. Rider participation and engagement has been critical to improving this service and will be essential as UC Davis advocates for all its affiliates with our partners at SacRT and YoloBus.
---
Overview of MOU Comments
A large number of comments focused on the future of the Causeway Connection beyond the term of the MOU, how we will solicit and listen to rider feedback, as well as ensuring service levels do not drop. These details cannot be added to the MOU because contractual guarantees are not in place, only UC Davis' commitment to making sure there is always a reliable, cheap and direct transportation option between our growing campuses.
Comment Themes and UC Davis' Commitments 
 
1. Include riders in decisions regarding the Causeway Connection service.
Direct communication and updates to riders will continue on a regular basis. Everyone interested in updates is encouraged to subscribe to the Causeway Connection list serv. Additionally, Transportation Services and PATS will host monthly Causeway Connection rider forums, beginning in May. These meetings will be open to all riders and will focus entirely on issues, data, satisfaction and other topics related to the Causeway Connection. Rider participation and engagement has been critical to improving this service and will be essential as UC Davis advocates for all its affiliates with our partners at SacRT and YoloBus.
2. Provide information regarding future service plans after 3-year contract term (i.e., commitment for service replacement if Causeway Connection is discontinued)
We plan to continue and expand the Causeway Connection service.
Should we decide to replace the Causeway Connection with a different service, riders will be involved and critical to helping collaboratively and inclusively examine rider needs, cost/fare implications, routing decisions, bus frequency and stop locations.
3. Establish regular ridership and rider survey data collection/reporting protocol.
SacRT and YoloBus will provide regular reporting for on-time performance and utilization. This includes tracking all trips of UC Davis affiliate riders who will use a UC Davis ID. UC Davis will independently conduct rider satisfaction surveys.
UC Davis will make this data available at monthly Causeway Connection ridership meetings and expect the information will be a regular topic for discussion.
4. Do not decrease Causeway Connection service levels at any point.
We anticipate this service will be successful and ridership will be sufficient to support three, peak-hour trips from each campus. We are continuing to advocate for additional resources to both expand the service if needed and extend the funding beyond the three years stipulated in the MOU.
Our performance monitoring should help indicate early on whether ridership will be sufficient to maintain service levels in years two and three. It is a priority for UC Davis to ensure service levels do not decrease.
---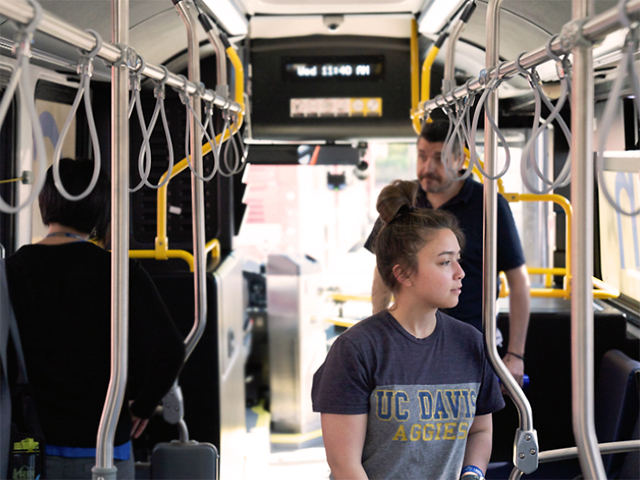 Intercampus Shuttle's Last Trip on Friday, April 3
We're encouraging employees that must commute, to travel alone. However, the Intercampus Shuttle will continue to operate until the launch of the Causeway Connection.

We advise riders to practice social distancing to the extent possible (e.g., skip rows) and be prepared to find an alternate transportation mode if stricter guidance comes along.

To facilitate single-occupant commutes to the Davis campus, when remote work isn't an option, Transportation Services is not requiring permits in regular permit spaces until further notice.

*Note*: Any unused Intercampus Shuttle passes can be discarded. You won't need them on the Causeway Connection because we're paying your fares through September.
---
Causeway Connection Launch on Schedule
SacRT and Yolobus are continually adapting operations based on emerging COVID-19 mitigation guidance, as well as anticipated driver shortages expected in the coming weeks.
That said, the Causeway Connection will launch on April 6, with no reduction in services.
UC Davis is requesting that any ramp-down of Causeway Connection service levels begin with reducing a single trip during each peak-commute hour. SacRT and Yolobus webpages will be the best resource for real-time schedule updates, but TAPS/PATS will make every attempt to notify you in advance of changes.
Tags