Affiliate Fares Covered Through September
The Causeway Connection continues to evolve based on rider feedback and we'd like to share several exciting and important updates!
We're holding some outreach events on the Davis Campus and at UC Davis Health so future riders can check out the bus and get their commute questions answered.

There are no plans for undergraduates to ever pay a fare, but for the next six months, academics, staff, graduate students, volunteers and retirees also receive no-fare boarding on the Causeway Connection.

It's pretty technical and full of important details necessary for the successful launch and operation of the Causeway Connection.
---
Meet a Bus Driver
Check out one of the new Causeway Connection buses and talk with Sacramento Regional Transit reps who can explain the service, route and other regional public transit opportunities.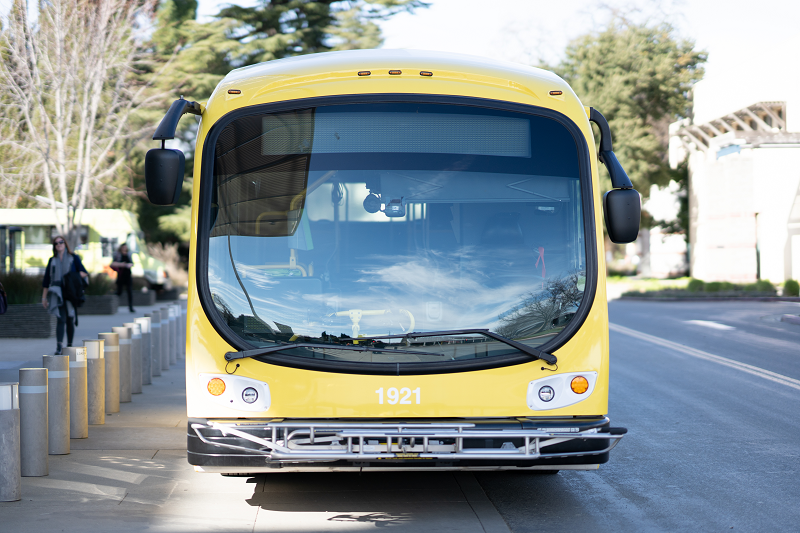 Davis Campus
Wednesday, March 11
10 – 11 a.m. at the Mondavi Center
11:30 a.m. – 1 p.m. at the Silo
UC Davis Health
Thursday, March 12
11 a.m. - 1 p.m.
Walkway between Betty Irene Moore Hall and Admin Support Bldg. (ASB)
---
UC Davis ID = Valid Fare for 6 Months
Through September, a valid UC Davis ID is all affiliates (students, employees, retirees, volunteers) will need to board the Causeway Connection.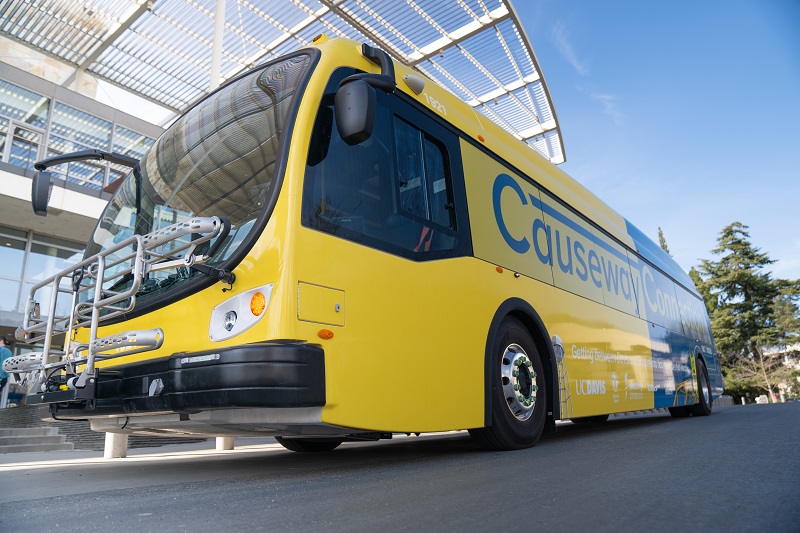 It might not take six months for the Causeway Connection to become your favorite choice for causeway commuting. However, for the Causeway Connection's first six months, UC Davis is covering fares for affiliates who present a valid ID. 

See a list of sample UC Davis ID types (.pdf)

After the Causeway Connection's first six months
UC Davis undergraduate students will still ride at no cost, while staff, academics and graduate students will pay the same low fare:
---
MOU for Causeway Connection
Comment online until noon on Monday, March 2nd
Overview
UC Davis, Sacramento Regional Transit and Yolobus are entering a 3-year MOU that outlines:
Performance Goals
Fare Structure
Changes to Service or Fare Structure
Ongoing Meetings & Reporting
Comment on the MOU by March 2 at Noon.
Review the MOU
The first page has been inserted to highlight some of the key sections of the MOU and to clarify some of the language and rationale behind decisions in the document.
Provide Comment via Qualtrics
There are 25 sections in the MOU and you're asked for your comments by section. 
---
Related
Final Causeway Connection Schedule

Monitoring the new service may result in further schedule modifications.

Schedule does not include stops which will only be used if a rider requests to disembark, or someone is waiting to board at:

34th & T streets (eastbound)
Stockton Blvd. at Colonial Way (southbound/northbound)
Causeway Connection Schedule Highlights

Multiple non-stop and express trips between UC Davis and UC Davis Health during peak commute hours 
Hourly direct trips between the Davis Campus and UC Davis Health during midday hours
52 trips daily between UC Davis and UC Davis Health
Early morning and evening trips
Peak-hour seating capacity for 99 people
Most trips can deliver riders to their destination before the start of each hour
Secure Bike Cages

Available to Causeway Connection riders at no cost.

The Davis Campus bike cage is located in the South Entry Parking Structure and bike shelters will be available at UC Davis Health, at both the temporary terminal and the future mobility hub at 45th and Y streets. Access instructions will be shared broadly when the structures are available to provide riders with a secure location to store bicycles that may not need to be transported across the causeway.
Tags