New Electric Buses for Cross-Causeway Commuters
12 electric buses will begin providing service between UC Davis and UC Davis Health on April 6, 2020.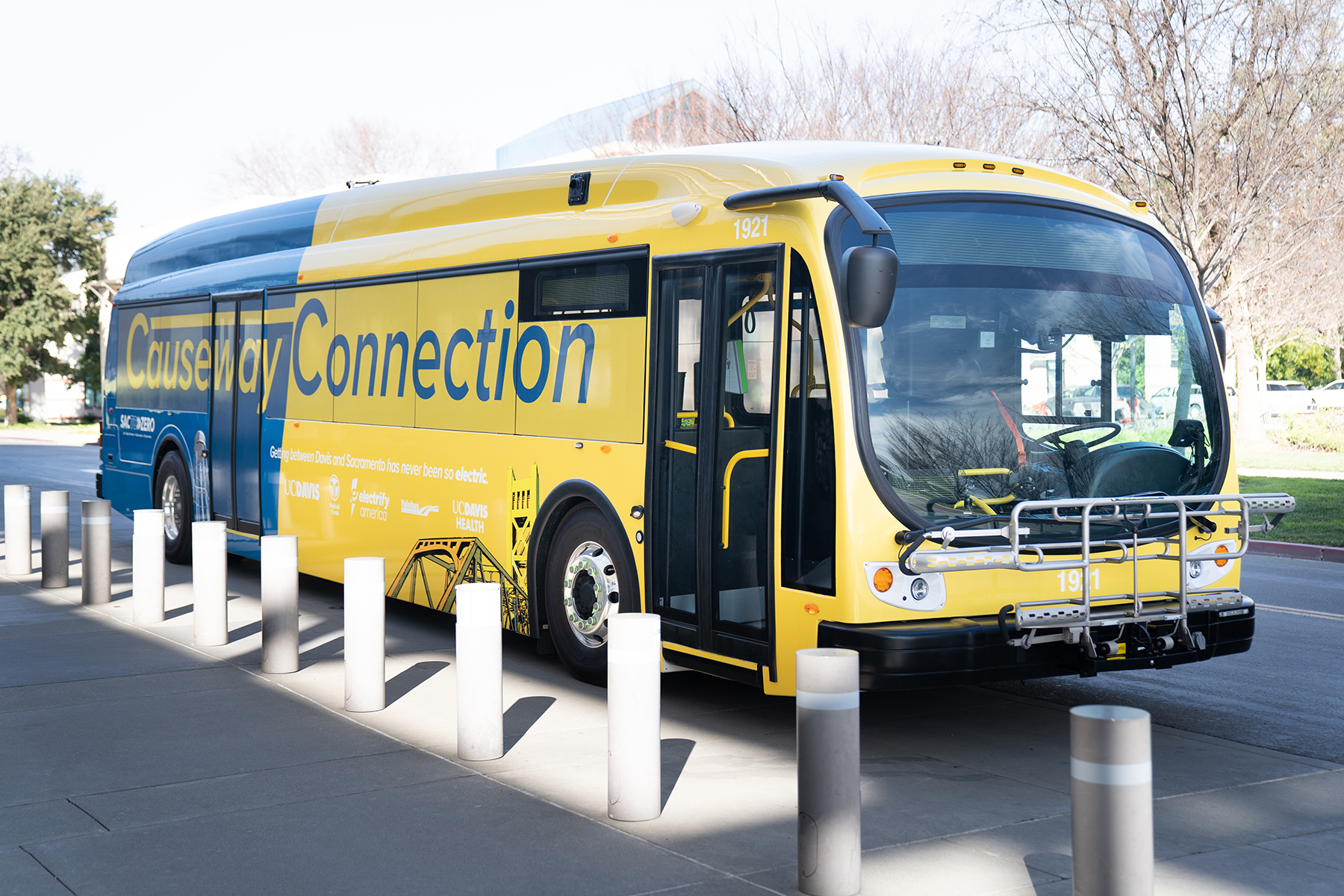 (Revised Mar. 3)
In partnership with the City of Sacramento, Sacramento Regional Transit (Sac RT) and Yolobus, UC Davis is expanding cross-causeway connections with an eye on sustainability.
The Causeway Connection buses will be open to the public and will offer hourly service between the Davis Campus, downtown Sacramento and UC Davis Health. The intercampus shuttle currently chartered by UC Davis for employees, students and patients will run until April 3, 2020.
New Bus Features
Apart from being zero-emission, the new buses offer WiFi, USB charging ports at each seat, and real-time tracking so you can follow the bus along its route.
The buses also improve boarding and disembarking:
No stairs

Two doors

Bus lowers at stops making wheelchair loading easier
Causeway Connection Schedule
The Causeway Connection will run on weekdays, its operating hours will be comparable to today, with extended evening hours (first bus arrives at each campus around 6:15 a.m., last departure at 8:20 p.m.). Barring significant traffic delays, a trip between the Davis Campus and UC Davis Health should take approximately 35 minutes. The daily schedule will be determined by Sac RT and YoloBus, which will operate the Causeway Connection.
View Final Schedule
Multiple direct and express trips offered hourly during peak-commute hours.
Hourly direct trips between the Davis Campus and UC Davis Health during midday hours.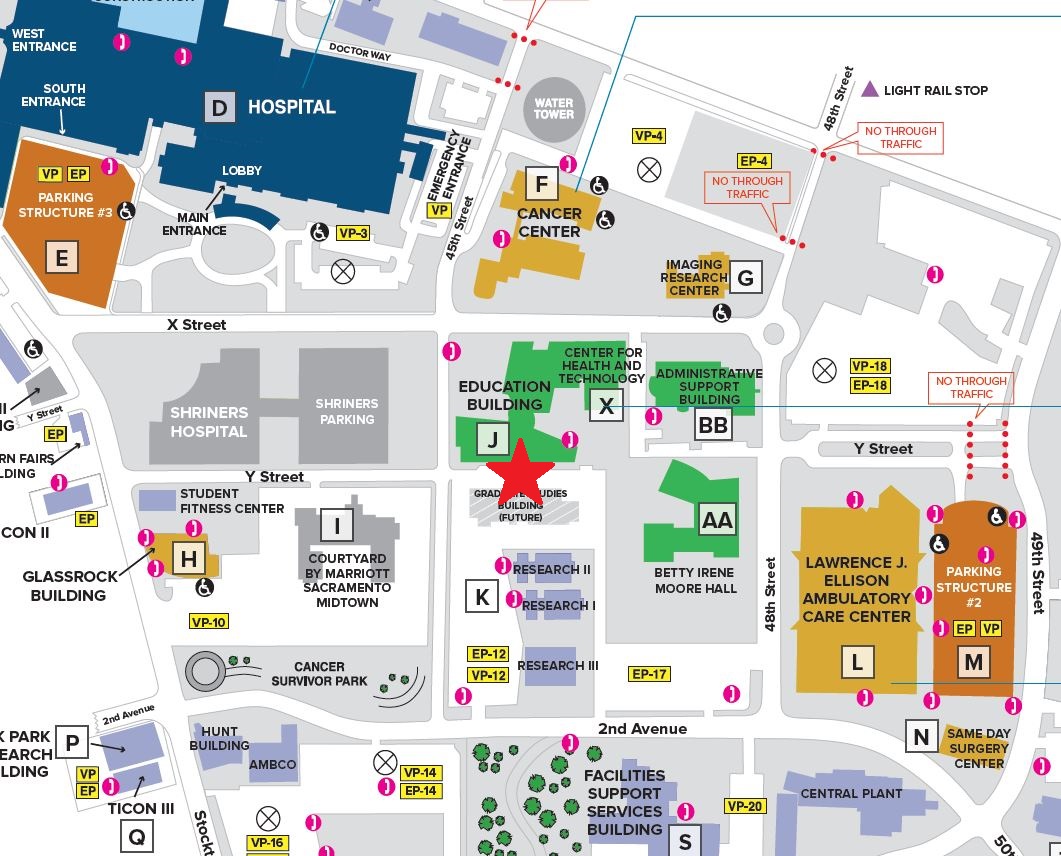 Causeway Connection Route
The Causeway Connection will offer multiple direct, express trips between UC Davis and UC Davis Health, with the final route determined by Sac RT and YoloBus.
Its terminal destination on the UC Davis Health campus will be the future mobility hub for UC Davis Health at the corner of 45th and Y Streets.

Some peak-hour trips between the Davis Campus and UC Davis Health will include stops along P, Q & R streets.

Stops on the Davis Campus in front of the Mondavi Center, GBSF and the Silo.

Some stops at the Mace Blvd. Park & Ride (near Mace Boulevard & I-80 interchange).
UC Davis Affiliates Pay No Fare
The Causeway Connection will be open to everyone and UC Davis is covering fares for all affiliates (students, employees, retirees, volunteers).
---
Frequently Asked Questions
 
Do you have ridership data?

Shuttle Rider Data (.xlsx)
Provided by All West
2006 - November 2019 

UC Davis Ridership Survey (.pdf)
Collected by UC Davis on intercampus shuttle
Collected from Feb. 5 - 9, 2018

UC Davis Intercampus Shuttle Riders' Survey (.pdf)
Conducted by shuttle riders
Collected June 2019

Tell me more about the buses (e.g., bike capacity and seatbelts)

The Causeway Connection will use new electric buses built this year in California, specifically for SacRT and Yolobus to use on this route. These new buses will have free wifi, USB charging, and offer real time tracking for arrival information. The buses will have seating capacity for 33. The new buses are battery electric powered, producing zero tail-pipe emissions and will help our region achieve air quality goals and reduce our greenhouse gas emissions. 

Bike Capacity
The new buses have rack space for three bicycles, whereas the current shuttle has room for eight. Folding bicycles can be stored on board and will not displace passengers. We are seeking options to expand the bus' bike rack capacity. However, with multiple trips during peak-commute hours, the Causeway Connection service could transport up to 9 bikes hourly.

Rear Bike racks
SacRT and Yolobus staff (operations, maintenance, safety) have identified the following concerns:
• Bike(s) getting stolen off the back, while the bus is stopped.
• Drivers may need to exit the bus to observe (and potentially assist) bikes being loaded/unloaded safely, as well as ensure nobody is still touching the rack when the bus departs.
• A rear bike rack will increase bus length, making turns more difficult.

SacRT's preference is to stick with traditional front bike racks, and address bicycle capacity through either the schedule (having more buses per hour) or first/last mile solutions (bike parking/lockers, bike share, etc.). However, SacRT will continue to look at a full range of options for both increasing bike capacity on the buses and for providing bike connectivity options at the primary bus stops.

Seatbelts & Safety
As with other Yolobus and SacRT buses, the new buses will not have seatbelts. Public buses without seatbelts is common and this is the current approach used by both transit districts in their operations throughout the region on freeways including on routes across the I80 causeway. The new buses will be operated by the professional drivers from SacRT and Yolobus. The drivers will have training specific to these buses and these routes. The SacRT and Yolobus transit districts have rigorous safety policies, trainings, and refresher trainings. For instance, Yolobus has a strict termination policy regarding personal electronic devices in order to reduce distracted driving.

Retrofitting Bus With Seatbelts
Given the bus construction, it may not be possible to install seat belts. SacRT and Yolobus know that the buses cannot simply be retrofitted to attach lap/shoulder restraints to the existing seats. The seats themselves would have to be replaced on all 12 buses. It's also possible that seatbelt-equipped seats will not mount appropriately in the buses, and their additional weight could push the bus over legal weight limits.

SacRT and Yolobus will continue working with the bus manufacturer and its equipment providers to assess the cost and feasibility of a retrofit.

Tell me more about the schedule and projected timing

The concept schedule posted on Nov. 13 (.pdf) shows how often buses will be running, potential stops and approximate travel times. The intent is to give potential riders a sense of leave and arrival times.

Any transit schedule not using a dedicated right of way is based on approximate travel times. The times tend to be optimistic because buses should not leave a stop prior to the printed times, otherwise riders will be left behind. As we gain experience with the route, we expect to post more accurate times. 

The schedule shows consistent times throughout the day, even when we know traffic impacts are likely to extend a trip. This is a standard practice to keep the times easy to remember. The new schedule will also have consistent times through parts of the day, though the service will likely encounter traffic delays on certain trips.  Again, as we gain experience with the route, the schedule may need to be adjusted when posted arrival/departure times are unattainable. 

In order to accommodate delays that buses experience, "recovery time" is built into the schedule.  Recovery time is provided as a gap between the arrival at the last stop and the leaving time for the next trip.  Generally, there is 15 minutes of recovery time for the 45 minute scheduled time, which is intended to allow the next trip to leave on time when the earlier trip is delayed.  With delays longer than that, spare buses can be introduced to keep the service running on time.

Additionally, all of the buses will be connected to a real-time tracking system that will allow riders to see where the buses are and to see an estimated time of arrival at any stop.

Why is the destination at UC Davis Health moving?

The Causeway Connection will use the area on 45th and Y streets, south of the UC Davis Health Medical Education Building for passenger loading and drop-off. A new transit hub is being constructed in this area and all buses/shuttles that currently drop off in front of the UC Davis Hospital will be moved to this area within a year.

This site is close to the Scrubs Café, restrooms and shuttle charging infrastructure. There is a planned bike shelter for this site as well, for secure long-term bike parking. Look for construction to begin towards the end of Nov. 2019.

Why are stops being added in Sacramento?

Midday trips between UC Davis and UC Davis Health will provide access to midtown Sacramento and downtown Sacramento while minimizing travel in the most congested areas near the Capitol. It will also provide for good transit connections to Sac RT Light Rail lines, as well as regional express buses from outlying areas, such as Roseville, Elk Grove and El Dorado County.

Why is the current intercampus shuttle being discontinued?

This new Causeway Connection service is intended to expand access to cross-causeway commuters, while maintaining a comparable level of service for intercampus shuttle riders. The intercampus shuttle is an important service, but the high cost of running a private charter is not sustainable. Further, the new Causeway Connection service allows UC Davis to help bring more zero-emission transportation to the region.

UC Davis has been spending $585,000 a year on the intercampus shuttle. A few years ago, we began seeking options to better serve our current riders while also serving more people. We have chosen to use our funds to partner with Sacramento RT and Yolobus to offer more buses, more frequent service, public access and the potential for more points of access.
Where did the funding come from?
UC Davis, in partnership with Sac RT and Yolobus, applied for Electrify America funding in March 2018. We were awarded sufficient funds to purchase 12, zero-emissions buses, which Sac RT and Yolobus will operate as the Causeway Connection. 



UC Davis will continue to fund part of the Causeway Connection service while grants and other funds are expected to also provide operational funding.  With the expanded service providing additional buses and additional route options, the overall cost for the service to UC Davis and its partners is greater than the current intercampus shuttle. However, those costs are borne by a greater number of partners, and are expected to decrease as ridership increases.

What if I also need a parking permit to access the Causeway Connection at UC Davis Health or the Davis Campus?

Some affiliates will need to purchase a parking permit to access the service at one campus in order to use the bus to travel to the other campus. For that reason, parking permit holders who park to access the Causeway Connection will be eligible for goClub/Green Commute benefits.

 
Tags