"I enjoy the dynamic environment [at UC Davis] and working with so many dedicated professionals. The depth and breadth of knowledge is impressive."
Rhonda Lake is the Assistant Director for Real Estate Services.
---
When did you join the University?
October 2012 after 17 years in public real estate for the City of Sacramento.
What's your day-to-day role in stewarding university resources?
The primary focus of my team is leasing and lease administration for the health system and off-campus leased space.  We currently administer more than 100 leases for over 1.3 million square feet of space.  Our day-to-day activities include reviewing market data on lease rates, tenant improvement allowances, and overall market conditions to negotiate the best terms and conditions for the University. This can include everything from agricultural leases to medical office facilities.  We also prepare, process and administer a variety of other real estate documents, including licenses, facility use and research use agreements, and easements. 
What's an example of how you delight customers?
The campus solar plant project and the Woodland/Davis surface water project required a special permit from Union Pacific Railroad.  Unfortunately, UPRR's standard permits included indemnity language that required Regent's approval.  Without the permit neither project could move forward so I worked with colleagues at DCM and UCOP to map the process to obtain approval of the non-standard language and coordinated efforts toward a successful outcome.  I don't know that my approach is unique but I feel it's vital to understand a customer's desired outcome before beginning work on a project.  Our goal is to get the project across the finish line within University policy guidelines and parameters.
What do you like best about working at UC Davis?
Well, it's not the commute! (Rhonda commutes from Roseville.)  I enjoy the dynamic environment and working with so many dedicated professionals.  The depth and breadth of knowledge is impressive.   
What's the most challenging part of your job?
Delivering projects that have competing deadlines and compressed schedules is a challenge.  If everything is a priority, nothing is a priority.  The earlier our team becomes involved in a project, the easier it is to define roles and responsibilities and map the process to a successful outcome.
Tell us one thing about yourself that most people wouldn't know:
I am often teased because I have never seen an Indiana Jones, Star Wars or Harry Potter movie.  I love the color purple and country music, especially Keith Urban.
What is something you like to do when you're not at work?
In 2011, we adopted a 2-year old brother and sister of the canine kind, Holly and Henry.  I enjoy spending time with them, my family and friends and I like to travel.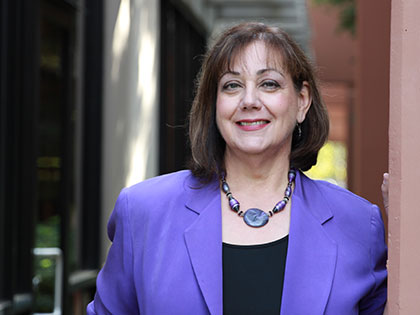 Category