Profile: Ray Holguin
Ray Holguin
Ray is a Police Officer and the Outreach Coordinator for the UC Davis Police Department. 
When did you join the university?
I started at UC Davis in September of 2000. I have been working in law enforcement for 25 years.
What's your day-to-day role in maintaining university safety?
As the outreach officer, my number one duty is to determine and address the concerns of the community through surveys and feedback from individuals. However, my role changes from day to day. I lead various trainings on personal safety, bicycle safety, teen driving and active shooter presentations so that the campus community can be prepared to respond to any such crisis. I also lead the orientations for incoming freshman and transfer students, and work with the parole units on campus. Educating and informing safety of students, employees and faculty helps keep the entire campus safer for everyone.

How can employees maintain a safer work environment?
Our phrase at the UC Davis Police Department is "If you see something, say something." If something doesn't look or feel right, just give us a call and we can come check it out. We're just a phone call away. It is important for everyone to look, listen and be aware of their surroundings.
"I love that I get the opportunity to work with such a diverse and educated population. It's a great way to do police work."
What's an example of how you delight customers?
We run a cadet program every year for around 25 graduating seniors. Over the course of the program, we teach them about the fundamentals of working in the station, introduce them to professionals from different law enforcement agencies and the district attorney's office, and teach them about the diverse responsibilities of a law enforcement agency. I love being able to see them grow and learn about how to serve a diverse community, and have such great respect for people, as they start their careers in law enforcement. We've received a lot of great feedback from this program.
What do you like best about working at UC Davis?
I love that I get the opportunity to work with such a diverse and educated population. It's a great way to do police work. At other agencies, I hadn't had the luxury of working with such a diverse community. Whenever we perform training or education workshops, the community really takes it seriously and pays attention. I also love the environment on campus – it keeps me young!
What's the most challenging part of your job?
One of the biggest challenges is the constantly changing community. Seniors graduate every year, new students start in the fall and employees come and go over the years. We must start from ground zero every year in our education efforts. I deal with this challenge by reminding myself that it's always a new crowd and not every group will adapt to education in the same way. We are always working to build a bridge between us and the students, both continuing education students and new students, and employees and faculty. Through events like "Coffee with a Cop", and general outreach and presence on campus, we continuously answer questions and show that we are available for the community.
Tell us one thing about yourself that most people wouldn't know.
I am an avid tennis player.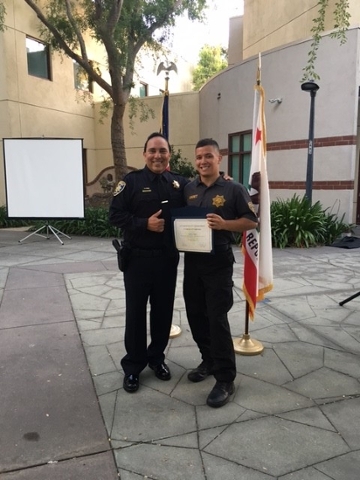 Primary Category