The FOA Wordmark
 

The FOA wordmark is our main visual identifier. It is the core graphic used to identify operating units, programs, and initiatives.
The wordmark should be used with discipline including consistent formatting, not altering it any way, using appropriate scaling and proportions, and making sure it is visible and not hidden with other graphics and backgrounds. 
There are several version of the wordmark including 1-line, 2-lines, centered, all white, blue, etc. These versions should be used when the occasion calls for it.

---
AVC-Level and Department Wordmarks
The most commonly-used wordmarks are the associate and assistant vice chancellor (AVC) level wordmarks. We use these highest-level org wordmarks most often so that our customers become familiar with the larger organization within FOA. Beyond that, we only create wordmarks for operating units, divisional resources, and approved initiatives.

Click on the department name below to view/download the available wordmarks.
Administrative IT
Business Partners
Communications
Conference & Events Services
HR
Campus Planning
Transportation Services
Arboretum and Public Garden
Office of Sustainability
Landscape Architecture
Facilities
Utilities
Fleet Services
Energy Conservation Office
Facilities Management
Custodial Services
Building Maintenance Services
Student Accounting
Payroll Services
Tax Reporting
Financial Reporting
Staff and Faculty Health and Well-being
Fire Prevention
Risk Services
Occupational Health
Environmental Health and Safety
Emergency Management 
Repro Graphics
Travel
Special Services
Procurement & Contracting
Microscope Services
Mail
Furniture
Event Rentals
Bank Card
Distribution
AggieSurplus
Accounts Payable
---
Specialty Wordmarks
The UC Davis brand does not include logos and wordmarks for every group on campus — if they did, there would be infinite amount of logos! That's why we reserve specialty logos for approved initiatives, campaigns and systems. 
Examples of approved specialty wordmarks: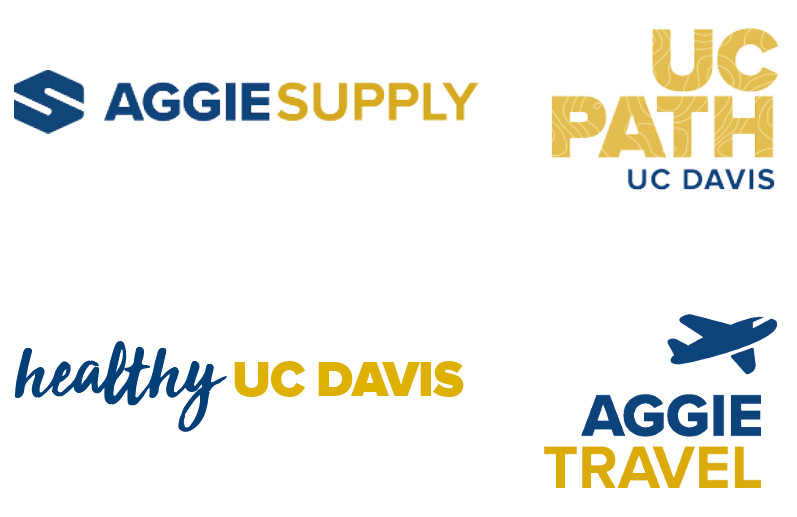 ---
Wordmark Usage
General Use
To ensure consistency, please use all FOA wordmarks in accordance with the following:
Clear Space
Careful consideration must be used when placing the wordmarks close to other text and graphics. Clear space is same as the height of the UC Davis wordmark. This helps ensure that other elements do not appear to be connected with the logo.

Colors
The two-color (gold and navy) logo on a white background is the preferred usage.Single-color logos should be used sparingly and when appropriate An all-white logo can be used at times on UC Davis colors.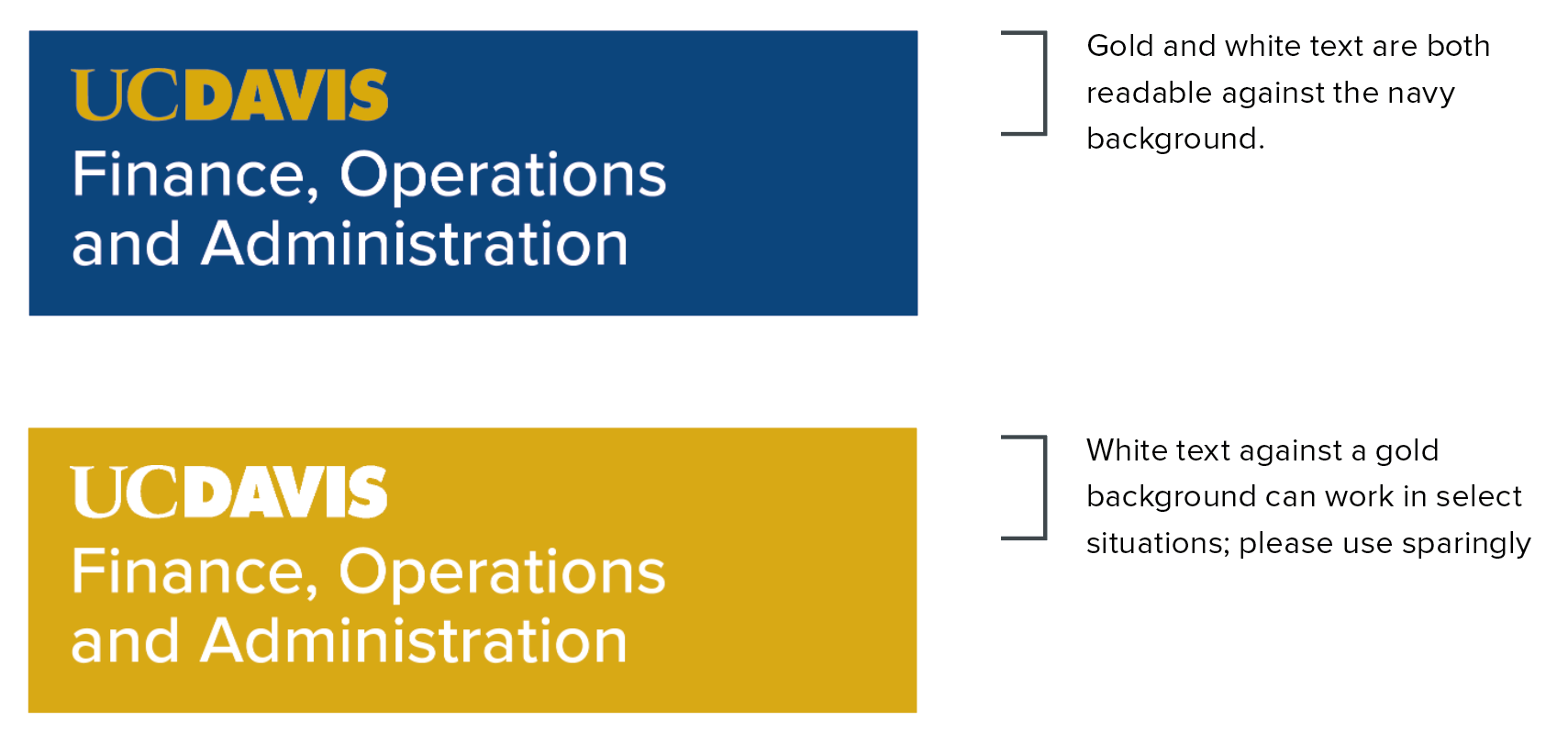 ---
Improper Usage
The following examples illustrate usages that compromise the integrity of the logo. Please avoid utilizing any of these techniques. Do not alter the wordmark in anyway including changing the color, contrast, proportions, typeface, etc. 
In addition, do not reproduce the logo by scanning a previously printed version.