FOA Shared Identity Templates
The goal of new identity system is to visually unify all FOA units. The colors are based on the FOA organizational chart, using university primary colors and select secondary colors. Templates and digital assets will be provided as needed. 
---
Unit Fact Sheets
Use your operating unit's or department's brand color in the smaller triangle on the far right. Place a one-line horizontal wordmark in the upper corner. Use a relevant photo in the header.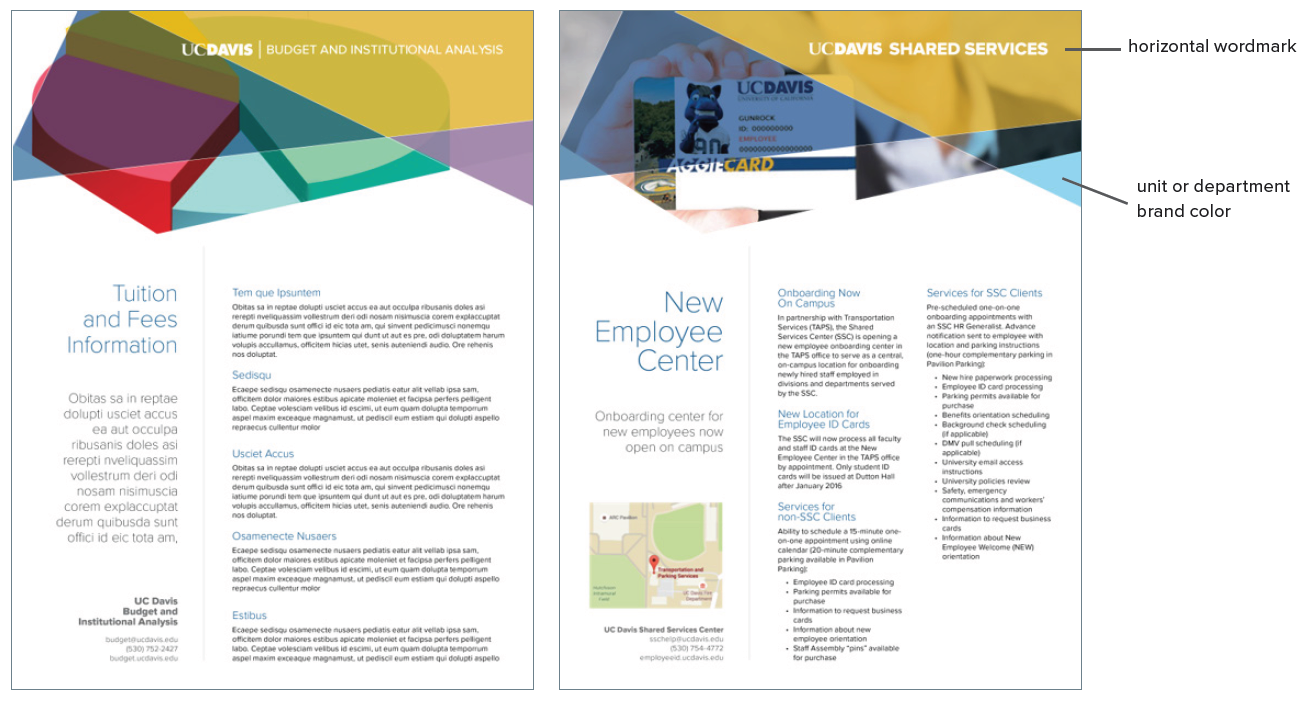 ---
FOA Powerpoint Templates
Each FOA operating unit has a PowerPoint template that they can download. The cover features their wordmark and graphic in the right-hand corner. Download your unit's template and place your own content into the slides.
Download FOA Powerpoint templates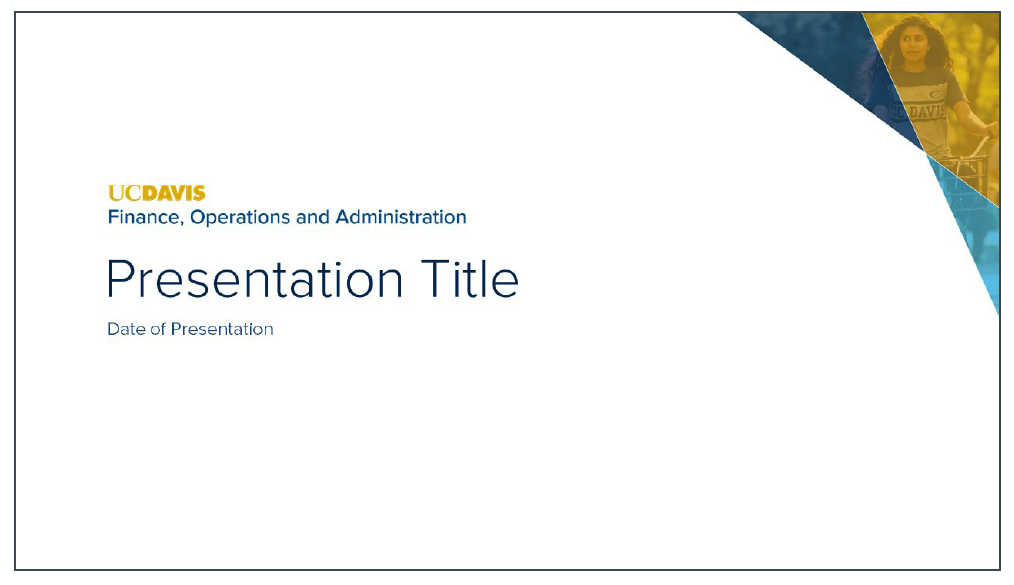 ---
FOA Letterhead
This shows the approved layouts with the primary elements of the stationery system for the front of the letterhead. The letterhead will be used for all official communication that is going out of FOA. Refer to the hierarchy order below when using the FOA letterheads. Please use a one-line horizontal wordmark at the bottom.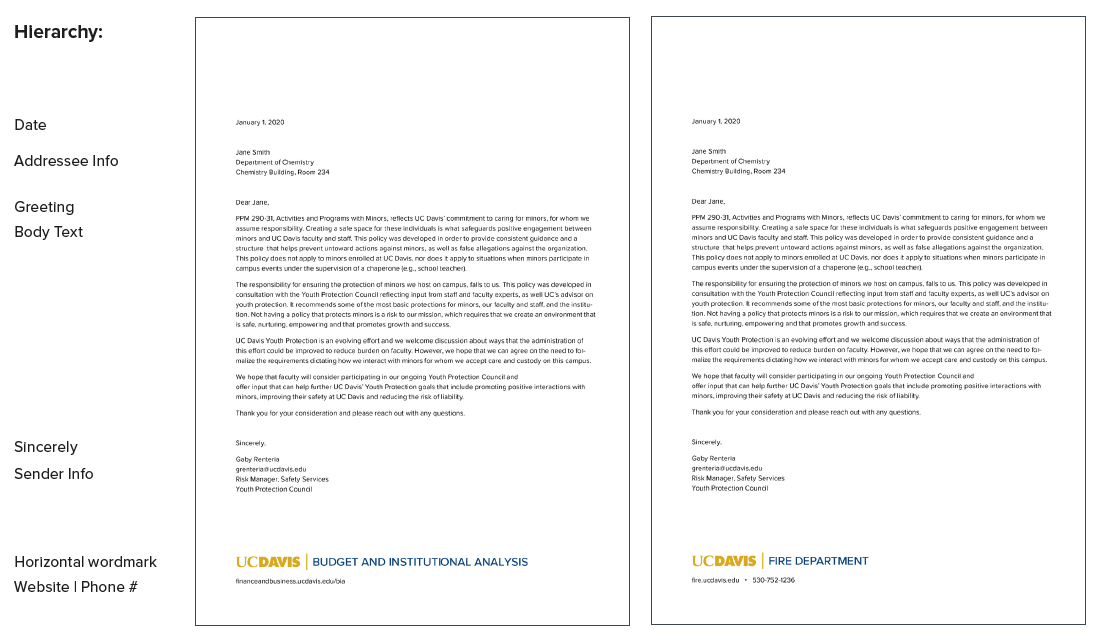 ---
FOA Iconography
An icon is a pictogram displayed on a screen or print layout in order to help the user navigate through the content in a easier way. The icon itself is a small picture or symbol serving as a quick and intuitive representation of neighboring content.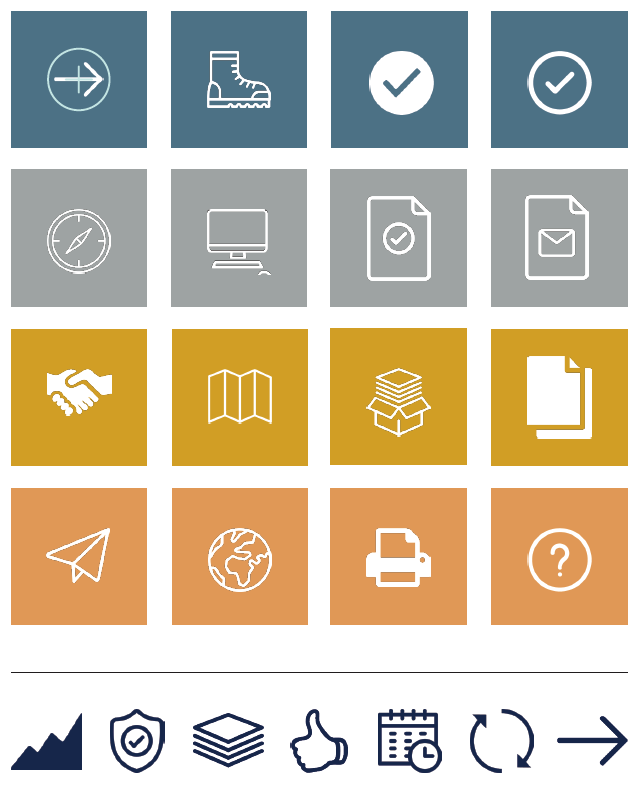 Usage:
White icons need to be placed on only an approved primary or secondary color.
Use sparingly on the website or print collateral.
Upscale only proportional.
Use blue or black icons on white background.
Download icons to use in your projects.
---
Campus Signage
FOA and its units support campus wayfinding, and our signs show how we employ university branding in the public and the environment. Samples of signage:
Building Signs
Campus Maps
Road Signs
Structure Banners
Directions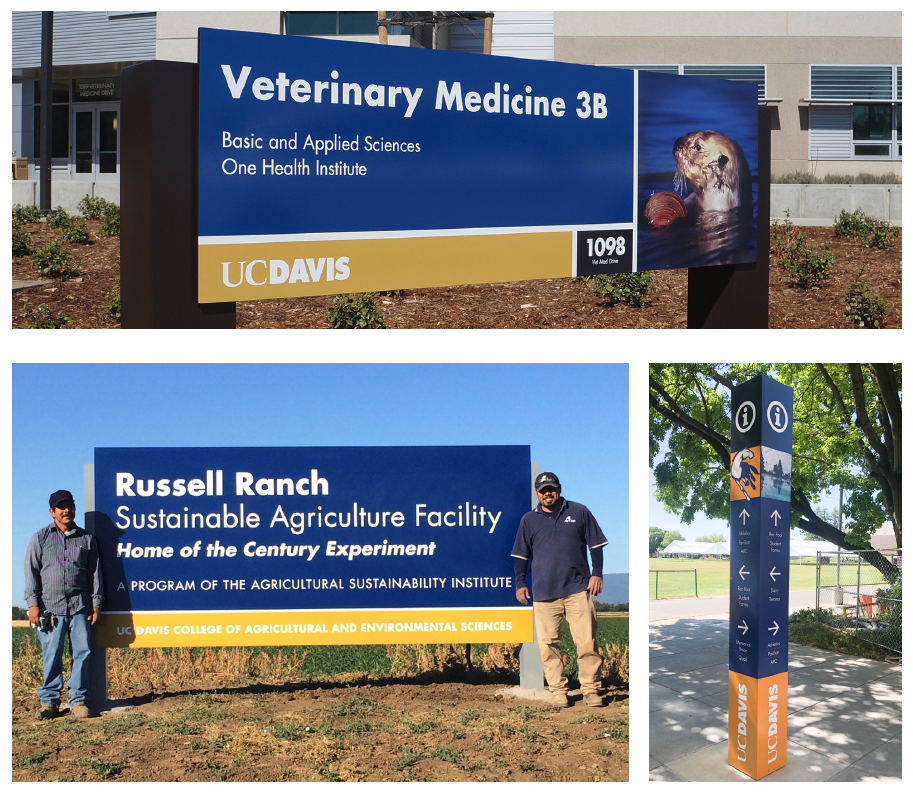 ---
Apparel & Promotional Items
Here are some examples of how our wordmarks are placed on FOA-branded apparel. Care must be given to each embroidered application. Proper thread count, material selection and fabric color should be carefully chosen. Fabrics with a tight weave are best for embroidery. The logo should not be smaller than 1" in height, and white or navy fabrics are preferred. The logo cannot be modified on apparel or merchandise. Text or other graphics should not be grouped with the primary logo.