More Ways to Keep on Brand
There are additional ways to promote our brand and keep it consistent. Each time you come in contact with a client (new or old), think of the different ways they might see us. Even the smallest details help add up to the larger picture. It's important that everyone is on the same page so that we can have a strong brand.

Email Signatures
Basic Email Signature
Every email that comes from FOA reflects upon us as a division. Using a simple, branded email signature across FOA helps strengthen our visual identity. General email signatures:
All text below name is 9 pt. type
Single space after name/title block
Name of unit/service area
Email followed by phone number
Unit URL
Wordmark at designated size (do not alter logo file)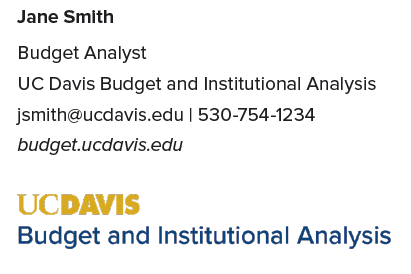 Awards/Designations
If an FOA unit received an award or designation, they may temporarily include an award seal in their email signature.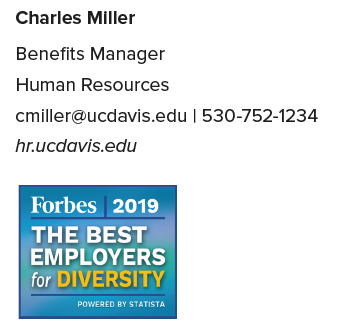 ---
Email Headers
When sending a mass email to clients or campus, please include the designated header assigned to your unit or department. The headers help create a professional and official look.