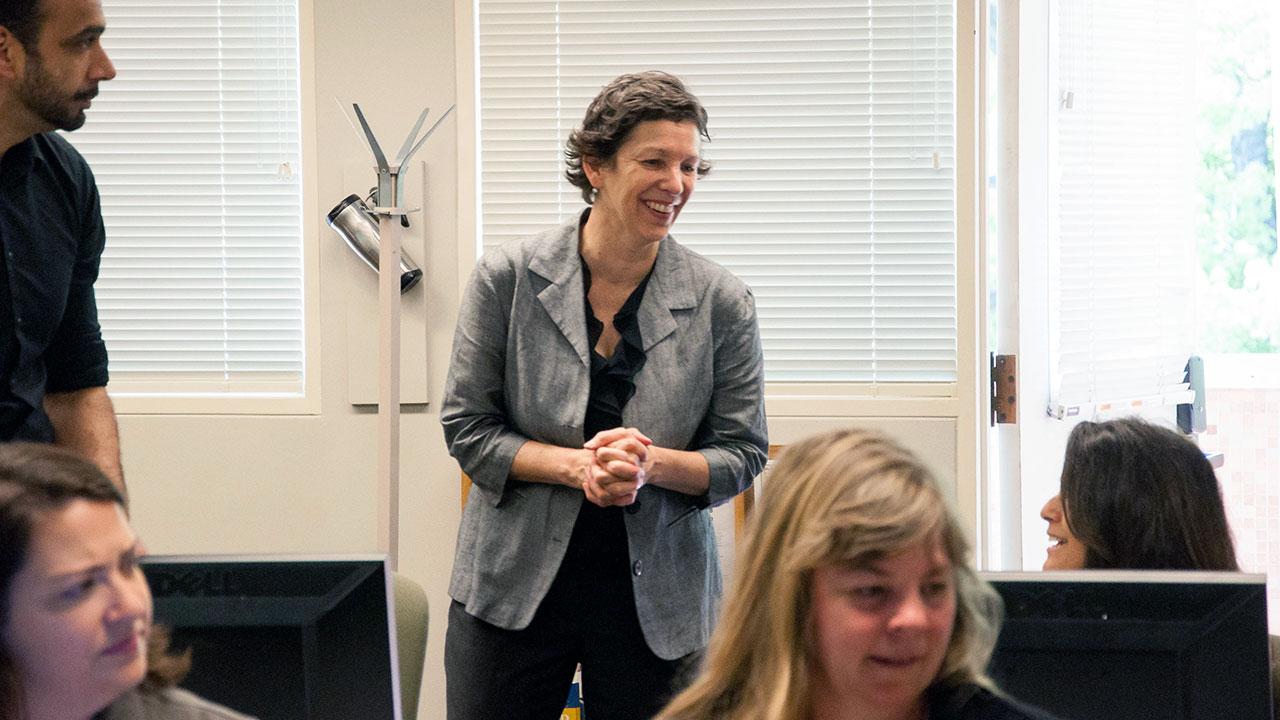 AggieBudget: A New Day for Campus Budgeting
Jennifer Eting, FOA Communications
For years, campus budget officers have made do with the tools they had to manage budgets with complex funding sources and unique business models. In fact, the UC Davis campus has never had a true budgeting system, but rather, a financial system that was used as a budgeting system for lack of a better solution.
"We had been using Excel way beyond how it was designed to be used," says Offices of the Chancellor and Provost Executive Officer Sonja Colbert, "No one does their budget modeling in Excel."
In the past, many units on campus had found their own ways of managing budgets, using different tools and methods, none of which could be combined into one high-level campus-wide overview.
"For a budget of approximately $5 billion," says Assistant Vice Chancellor Sarah Mangum, "that simply isn't acceptable."
Recognizing the need to establish a common budget tool and campus-wide best practices, campus leadership appointed a team of budget analysts, programmers and end-users to develop a campus-wide budget system, now called AggieBudget. By March 2019, the system will include users from across campus and will be well on its way to becoming a complete online budget, financial forecasting and reporting tool.
AggieBudget will benefit campus leadership and program managers alike. As a campus-wide system, AggieBudget will enable campus leaders to roll up budgets across units and the entire campus, gaining a complete view of the financial health of the university. For managers, AggieBudget will generate reports that support more informed conversations about monthly activities, areas of concern and opportunities.
"Having a system like AggieBudget allows us to have a complete picture of what the future state could look like and what we need to change in order to succeed," says Principal Budget Analyst Sarah Grensted.
While many units had gotten by with their own in-house solutions, their processes often required extensive manual work. Many staff often spent more time preparing reports than analyzing them.
Preparing for a New Way of Managing Budgets
Beyond the automated features of AggieBudget, the system marks a shift in the way campus budget officers work, establishing a standard for budgeting and forecasting for long-term strategic priorities.
"I recognize that for many, the move from managing accounts to managing a plan across years is a bit of a culture change," says Mangum, "but this will improve our ability to strategically plan the use of our resources."
AggieBudget also offers the opportunity for better communication between staff and managers. Some units, like College of Agricultural and Environmental Sciences, have started preparing staff for the transition to AggieBudget by inviting managers to attend one-hour AggieBudget Reports trainings. Managers then share what they learn with their teams and discuss how AggieBudget changes the way they do their work. Additionally, the College of Agricultural and Environmental Sciences Dean's Office has engaged chief administrative officers and department chairs in a review of existing accounts.
"This is something that we had wanted to do, and AggieBudget provided a reason and an opportunity to look at how the accounts were organized," says Executive Assistant Dean Penny Herbert. "We recognize that it will require some extra work in the early stages, but the benefits far outweigh the challenges."
The long-term vision for AggieBudget is to establish a community of practice, where users can share ideas and best practices across units, benefiting the university as a whole. This work has begun with the AggieBudget User Group, which has expanded to nearly 100 attendees by the third meeting. This network will continue to grow with AggieBudget and Coffee Meetings, starting in winter 2019, and additional budget training sessions.
"Our goal is to provide a tool that supports multi-year planning and strategic decision-making to help achieve the campus' goals," says Mangum. "We look forward to building a network of budget officers and continuing to improve the way we budget every day."
Category