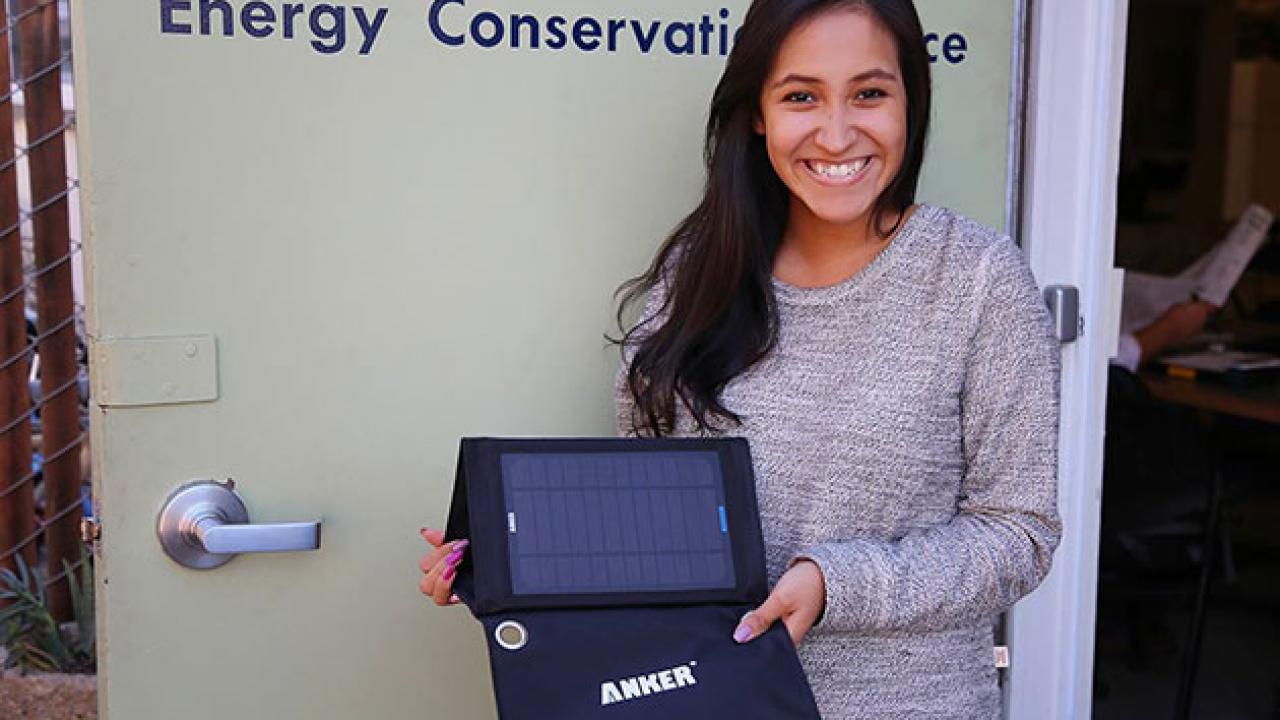 What's scarier than a pack of zombies outside Mrak? Coming in third in the Cool Campus Challenge!
(Sorry, it wouldn't be a good Halloween story without a well-placed pun, right?)
The UC Cool Campus Challenge is a fun, friendly, educational competition to reduce our carbon footprint and create a cool culture across the UC. Participation is simple – sign up and take actions like turning off the lights and taking transit that earn points for you, your team, and UC Davis.

So, you've taken the Cool Campus Challenge … that's terrific! Now, it's time to start making good on your pledges.
To verify a pledge, log in, go to your profile and add an explanation to each pledge and a photo to get bonus points. It's super easy!
Take some advice from prize-winning Jessica Galvan, who's at the top of the UC Davis leaderboard: "Read through all of the available pledges. You may find there are several actions you are already performing in your office or even at home."
Check out another all-star, Pheng Vongkhamchanh, top-scorer on the UC Davis Library Team. One way to get fresh ideas is to look at others' CCC profiles. And don't forget that adding photos to your pledges is a quick way to score bonus points.
That sounds pretty easy, right?
So, let's say you've already exhausted all of the pledges. Now it's time to add your own actions. Here are some ideas to get you started:
Attend an upcoming Arboretum Plant Sale on Nov 14
Learn about the campus Long Range Development Plan by attending an open house tonight at Nelson Hall.
Shop the final campus farmers market of the season on the Quad next Wednesday, Nov 4.
Download and read the UC Davis Annual Sustainability Report.
Talk about sustainability during a staff meeting.
Bring a lunch or snack from home in reusable containers.
If you're able, take the stairs instead of running the elevator – it's good for your body too!
Buy local when it makes sense – supports the local economy and reduces pollution from less trucks on the road.
Carpool to an offsite meeting with coworkers.
If you drive to work, reduce your speed and moderate your acceleration.
Doing errands on your lunch hour? Combine your trips!
Take credit for economy class – it's the carpool of air travel.
Go beef- and dairy-free for a day – it takes a lot of resources to raise cows.
Run your cooling or heating only when you're home.
Telecommute to work and meetings, when it makes sense.
Encourage your co-workers to sign up. The more the merrier!
So go ahead, get busy keeping cool and reducing your carbon footprint.
Related links: