Featured Projects

Administrative Computer Standards
Generate greater departmental savings by purchasing administrative computer equipment in bulk.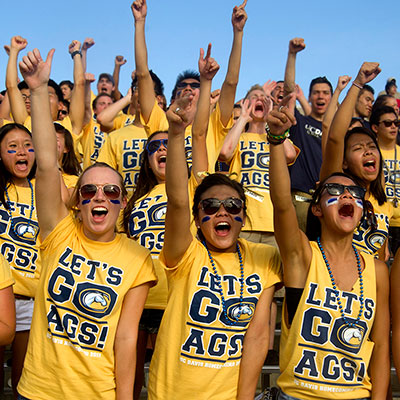 UP3: UC Davis Preferred Partnership Program
Building strategic partnerships that deliver impactful programs.
Visit the UP3 website.
Optimizing Campus HVAC Systems (ACE)
This project is projected to save millions of dollars annually by reducing energy use and a more sustainable approach to keeping our customers comfortable and safe
Financial Sustainability Program
 
1. Optimizing Campus HVAC Systems - ACE (active)

Background:

Due to antiquated HVAC systems and inconsistent monitoring, buildings were being heated/cooled inefficiently and when vacant.



Approach: The team of energy engineers has used a blend of new technology & new campus temp. standards to save costs and improve energy utilization.

Outcome: This project is projected to save millions of dollars annually by reducing energy use and a more sustainable approach to keeping our customers comfortable and safe. More details.
2. MRO/Supply Chain (active)
Background:

Fiscal constraints are causing the university to reduce the total cost of ownership of maintenance materials while improving service levels to the campus.



Approach: Facilities inventory was moved under Supply Chain Management, whom partnered with a third party industry leader to establish a Just-in-Time system, complete with volume discounts and kitting/staging of parts for delivery.

Outcome: The on-hand inventory expects to be reduced by more than 75%, while Facilities personnel should receive equal or better quality parts while creating a safer work environment via free, vendor-provided safety training and certification. 

3. Bank Card Programs (complete)

Background

: Campus-wide spending takes many forms, several of which cost the university money (i.e. staff reimbursements, purchase orders).



Approach: Establish procurement protocols that shift spending behavior toward the our partner bank card programs.

Outcome: This program generates millions in annual rebates back to the campus for reinvestment in strategic priorities. 

4. Administrative Computer Standards (complete)

Background:

Years of decentralized IT created an environment in which the university had over 195 makes/models of computer in operation, making for an untenable IT support environment while missing out on volume-based product discounts.



Approach: Working collaboratively with IT and Finance leads from across the campus, five computer standards were agreed upon for staff use. Through these standards, Strategic Sourcing was able to negotiate significant volume discounts.

Outcome: Across all departments, UC Davis saved more than $1 million in the first year of the new program, while creating a much more homogeneous IT environment, simplifying and expediting IT support, while creating an easier environment to protect from cyber threats.

5. UC Davis Preferred Partnership Program - UP3 (complete)

Background:

Up until recently, vendors seeking to gain access to UC Davis students and personnel, or to affiliate with UC Davis, had been able to do so for nominal fees and product giveaways. The UC Davis brand was thus being leveraged without fair compensation or benefit to the university and all of its constituents.



Approach: All the units with marketing assets and those with a vested interest in affiliations with outside businesses coalesced and unified, creating the UC Davis Preferred Partnership (UP3) Office. This office works on behalf of the various departments to drive unified, collective deals that increase the benefits to students and UC Davis as a whole.

Outcome: With the new UP3 Office complete, the university is working with several industry categories to find businesses that have a positive value proposition and similar ethics as UC Davis, to forge the foundation for lasting partnerships.
 6. 

School of Veterniary Medicine: Large Animal Clinic Operational Analysis (complete)

Background:

The Large Animal Clinic had been running at a deficit for several years and they asked to have an assessment of their patient care staffing.



Approach: Through numerous interviews with all levels of staff from the Exec Director to union staff members and Lean Six Sigma assessments of work flow, staffing and operational efficiencies, and a report with approximately 50 recommendations was finalized and reviewed with senior management.

Outcome: Several recommendations were implemented and the LAC reengaged for a follow up review approximately a year later in efforts to create a continuous improvement environment.
Efficiency Program
 
1. Increasing Wrench Time (active)

Background

: Trades personnel are required to spend non-value add time driving to and from the warehouse for parts.



Approach: With a few small changes, the team was able to have warehouse staff deliver parts directly to the trades personnel.

Outcome: Identified the opportunity for 14,000 hours of trades-work to be redirected toward building maintenance
2. Office Refresh Program (active)
Background

: Campus Office renovations took too long and customers had to coordinate with each trade to complete a job.



Approach: The team created six standard templates to pick from (paint, flooring, blinds and ceiling tiles), created a dedicated team with one foreman and charged one flat rate (regardless of office size).

Outcome: The one fixed price reduced time/frustration over negotiating and made the payment process more efficient, and the templates and dedicated teams meant that office refreshes were completed in five days, with an emphasis on customer satisfaction.
3. 

Freight Management (active)

Background:

Outbound packages are shipped from every department across the university.  Between office personnel often choosing expensive overnight shipping and the increased compliance regulations for international shipping, additional oversight and monitoring was needed.



Approach: Working with sister universities, UC Davis identified a third party solution that will allow the person shipping to price shop between shipping providers and will default to "ground" shipping.  This coupled with improved monitoring will help UC Davis ensure compliance and avoid costly fines.

Outcome: TBD
4. Accounts Payable Invoice Service (active)
Background:

Invoices for purchased goods are manually entered into the system of record today by individuals all across the university. Due to this, often errors and late payment occur which can both damage the university's credit standing and eliminates the opportunity for early payment rebates.



Approach: The entering of all invoices is being centralized to increase consistency, reduce errors, improve UC Davis' credit rating and increase the vendor rebates associated with early payment.

Outcome: To date, approximately 70% of the invoices processed have been centralized while the team works with local departments to convert the remaining 30%.
5. Campus-wide Project Portfolio Management Tool (active)
Background:

UC Davis project managers, spread-out amongst many departments, use a myriad of solutions to both manage their individual projects and to provide Program Management tracking and reporting.  This is not cost effective or efficient and makes a comprehensive view of all "mission critical" initiatives impossible.



Approach: Leaders from the largest project management departments across campus were brought together by OSS, to document their core needs and a list of preferred features.  The group then proceeded to perform a product comparison before selecting a product for implementation. 

Outcome: The campus is currently amid a soft rollout of a system that meets the needs of both detailed project management and portfolio management.

6. Concierge Serivce

–

DCM (complete)

Background:

Certain California state thresholds exist that determine whether the Facilities team or the Design and Construction Management team can perform renovations.  These thresholds often create confusion for campus customers and often lead to delays in the estimation process.



Approach: Create a Single Point of Contact (SPOC) for all campus uses interested in starting a renovation project.                          

Outcome: The SPOC serves as an initial project estimator, working with the customer to finalize their plans (75% reduction in time), routes the project to the appropriate department and then oversees the project to fruition, eliminating the need for the customer to play the role of General Contractor.
7. Data Governance Report (complete)
Background:

Due to data access policies and processes not always being clearly communicated and consistently applied to all student data requests, along with divergent interpretations of FERPA, UC Davis needs a data governance structure that maximizes the benefits of data analysis for the campus, while respecting privacy and complying with laws that protect the accuracy and security of such data.



Approach: A sub-group from the campus-wide Data Governance group was assembled with representation from key departments to analyze the current issues, inventory the prevailing approaches from the leading institutions and to put forth final recommendations.

Outcome: A comprehensive recommendation was compiled, outlining a new governance structure, new procedures to resolve or escalate issues, systems of record and the development of a campus data portal.

8. Global Affairs: International Information Hub (complete)

Background:

UC Davis has employees and students in countries all around the world.  However, a comprehensive system was needed to track international projects and collaborations, agreements/MOUs with foreign universities and organizations, faculty international profiles (international research, teaching and travel), international mobility of students and scholars, and many other data demonstrating UC Davis global engagement.



Approach: This consulting engagement consisted of interviewing the service owners of similar systems at several other universities, researching the leading third party providers and then making a build-buy-borrow analysis to create the system needed by the Office of Global Affairs.

Outcome: A 27-page, comprehensive recommendation including a phased project plan for implementation was provided to Global Affairs.