By Lauren Riebs
April 4, 2016
At UC Davis, students and researchers are not the only ones encouraged to explore and pioneer creative innovation. In fact, UC Davis employees continually discover unique solutions to campus problems every day, such as fashioning a bike pump to withstand a university of over 15,000 cyclists.
Several years ago, Transportation Services (TAPS) invested in bicycle repair stations to cater to the vast bicycle-riding population on campus. However, the stock air pumps never seemed to sustain the high volume of cyclists at UC Davis, often requiring repair, maintenance, or replacement. In a city known as the "Bicycle Capital of the U.S.," where a majority of UC Davis students, faculty, and staff travel on two wheels instead of four, working bicycle pumps are a necessary campus resource.
Last July, VC-CFO Dave Lawlor contacted TAPS Director Cliff Contreras, inquiring about a solution to this campuswide problem. Contreras collaborated with Michael Johnston, TAPS Maintenance Supervisor, whose team rose up the challenge of engineering a functioning and long-lasting bicycle pump, even though Johnston's usual campus responsibilities revolve around maintaining the University Airport.
Over the course of three days, Johnston and his team fashioned an innovative air-pumping device using the originally purchased frames and adding new, more reliable parts.
"Most of the old pump was made out of plastic, which breaks easily and isn't very durable," Johnston explains. The new model is made entirely out of metal, going "old-school" as Johnston puts it.
While the original bicycle pumps would likely last a long time at one's personal residence, Johnston explains, they just don't stand up to the daily usage of hundreds of students, especially under California's rainy to dry weather patterns
Some key alterations to the pumps include:
Dual Check Valves: Johnston and his crew reconstructed the pump's check valve system - the process of extracting and compressing air. Most models only have one check valve, which concentrates all the force on one valve and, being made of plastic, often results in deterioration. Instead, Johnston engineered a two-valve system; both made of metal, one valve is devoted to vacuuming air into the body of the pump and the other compresses the air into the tire.
Piston Placement: The new model repositioned the pump's piston, a gateway-like component that captures and condenses air within the body as the user pumps the handle up and down, to rest on the handle horizontally instead of vertically. By doing so, the pump creates less resistance and friction on the piston, ensuring a longer lifespan.
Metal Euro Chuck: Johnston strategically decided to replace the plastic euro chuck, the handle piece that connects the pump to the tire, with a brass one. The brass euro chuck proved through methodical testing to maintain the longest service life and would not break off like the previous plastic parts.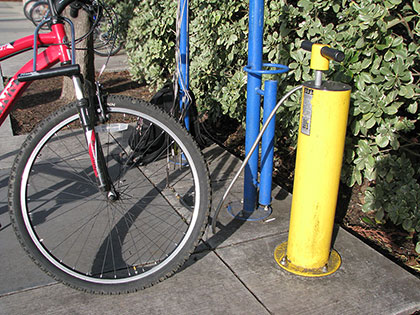 "We strive to make the new bike pump as reliable as possible," said Kevin Yates, another member of the team. Ensuring the bicycle pumps working efficiently, smoothly, and most of all consistently is of paramount importance to Johnston's crew and TAPS.
Since last August, Johnston's engineered pumps have been in-use all around campus and haven't malfunctioned yet. Every week, TAPS staff performs regular checks on the bicycle pumps and replaces any missing tools to the bicycle repair stations.
Without formal training or experience in a machine shop, Johnston humbly speaks of his team's accomplishments. "Everything we do is for the students," Johnston professes, "It's hard to remember that when you're doing something as simple as painting parking garages at the University Airport but everyone here is working to help the students."
TAPS owns 8 of 13 on-campus bicycle pumps including ones located near TAPS, the Memorial Union, the Silo, ARC, Shields Library, Mrak Hall, Scrub Oak and Gallagher Hall.