By BreAnda Northcutt
October 22, 2015
With an greater than 80 percent approval rating, leadership at the Shared Services Center are setting their sights on new customers and expanded services.
"I'm proud of the team and the efforts to collaborate with clients, central business partners, and the campus community. While there's more to do, I know the team will continue to do great work and strive to support our UC Davis community," said Sara Reed, director of the Shared Services Center.
A new annual report issued by the Shared Services Center showcases the significant improvements made over the last year that have taken customer approval ratings from 45 percent to 87 percent in the most recent quarterly survey. The goal this past year was to improve relationships, services and visibility and it appears staff have exceeded expectations.
"They've taken a huge step in the right direction," said Andrey Furmuzan, business services manager for Facilities Management, a client of the Shared Services Center.
The Annual Report covers twelve months' worth of changes and progress, including these accomplishments:
Completed more than 90,000 requests – an 11 percent increase from the previous year
Opened satellite space on core campus to serve new student employees
Executed a Finance Team redesign to better support clients and build relationships
Hosted a first-ever campus-wide Open House event
Completed an upgrade to case management with minimal disruption to clients and staff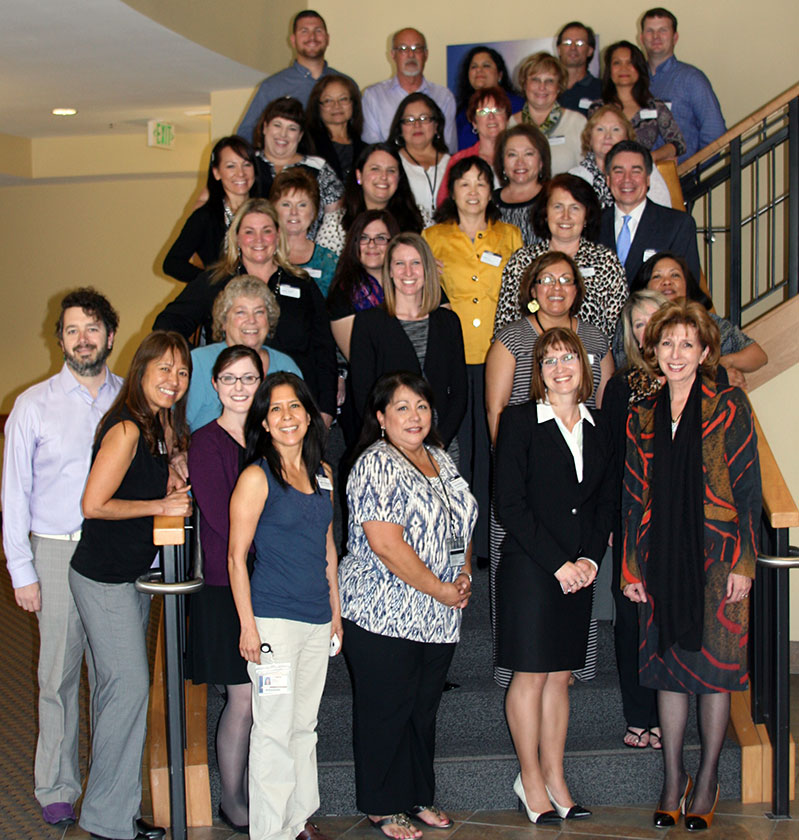 "It's been amazing to see the difference in the organization," said Megan Villasenor, head of the operations team. "We've accomplished so much this year and have so many more great things coming!"
As the Shared Services Center stays laser focused on continuing to serve existing clients, the service teams have aspirations to offer new services and attract new customers.
"The finance team has come a long way. They've worked hard to ensure that our client's needs are met and the campus policies are upheld," explained Laura Townsley, head of the finance team. "We look forward to bringing on new clients and working with them to best meet their purchasing and accounts payable needs."
The next phase for the Shared Services Center includes technology upgrades to take advantage of advanced tools that improve transparency, increase efficiency and enhance the overall client experience. One of those technology tools is Sales Force, an application intended to fine tune the recruitment and hiring process for clients.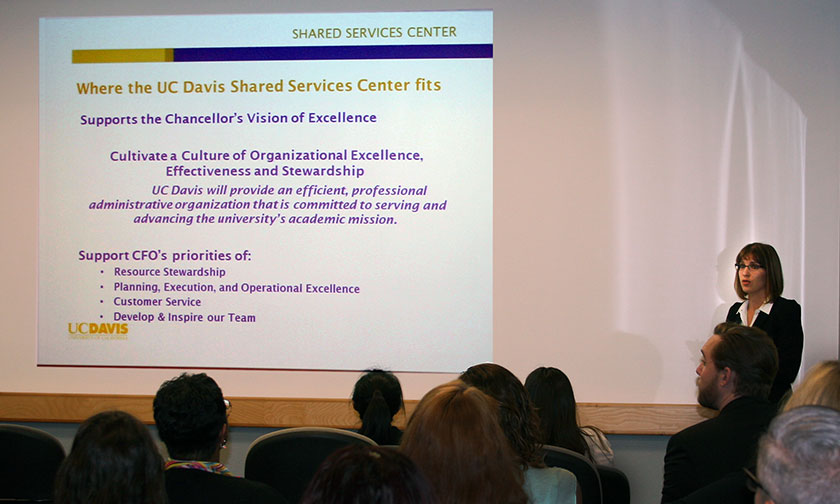 "We continue to strengthen client partnerships by focusing on trust, accountability and active engagement," said John Mueller, head of the human resources team. "I enjoy being part of an organization committed to this effort, and a part of a team that's dedicated to supporting the unique operations of our clients."
Also in the works are plans to open a new employee welcome center on campus to provide onboarding services and the processing of identification cards for all staff. The Office of the University Registrar will continue to be responsible for processing student ID cards.
"The team is dedicated and passionate about their work, no matter what, they get it done," said Teri Sugai, head of the payroll team. "We will continue turning challenges into opportunities and building on successes." 
To read the annual report, go to http://ssc.ucdavis.edu/about/annual-report.html.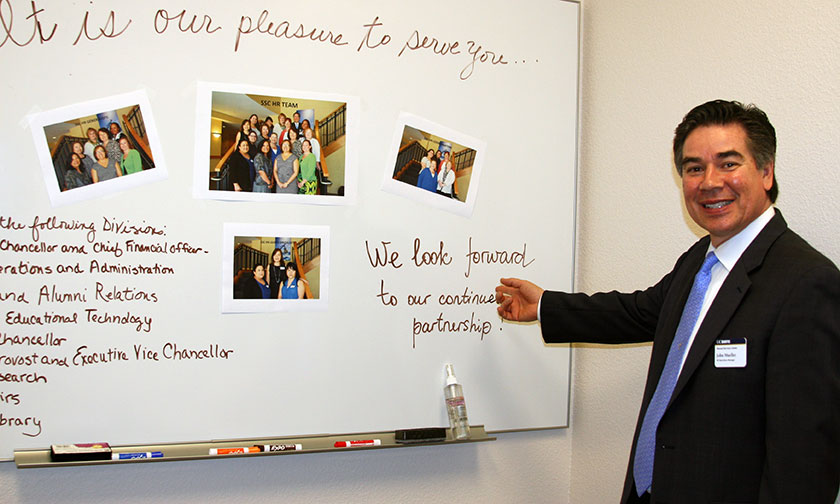 ---
BreAnda Northcutt is Communications Director for the Office of the Vice Chancellor and Chief Financial Officer.