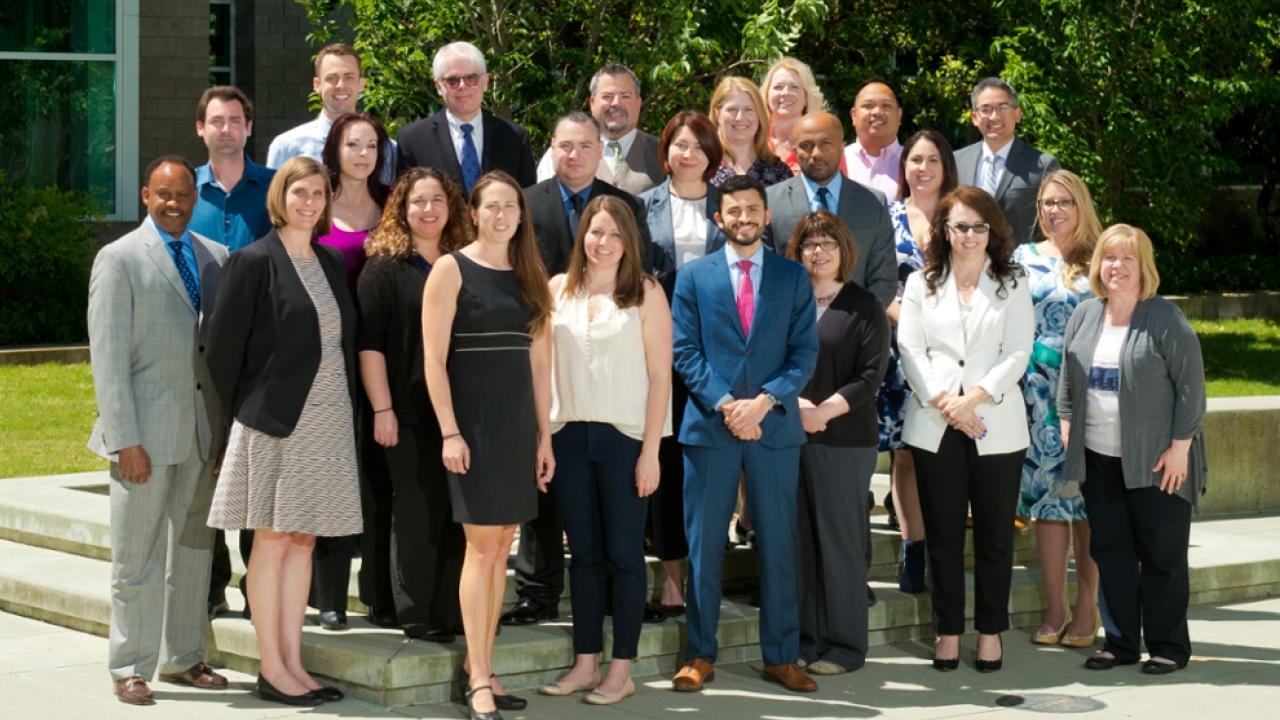 By Lauren Riebs
UC Davis congratulates fourth graduating class of Administrative Officers for the Future
On May 18, 2017, Interim Provost Ken Burtis gave his first of many graduation speeches to the 24 graduates of the 2016-17 class of Administrative Officers for the Future (AOFTF). This program, in its fourth year, cultivates a diverse pool of highly talented and motivated staff at the Davis and Sacramento locations interested in pursuing administrative officer positions. 
Based on a competency model developed specifically for chief administrative officers at UC Davis, the seven-month program is intended to prepare aspiring administrative officers to be competitive for future openings at UC Davis. 
"AOFTF ensures our talented individuals are recognized and challenged," said Kelly Crabtree, training program manager. "We help those with strong potential advance, and foster a stronger sense of commitment to one's own department and to UC Davis."
Of the 29 graduating participants from the first class of 2014, 69 percent have advanced while over 30 percent of graduates from both the class of 2015 and 2016 have advanced as well. Sometimes, advancement comes faster than one might know it; Kyle Summers, participant of the 2017 class, started his new position as Finance Services Head for the University Library on May 22, the Monday following graduation.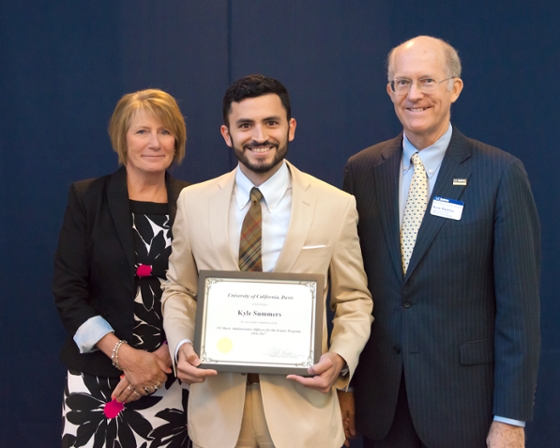 "I am embarking on a new supervisory role," Summers shared, "This program empowered me to take initiative to better myself. I intend to take everything I learned here and apply it to my new position."
While Summers' new position was not a direct result from his graduation from AOFTF, the program provides a wide array of opportunities for personal and professional growth within one's current position. 
"Advancement is a good thing, but it's not the only goal," emphasized Carina Celesia Moore, Director of the Talent Management and Development Center of Expertise. The program also aims to develop skills, foster UC Davis community and motivate staff and employees to reach their fullest potential.
"AOFTF provided me my first opportunity to take the lead role in a project on campus and helped me tackle my fear of public speaking," said Nicholle Heffern, Analyst for the UC Davis Medical Center, "Completing this program gave me the validation that I can do it."
After completing the rigorous application process, participants complete a variety of activities including assessments, classroom instruction, panel presentations, individual development planning, reflective writing, and a 40-hour group project.
In assigned three-person teams, participants are given a specific problem to address submitted by department heads within the university.  These projects are relevant to the program competencies and require assistance resolving a significant problem or leveraging a potential opportunity at UC Davis. Participants must provide a well-researched and realistic solution in the form of a project report and group presentation.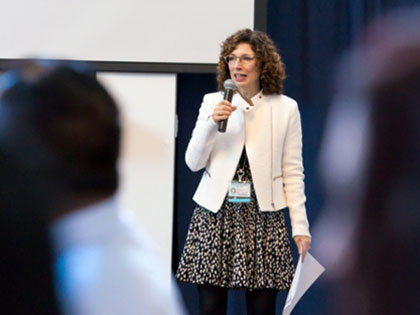 This year, one of the projects included making the Outpatient Transplant Pharmacy Refill and Mailing Program (RAMP) in the UC Davis Medical Center more efficient through updated technological processes. The project was assigned to Nicholas Barbulesco, Nicholle Heffern, and Megan Erin Coryelle Kennedy.
"Working in the field of pharmacy and insurance was completely new to me," shared Barbulesco, who currently works in the Finance Operations and Administration division, "I learned a lot about the culture of the Medical Center and how their systems are organized. Analyzing processes that deliver transplant pharmacy medicine gave me an appreciation for the life or death nature of the services they provide."
The AOFTF program specifically pushes participants to tackle new problems and projects than ones they may have faced before. "The program stretches you to get out of your comfort zone," said Jim Seibert, accountant and equipment manager for Accounting and Financial Services, who graduated from the program in 2015, "Each assigned project is specifically designed to challenge you in different fields."
Over the course of the seven months, participants are also encouraged to schedule informational interviews with managers and supervisors as well as attend lunches with the AOFTF alumni, deans, or vice chancellors.
"One of the most enjoyable aspects of the program was networking and interacting with senior leaders in higher education through informational interviews," said Barbulesco, "Now I feel even more motivated to continually prioritize those types of mentor-engagement activities."  
Near the end of the program, participants present their group projects to their fellow peers, sponsors, supervisors, and a panel of chief administrative officers, providing an opportunity to receive feedback and share their recommendations.
"I discovered a lot about myself and what type of manager or supervisor I want to be," said Erin Hubbard, manager for Department of Otolaryngology, who was promoted to manager only a few months after graduating the program.
Equipped with new skills and revitalized ambition, the new graduates are hitting the ground running. Congratulations to the AOFTF class of 2017!
To learn more about the AOFTF program, its participants, projects and upcoming application period, please visit: http://sdps.ucdavis.edu/dev_programs/aoftf.html.
---
Lauren Riebs is a student news editor for the UC Davis Division of Finance, Operations and Administration.
Tags