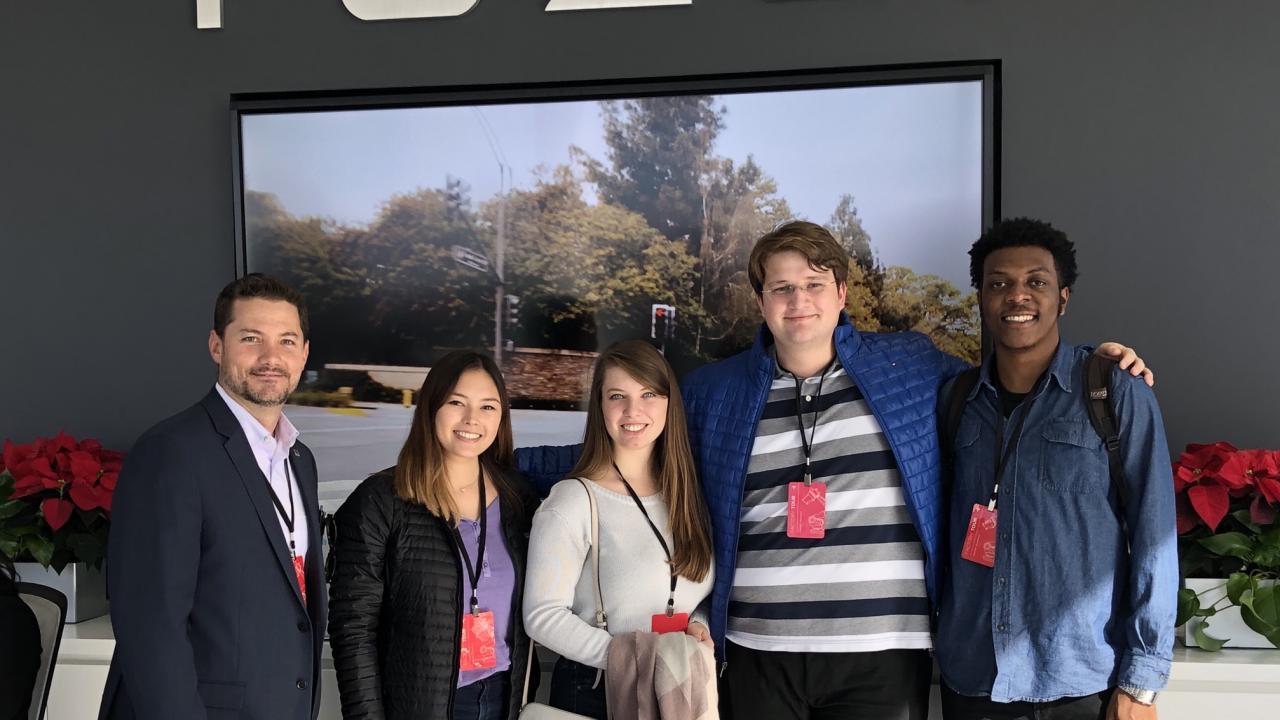 As the Director of the Office of Strategic Solutions, Hampton Sublett is always looking for new and innovative ways to better FOA's administrative practices here at UC Davis. How does he do it? By looking to the leading companies of the modern world.
Recently, Sublett set his sights on Tesla -- more specifically, their factory located in Fremont. With 5.3 million square feet of manufacturing and office space covering 370 acres of land, Tesla's factory is one of the world's most advanced automotive plants. While most know Tesla for its influence in the automotive industry, the Palo Alto-based company is largely considered to be one of the world's leading innovators in technology, clean energy and solar panel manufacturing.
Interested to see how such a successful brand like Tesla operates their own efficiency model, Sublett -- accompanied by fellow FOA staff and a group of UC Davis students -- embarked upon a brief journey to the awe-inspiring Tesla factory. "It's like a mixture of Disneyland and Star Wars," Sublett said of the experience.
"In my job, I try to take a sort of entrepreneurial approach to things, where I try to think outside the box and see how others are making a difference or making improvements to see how we might be able to learn from them," Sublett said.
Although the tour was originally planned to be a research-based visit that stemmed from Hampton's own interest in the company's efficiency model, the folks at Tesla were eager to take advantage of the opportunity to accommodate students on the tour as well. With that in mind, Sublett reached out to the UC Davis College of Engineering and Graduate School of Management to round up a group of students who would be interested in the opportunity. Several immediately jumped at the chance. In addition, four FOA student interns also attended the tour.
"I was very excited about the prospect of the tour," said FOA student intern and fourth-year managerial economics major Veronika Dvorak. "It's a long drive away, so I was a little apprehensive, but I knew that if Hampton had organized it, then it was going to be cool."
Although Dvorak studies managerial economics with an emphasis in accounting, the senior said she still benefited greatly from the Tesla tour.
In what is typically an hour-long tour, the UC Davis attendees were treated to an extended, in-depth look into Tesla's engineering and manufacturing process for approximately 90 minutes.
"The tour was fascinating, just the sheer number of robots working in perfect concert with one another boggles one's mind," said Sublett. "Tesla's dedication to Lean Six Sigma business efficiency was evident everywhere we looked. From the ultra-clean working environment to watching both the Model S and Model X [two different vehicles] come down the same assembly line was an amazing testament to Tesla's out of the box thinking and dedication to efficiency."
Following the tour, the students and staff sat down with a panel of UC Davis graduates who now work at Tesla, in addition to a group of Tesla recruiters. During a Q&A session with the recruiters, several students got the chance to express interest in potential internship opportunities at the organization.
"I want to say that two of the students may have locked in internships before we left the factory," Sublett recalled.
No surprises there -- Tesla stands as one of the top destinations for engineering grads. As one of the largest manufacturing employers in California, creating 51,000 jobs in the state in the 2017 fiscal year alone. According to its factory website, "Tesla is focused on ensuring its workforce is trained in the advanced skills unique to Tesla's production processes, while taking a proactive approach to safety."
Similarly to Dvorak, FOA student intern and third-year sociology and African American and African studies major J'Son Jones went into the tour excited to apply his own studies to the unique opportunity.
"I'm a sociology major so I really like to look at the division of labor and that kind of stuff," Jones said. "Everyone has a different job to create this one product. [At Tesla,] that was really cool to see them implement. It's experiences like this make me like being here [at UC Davis] even more. It shows me that I'm in a good space because I have these opportunities that are open to me. I would love to experience something like that again."
As student interns, Dvorak and Jones not only have access to unique opportunities like the Tesla tour, but are also gaining real-world professional skills as members of the FOA team.
"In this internship, you really learn how to operate in a professional environment," Jones said. "We have the chance to get familiar with some of the tools that you'll use so that when you go into the actual workforce, you know what to do and you're prepared."
"The best way to bond with your fellow interns is to stack them all into your car, feed them snacks, and then be trapped in a car together for hours," Dvorak said of the trip to the Tesla factory. "We got to know each other really well and it was one of my favorite memories from the program. The Tesla experience was incredible and so, added to that, the bonding that the opportunity brought to us was so fun."
---
Sydney Odman is a digital communications intern with the FOA Communications Office.