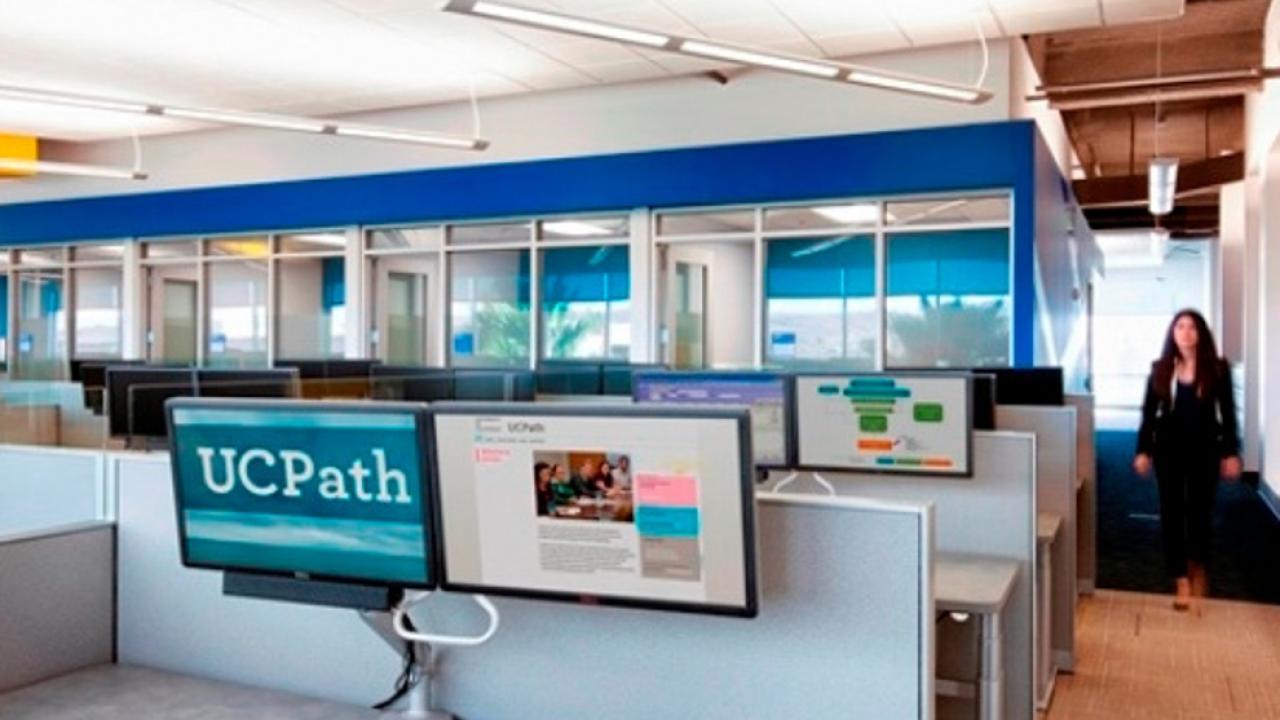 By Lauren Riebs
New systems implemented across campus increase efficiency
Out with the old, in with the new; that's the constant life cycle of technology. Sometimes, it can be easy to fall behind with all the latest gadgets and apps on the market.
Not at UC Davis though; as an innovator among college campuses, UC Davis develops new sustainable and efficient research and design every day. Even many long-standing systems, especially in the Finance Operations and Administration division, are also being replaced with new, more efficient systems.
The goal? To make campus operations run faster, smoother and save money in the process. While technology moves fast, institutions usually don't. Many of the technological updates occurring on campus are long overdue; previous systems were slow, hard to operate, and inefficient.
"We're one of the top research institutions and yet, our technology always seems to be lagging behind," emphasizes Megan Glide Villasenor, Assistant Director for the Shared Services Center (SSC), "We must ensure that our administration is top of the line, just like our research and academics."
AggieBuy, one of the new "Aggie Products" at UC Davis, has replaced most of UCD Buy, an older and less flexible program for individual and departmental procurement services. The new system breaks away from the old, operating with a more user-friendly interface with easier browsing, comparable to shopping on Amazon.
UCD Buy, implemented in 2003, served well for many years, but 10 years is a long time in the technology world. UC Davis secures many purchasing agreements for the university that allow employees to buy products at a discount but not all of those agreements or suppliers were available through the UCD Buy catalog. AggieBuy offers a system that includes more of the university suppliers (with new suppliers being added quarterly), and allows users to purchase capital assets (items that are $5,000 or higher) – a feature not available before.
AggieBuy aims to make these transactions easier for departments; the time and money saved on procurement transactions can be better spent on other initiatives campus wide. "At the end of the day, it's about putting more tools into the hands of the employees," says Jim Hewlett, Technical Solutions and Communications lead for Supply Chain Management, "Technology aims to empower people to accomplish their projects without delay or difficulty."
Another new system implemented recently is AggieTravel. Aimed to be more user friendly and accessible, AggieTravel allows employees to access the resources and information they need at the tips of their fingers, with the new mobile application through Concur Mobile. With the app, employees can view travel itineraries and flight statuses, book airfare, rental cars and hotels, capture receipt images and more, all while on-the-go!
"Mobile access is something new and exciting for AggieTravel," explains Michael Kuhner, Manager of Travel and Entertainment and Accounts Payable. Since most people today have a smart phone, being able to access the information you need for travel while you're traveling makes a big difference and helps speed up the process of approvals and reimbursements.
Being accessible at all times is a theme at UC Davis. AggieService, now available through the SSC, has simplified many services into a "one-stop self-service portal." Replacing the old case management system, Service Now, AggieService enhances and expands functions, now allowing employees to submit Human Resources and Payroll paperwork via a simple online form. Thanks to the collaboration with Central Human Resources and Central Payroll, you can also open cases through AggieService concerning questions about payroll, benefits and compensation. And it's been a model of collaboration working alongside Division of Social Sciences and College of Engineering to develop a standardized system and process that everyone can use.
 "AggieService also maintains a component of built-in transparency," shared Villasenor, "Employees can see where we are in the process of completing their requests."
Launched in October 2016, AggieService also helps the campus prepare for UCPath, a wide-reaching human resources information and payroll system coming to all UC campuses in phases that will replace the current personal payroll system (PPS), which is older than 35 years.
UCPath will connect UC Davis to the UCPath Center in Riverside and ensure all UCs are using the same system to make processes more efficient and transferrable across campuses. The Center will process the high volume of payroll, benefits and other human resources transactions, reducing risk of error or inconsistency.
This complex system will standardize technologies and processes across 10 campuses, five medical centers and five UC-owned locations. Having a standardized technology system will help an organization as big as the University of California operate at a strategic, more efficient and beneficial level for all.
At the end of the day, new technology is helping UC Davis become a university of the 21st century – helping its employees do their work with more ease. But change doesn't happen overnight. Each new system comes with an extended implementation and learning period for employees to adapt to the new technologies.
"We can't really afford to sit still," shares Jennifer Eting, Communications Lead for UCPath, "Our organization as a whole should be adaptable and change-ready for the future to come."
Last by not least, FOA is implementing the pilot phase of AggieBudget with the School of Medicine, College of Biological Sciences, School of Education, Division of Social Sciences, School of Law and the Library. The new budget system will deliver more consistency and efficiency in financial planning and reporting across the university.
UC Davis currently uses many different and disconnected tools to manage and report financial data, which makes it very difficult to deliver critical information and recommendations to help leaders make decisions. Once fully functional this summer, the system will manage data from all funds, assist with labor planning, integrate other data systems, and support grants planning.
Confused on these systems? Learn more about the system through online resources or training courses:
AggieBuy: Training | FAQ | Questions? ab-help@ucdavis.edu 
AggieTravel: Training | FAQ | Questions? travelhelp@ucdavis.edu 
AggieService: Training | FAQ | Questions? sschelp@ucdavis.edu 
AggieBudget: Website | Questions? AggieBudget@ucdavis.edu
UCPath: Website | Questions? UCPath@ucdavis.edu 
---
Lauren Riebs is a student news editor for the UC Davis Division of Finance, Operations and Administration.
Tags