By Grant Nejedlo
January 26, 2016
Back in August 2015, Chief Financial Officer Dave Lawlor asked staff if anyone was interested in letting him borrow their job for an afternoon. Facilities Management's Tom Kane, who has spent four years as a steamfitter with the Building Maintenance Services Steam Shop, and someone who doesn't consider himself an "email kind of guy," plunked himself in front of the computer and threw his job into the hat. Lawlor jumped at the chance to leave his Powerpoint and spreadsheets, and use this inaugural event to tour the bowels of several campus buildings, before doing some welding as a UC Davis steamfitter.
Of course Kane, and the incredibly hard-working 14-person Steam Shop was equally as excited to accept the free labor when Lawlor joined them Jan. 12. They even outfitted him with a pretty-much-clean shop shirt and an acetylene torch, and let him experience first-hand what the Steam Shop does to keep this place heated and cooled. Albeit, it was a slightly more pleasant version. 'You should really join us on some August afternoon when it's topping 100 degrees outside," Kane told Lawlor, "getting a radio call to climb down into a steam vault and fix a pipe leaking steam at 360 degrees Fahrenheit makes the sunshine feel like air conditioning when you climb back out." As Lawlor quipped, "you're a steam guy, you drink your water at 180 degrees."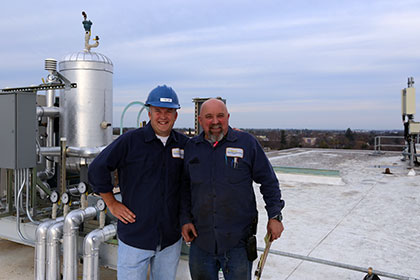 That's the life of the Steam Shop, which is tasked with maintaining the campus steam distribution system and all of the chilled and hot water hydronic systems in the buildings. Let's start at the beginning. Steam is simply water heated to a gaseous state – it's really hot and can burn you badly. Steam is generated at the Central Heating and Cooling Plant operated by Facilities Management's Utilities division, leaving there under high pressure and traveling throughout 10 miles of underground piping and 167 underground steam vaults before finally making its way into buildings to provide heating, sterilize equipment, and more. Incidentally, the same plant also provides chilled water to campus buildings, for cooling purposes, through a similar network of pipes.
From the moment that steam leaves the Central Heating and Cooling plant, its delivery is the responsibility of Kane and his 13 colleagues. They maintain and install thousands of pieces of equipment including steam traps, condensate returns, and heat exchangers that keep us warm, cool us, or let us sanitize equipment to preserve sterile research environments. As Lawlor pointed out, "I don't hear a lot of complaints about hot or cold water, which means you guys are doing a great job."
As is often the case with Facilities work, no news can be good news. When the systems are working properly, Facilities staff can work behind the scenes to fine-tune and maintain equipment to ensure continuous service for campus customers. However, given the state of some of our infrastructure, there's no shortage of repair projects keeping the Steam Shop busy. As Lawlor noted, UC Davis has the greatest need for Deferred Maintenance funding of all the UC Campuses, and he acknowledged staff have "had to do some MacGyvering to get the job done." The Facilities folks would agree, and even take some pride in their ability to keep things running effectively and safely. UC Davis's commitment to making meaningful progress on deferred maintenance and infrastructure is a key priority in the ten year capital plan.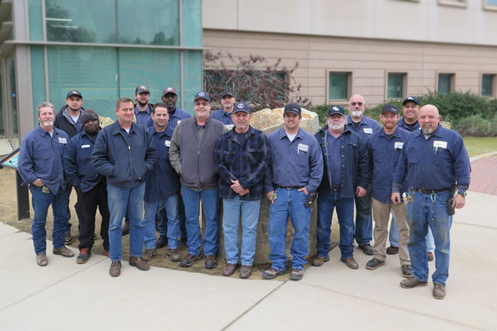 Kane took Lawlor through a series of projects, both completed and underway: a fan wall in Olson Hall, a pilot radiant heating ceiling project in Sproul Hall, a heating hot water exchanger in Kerr Hall, and the basement of Mrak to discuss upcoming asbestos abatement needs. The afternoon concluded with Kane guiding Lawlor through the process of grinding, tacking and welding a spool piece that will be installed in Briggs Hall's mechanical room at a later date.
The Steam Shop's work takes place almost completely out of sight, in loud mechanical rooms scattered throughout the campus underbelly, but its staff is always cognizant that their goal is serving the customers working above ground. Kane was concerned that after letting Lawlor sample his job that "everyone is going to know how fun our jobs are."
When it came to Lawlor's performance review, Kane only faulted him for being late his first day on the job, but noted that if "things don't work out for him in Mrak Hall, Dave could join the Steam Shop any time."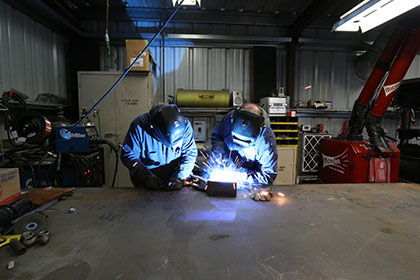 ---
Grant Nejedlo is communications and training manager for Facilities Management.