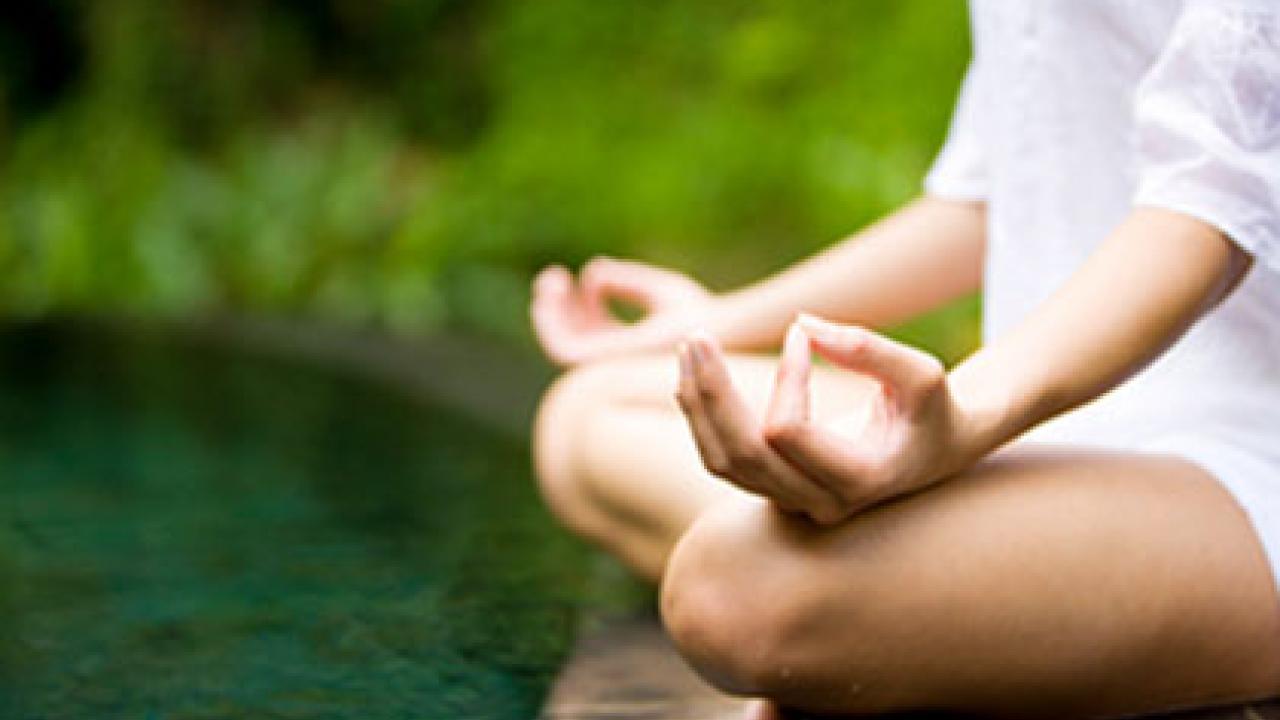 By Scott Yates
September 17, 2015
I recently attended the first of four guided meditation sessions sponsored by Occupational Health Services and learned two valuable lessons:
Meditation is hard for me
Meditation practice is absolutely worth the effort
Dr. Beth Cohen, previous director of Academic and Staff Assistance Program at UC Davis, recently joined the team in Occupational Health. Beth has previously led more than 2,500 UC Davis employees through guided meditation practice. In this new four-part series, she is leading beginners and advance meditators through a guided practice.
The sessions are being held in the Vanderhoef Studio at the Mondavi Center. Although the first session was held during a record September heat wave, I found the studio cool and inviting - a nice pause from the scorcher outside.
In addition to an approximately 20-minute guided meditation, the hour-long session included discussion, along with Q&A, about the practice of meditation and becoming mindful. At the start, Beth introduced the audience to the many benefits of meditation and acknowledged preconceived ideas that often exist - ideas I brought with me into the studio.
According to Beth, some of the common myths and fears individuals can bring to an introductory session include:
- I can't stop thinking.
- I can't sit still.
- I can't bend my legs like that.
- I'm afraid I'll fall asleep.
The opening 20 minutes of the session addressed all of those issues and helped put me at ease. I learned that it's called a practice for a reason - meditation is hard and it takes commitment to silence the mind and exist within the body.
During the guided meditation, the audience was encouraged to get comfortable, either in their seats or on the floor around the studio. We then focused our attention on breathing.
"Meditation is a science and we are healing ourselves with every breath," Beth instructed through her lapel mic from the stage.
After the session, I felt lighter and more at ease. I noticed my posture was improved the rest of the afternoon. When my mind started to repeat thoughts during the evening commute across the Causeway, I focused on my breathing and the mental loop stopped.
Three sessions remain in the series, held from 12 noon - 1 pm in the Vanderhoef Studio at the Mondavi Center:
Friday, September 18
Thursday, September 24
Thursday, October 1
Occupational Health's Mindfulness Meditation series is open to all faculty and staff. You can sign up for individual classes or the entire series at lms.ucdavis.edu. Retirees will not be able to access the registration website, but are welcome to simply show up and participate.
Related links:
---
Scott Yates is communications analyst for Human Resources - a unit of the VC-CFO organization - which operates dozens of work like and wellness programs, which enable employees and students to be effective at work, school and home.