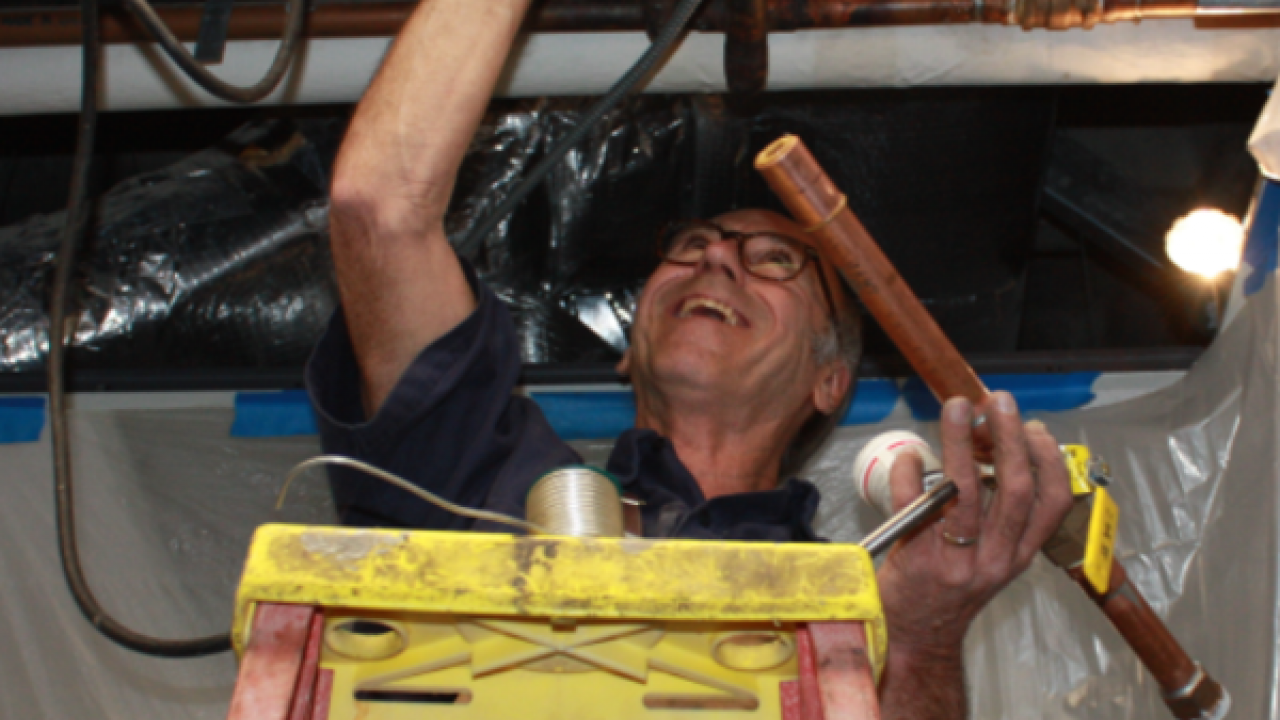 There are haves and have nots on campus. When it comes to valves, Meyer Hall, which houses Animal Science, Nutrition and others, was lacking. That is, until the VMS Plumbing Shop secured DM funding and installed 300 water shut off valves throughout the building's lab spaces. Plumbers love valves. According to Mick Pretti, Plumbing Shop foreman, "plumbers install valves when working on a project because they know they'll eventually be back to maintain some piece of equipment at the end of a pipe."
When Meyer Hall was constructed 30 years ago, the builders were frugal with valve installation. This unfortunately didn't anticipate the needs of plubmers who would be tasked with keeping everything running afterward. Valves are simply a piece of hardware installed to control the passage of liquid through a pipe, but as Pretti notes, "valves matter." They can help reduce impacts on research and teaching when a water shutdown need for maintenance occurs because the shutdown can be isolated to a lab or a couple of labs. Plus, valves help plumbers complete shutdowns much quicker.
Because of Meyer Hall's age and condition, shutdowns are frequent and can last anywhere from two to six hours. Before this project, a shutdown could affect the entirety of one of Meyer Hall's five levels. One time in Wickson Hall, a single toilet leak required shutting off water to the entire building, because there was no way to better isolate the water shutdown. Valves aren't particularly expensive but there's additional hardware that accompany their installation, as well as labor, which to add to the cost.
Additionally, out of sight, above the ceiling tiles, it's pretty cramped. For plumbers, finding space to install valves among the other utility infrastructure (gas lines, vacuum lines, etc.) is no small challenge. Newer buildings are being constructed with valves that allow plumbers to isolate shutdowns to individual labs. In the older buildings, BMS plumbers will just keep on squeezing into challenging locations to install more valves that let Facilities Management craftspeople reduce the impacts of water shutdowns on teaching and research.
Congratulations on a job well done, project team Chuck Peters, Rick Cearley, Jason Cooper, Chris Deutsch, Gary Fitzpatrick, Victor Franceschi, Morgan Linley, Elias Martinez and Chris Persons.
Category
Tags