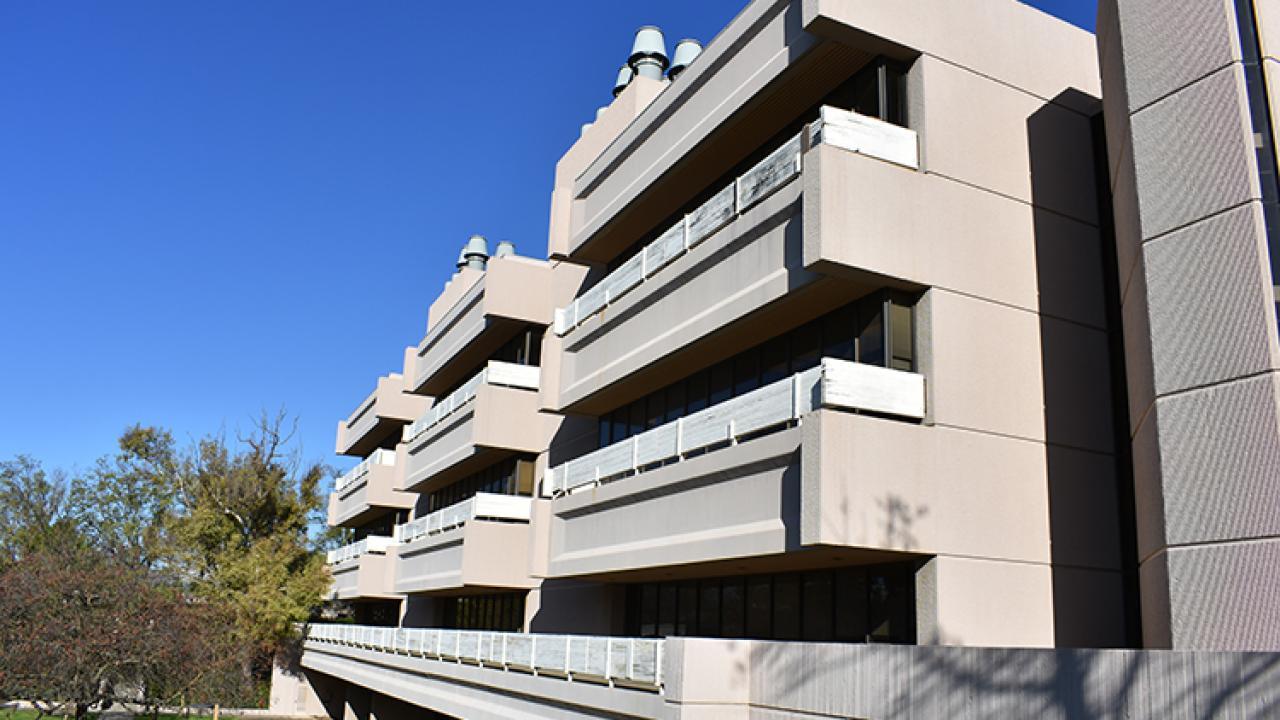 This spring 2018, Tupper Hall, a 150,000+ square foot building in Health Sciences District and home to approximately 24 different departments in the School of Medicine and the School of Veterinary Medicine, is the site of a project to replace the rotting guardrails that line three sides of the building from top to bottom.
This work is happening now thanks to a Century Bond UC Davis secured in 2015 to help address critical building infrastructure projects such as this one, in addition to funding utilities infrastructure and road and path improvements throughout campus.
 "We constantly assess the state of our buildings," says Steve Barnett, senior superintendent for UC Davis Building Maintenance Services. "Improving Tupper Hall has been a priority for a while and now, thanks to deferred maintenance funding, we are now able to make some needed investments."
"The existing guardrails are made of laminated wood were built during the initial construction of Tupper Hall in the 1970s," says John Zeurtuche, director of building maintenance services. "Now, they've reached the end of their life span and are in need of an upgrade."
The new guardrails will be powder-coated steel, able to withstand our Central Valley climate, and much safer.
"We've been shoring up these railings over the years," says Ken Tyson, Building Maintenance Serviced structural IPE. "Once the project is complete, short-term fixes will no longer be needed."
Work replacing the guardrails actually began in 2017 when UC Davis Building Maintenance Services, together with Design and Construction Management, collaborated to improve the safety and look of Tupper Hall.
"This project was an opportunity to transform the deteriorated heavy wood rails with a lighter, more modern railing that fits in with all of the new buildings in the Vet Med/Health Science District," shared Catherine Buscaglia, director at UC Davis Design and Construction Management. "Ultimately, the new guardrails will modernize the building and require much less upkeep."
"We also hope the building occupants enjoy the extra light and views the new, perforated material supplies," adds Barnett. "Improving safety doesn't always mean improving aesthetics, but that will not be the case here!"
Contractors started demolishing the existing guardrails on the third floor. Notices placed around the building let occupants know about the construction and the anticipated summer completion date. Signage will be updated as construction moves around the building. If visitor or occupants have any questions or concerns, they are encouraged to call the Facilities Management Customer Support Center at 539-752-1655.
Category
Tags