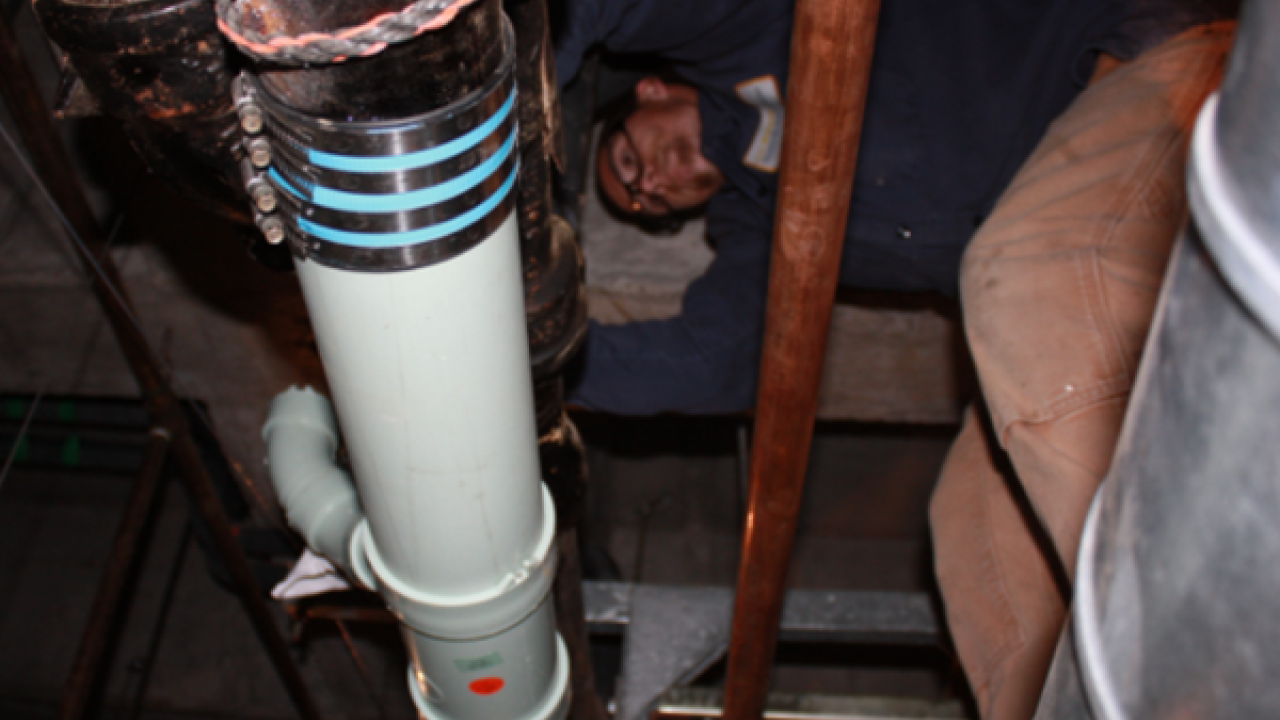 Back in 1970, when Tupper Hall opened, Tyler hub and spigot cast iron pipe had been the standard drainpipe for over 40 years. Thousands of feet of the stuff zig-zagged throughout the building. In 2005, after responding to countless leaks and patching up sections of pipe running throughout the underside of each of Tupper's four floors, FM's plumbing shop secured deferred maintenance funding to replace Tupper's acid waste line with a long-term fix that kicked off on the third and fourth floors.
Major culprits were bleach and other cleaners used to wash down the facility's animal rooms, which corroded drain traps and produced corrosive vapors that split open the gunked up pipes as the liquids flowed out of the building. The project was paused for three years due to a funding shortage, but since 2011, the plumbing shop has again tapped into deferred maintenance funding to steadily replace Tupper's cast iron pipe with Enfield polypropylene pipe - they're over 90% of the way there.
Plumbing shop foreman Mick Pretti has been on this project since its inception and says "on a good day, a plumber can install upwards of 60 feet of pipe but that drops significantly as connections get more complex and access becomes more problematic." This pipe features a wire molded into every fitting that is heated using a special instrument to create a high-integrity bond in a matter of minutes - no pounding, no lead and no adhesives necessary.
While cast iron produced today might last 20 years, the Enfield product could help keep things flowing freely through Tupper for the next 100 years. According to Pretti, "we used Enfield whenever we can. It's lighter than cast iron, easier to work with, and while it's more expensive than cast iron, it handles corrosive chemicals really well so we know we won't have to go back in there to fix sections of pipe."
The getting things back in there part is crucial because some of the spaces our plumbers have been installing pipe are not easily accessible. Lengths of the cast iron can run over 75 pounds, are filled with undeterminable crud and frequently need to be hauled over beams, ductwork, wiring and other obstacles before being securely lowered to a dumpster on the floor. Working 10-12 feet above lab spaces was all part of the challenge and required extensive coordination with building occupants. Sometimes the crew would start incredibly early and sometimes they would work afterhours, but protecting themselves and the people and research being conducted below was always a top priority for the plumbing shop team.
Congratulations and thanks to the project team: John Bean, Ken Bolen, Rick Cearley, Jimmy Miller, Chris Persons, Dave Robertson, Tom Southard, Kyle Valov, and Ben Veramonte.
Category
Tags