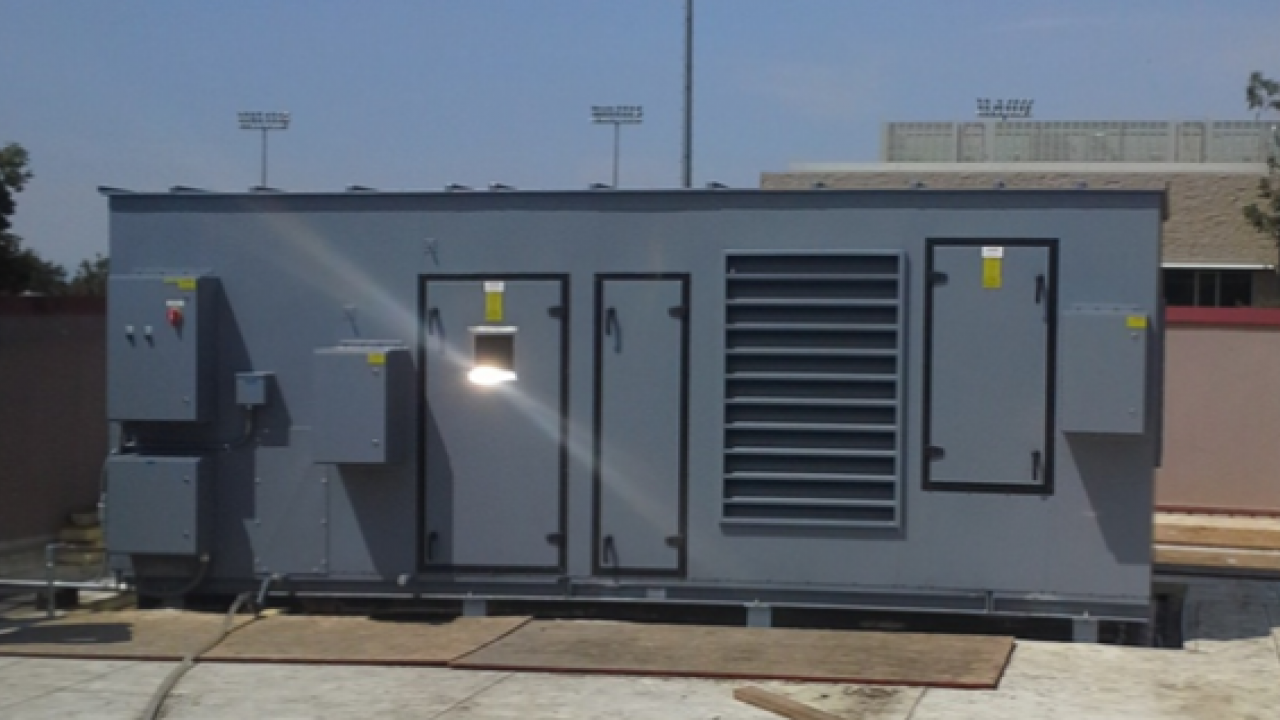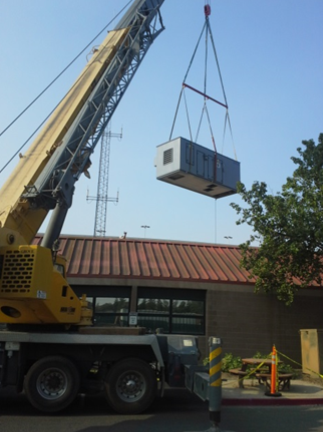 The UC Davis Police and Fire departments just received three new air handling units (AHU) as part of FM's Deferred Maintenance program. The equipment replaced was commissioned in 1978, not energy efficient, leaking air and past its useful life. The new AHUs -- serving 10 zones in the PD and six zones in the FD -- will help resolve a history of low-airflow issues impacting the spaces. Other enhancements include direct drive fans and improved air filtration.
Installing the units required blocking off emergency vehicle parking and access, necessitating close coordination with first responders. It also required shutting down HVAC services to the building for two days in mid-August and September, which was tricky. BMS picked days where temperatures weren't sweltering and business could continue as usual for building occupants. According to project manager, Ken Schaefer, "this project required all of the trades to work as a team; in close proximity and at a fast pace in order to meet the goal of a two-day turnaround for installing each AHU. The team readily accepted the challenge and really stepped up to complete the job on time!"
The project was entirely managed by FM -- from designing and specifying the units, to patching up the roof after everything was installed. These AHUs were custom-made for FM and are 18" taller than their predecessors, which was required by the manufacturer to meet UC Davis' performance specifications and provide technicians more working space to perform maintenance. Life expectancy of the new units is 25-30 years. During that period, we expect to see energy savings due to the cabinets' robust insulation, low air leakage and triple-deck design, which means heated and cooled air will no longer be simultaneously pumped into a space to maintain temperature. The project is also coming in right on budget!
Congratulations and thanks to the project team: Al Bacchini, Manual Preciado, Nate Wilkinson, Daymon Meyer, Ron Ulricksen, Greg Turben, Ryan Montoya, Jim Truso, Tom Kane, Jeff Bruhn, Ralph Fickett, Garry Huff, Gary Harmon, Mark Nicholas, Russ Korrup, Doug Mains, Virgil Velarde, Matt Monroe, Cuong Lam, Patrick Tabion, Javier Tapia, Mark Stasinowsky, Sean Snyder, Ben Griffin and Ed Prokupchuk.
Category
Tags