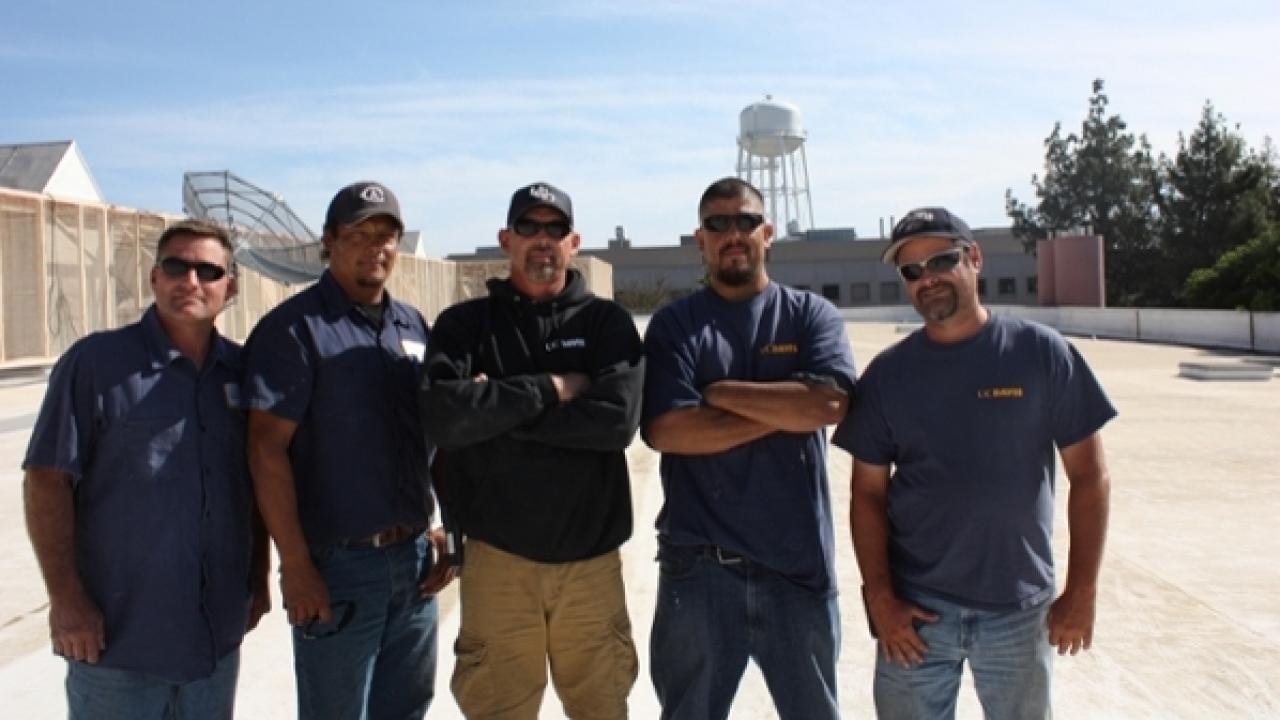 The Building Maintenance Services roofing crew just wrapped up maintenance on the 64,000 square feet of roofing atop Academic Surge. Until late September 2015, the offices, labs and teaching space in Academic Surge had been sheltered under the building's original roof; installed in 1990. Due to the design of the roof, water would flow to the parapets (aka edges) and seep into cracks, sometimes entering the building and often running down the interior walls.
Thanks in large part to Deferred Maintenance funding, Academic Surge's topside is now covered in an energy-efficient, PVC material also known as a "cool roof." This roof is expected to survive at least the next 20 winters, though the one on Robbins Hall has been in service for 35 years. Project manager, Sean Snyder, feels "there are going to be some happy employees in Academic Surge because of not having water-soaked ceiling tiles falling in the building this year." The roofing crew can now focus on other projects instead of scouring the roof for tiny cracks that allow water seepage during rain events. While the building occupants were ecstatic about the roof maintenance project, it's the lack of feedback – namely, the phone not ringing this winter with service requests – that Facilities is hoping for.
The work originally started four years ago with repairs over critical areas, but the rest of the roof was finished last month, and every bit of it was completed in house. Snyder notes, "the guys like being able to start and finish projects like these. They take ownership over these buildings and when a roofing maintenance project like this came up, they all wanted to be part of it." In fact, the crew worked so efficiently that extra funding remains to tackle a secondary structural project on the roof. General consensus among the roofing crew (pictured above) is everything is going to be dry in Academic Surge should El Niño materialize this winter.
Congratulations and thanks to the project team: Lupe Laguna, Robert Duenas, James Acosta, Daniel Calkins, Javier Tapia, Kevin Chance, Mark Stasinowsky, Mike Wais, Dennis Spanos, and Ron Ulricksen.
Category
Tags