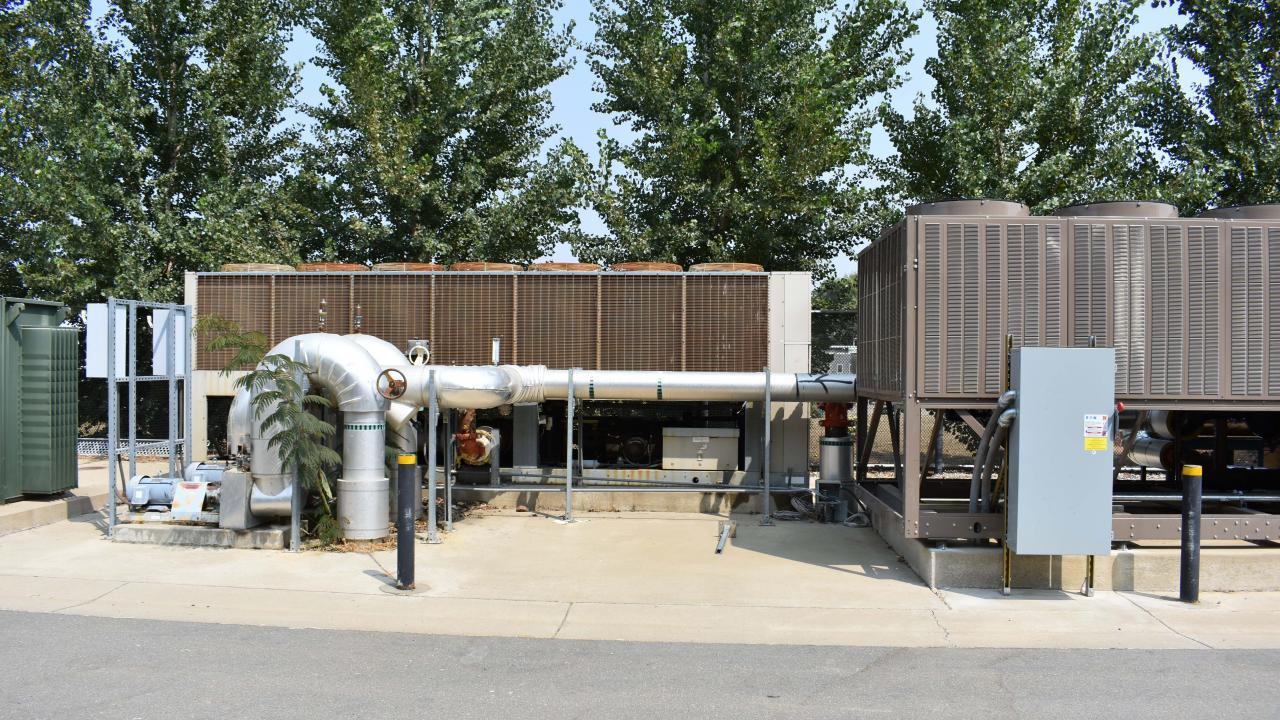 As a result of deferred maintenance funding, Facilities Management teams recently replaced two chillers at the UC Davis Contained Research Facility.
"This is a perfect deferred maintenance project," says Ralph Fickett, Mechanical/HVAC and Controls Project Manager in Facilities Maintenance. "We are replacing like for like parts, and removing end-of-life equipment that, from natural wear and tear isn't performing well, and putting in a near exact replacement."
Chillers are what keep the buildings and greenhouses cool. As their systems began to age, the university was dedicating more and more time and resources to respond to after-hour and weekend calls for service.
"The reliability factor of equipment is huge for us," stated Greg Bayne, superintendent for the Facilities Management mechanical/ HVAC department. "While there are two chillers on-site that provide one-hundred percent redundancy, it became apparent that to best support the researchers and ensure the integrity of their work, both chillers needed to be replaced."
Facilities Management began a two-phase project to replace the chillers in July and recently finished in September.
"I really liked the way Facilities worked with us to make sure our research was not negatively impacted during the replacement," shares Dr. Kristine Godfrey, project specialist at the Contained Research Facility.
The chillers, each about the size of a school bus, and weighing 10,000 pounds were phased in one after the other. The shops that worked on the project include mechanical/HVAC, steam, and electrical.  
"I appreciate their efforts at coming in before dawn to get the work done, so that the greenhouses would not overheat and negatively impact all of the plants and insects that we raise for research purposes, says Dr. Godfrey. "The people who planned and then replaced the chillers did an excellent job in both communicating what was happening and executing their plan."
Category
Tags