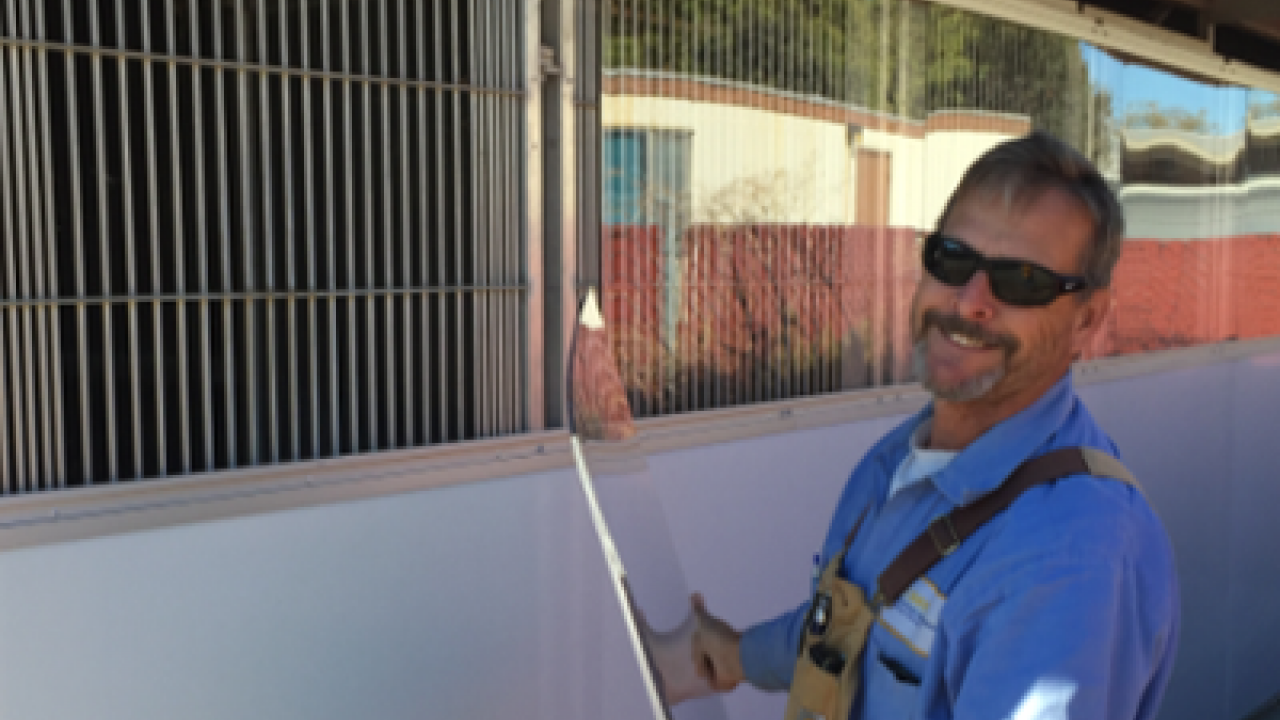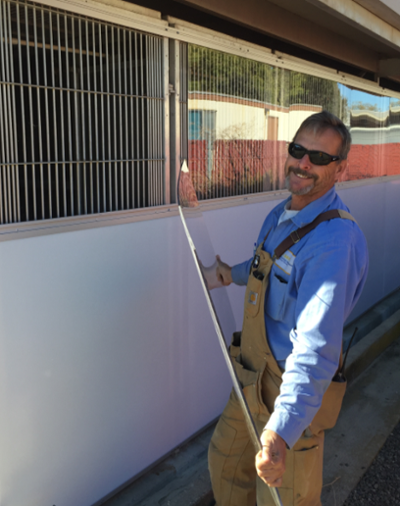 Out at the ARS facility kennels, the upper and lower plexiglass panels shielding the dogs from the elements were in rough shape. None of the panels were a uniform size to begin with, so when the weather turned cooler and staff needed to reinstall the top panels (which are removed to improve airflow in the summer), they stuck them where they thought they fit best and drilled them into place. After six years of drilling in the top panels combined with dogs pawing at the lower panels, there were holes throughout. Further, the dogs would peer through the holes in the lower sections and see some of their furry friends exercising outside, which would cause barking frenzies. In short, the panels were no longer serving the animals as intended.
Structural Glazier, Robert "Bob" Kornelly, saw this need and applied some creativity and deferred maintenance funding to the problem. He designed a new system with tracks for the bottom and top panels and uniform panels that could be stuck anywhere along those tracks. This means no more guessing where things should go and no more drilling. Opaque, white plexiglass panels were again installed along the bottom section to keep the dogs from barking and avoid excess agitation, while they installed transparent plexiglass in the top section to let sunlight in. During the winter, the new intact panels prevent draft and allow the kennel's heating system to keep the dogs comfy.
Bob envisioned this system as a much-improved version of its predecessor and proactively completed it in advance of upcoming Association and Accreditation of Laboratory Animal Care (AALAC) inspections. He mocked up a sample, which was approved by Associate Director of Veterinary Services, Peter Vertz, and this new design will now be used at all animal housing locations. The new materials are expected to last upwards of 10 years and the design's simplicity means Veterinary Services staff can handle setting it up and taking it down themselves, without needing to call out BMS staff for assistance.
It's a great example of a project completed on schedule, under budget and reflective of BMS quality workmanship. Most importantly, the animals are better off.
Congratulations Bob Kornelly and Brian Flemmer! 
Category
Tags