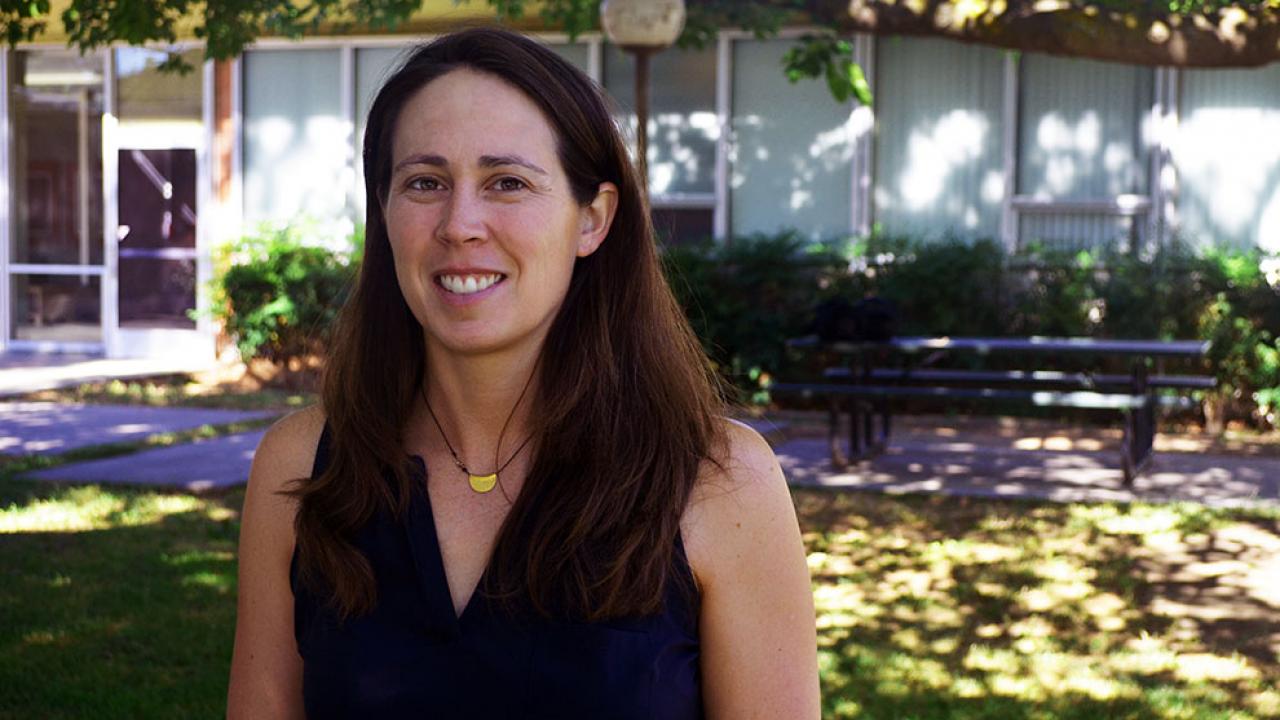 "Our vision is that UC Davis is the healthiest community in the nation."
Stacey Brezing was recently hired as the university's first Director of Staff and Faculty Health and Well-being, to bring improved health and wellness programs to staff and faculty, after previously holding the position of Special Services Program Manager for Occupational Health.
---
When did you join the University?
I joined the University in 2007 as the Sports Performance Lab Supervisor at UC Davis Sports Medicine at the Health System. I then transferred to Student Health and Counseling Services on campus and moved to Occupational Health in May of 2012. 
What's your day-to-day role in stewarding university resources?
I recently transitioned into the role of directing the new Staff and Faculty Health and Well-being program in Occupational Health. We are in the planning stage for this new program and are really excited to support our staff and faculty both on campus and at the health system in meeting their health and well-being goals. Besides developing, promoting and supporting a thriving culture of health and well-being at UC Davis, we will be managing risk and reducing cost.

What's an example of how you delight customers?
In my previous role as WorkStrong Coordinator, I served as a wellness coach for the WorkStrong program. WorkStrong is an excellent program that focuses on the whole health and well-being of an individual. Participants are referred into the program after having two or more work related injuries. Through 12 weeks of wellness coaching, personal training, dietary counseling and pain and stress management counseling, individuals graduate from the program with confidence that they can make and maintain behavior changes that will increase their health and well-being. Many of the participants make incredible changes that completely change the way they live their lives. Our faculty and staff enter WorkStrong at different stages of change and life and with different goals. My approach to coaching and encouraging behavior change has always been non-judgmental – it is essential to meet individuals where they are and go from there.

What does the new position of Director of Staff and Faculty Health and Well-being entail?
When I first started at UC Davis Sports Medicine, I realized that our campus and health system lacked resources for faculty and staff. We had an excellent multidisciplinary service model that I attempted to use to fill the gaps and partner where I could for our faculty and staff. My transition to Student Health and Counseling Services on campus highlighted the dedication to student health and well-being out of our Health Education and Promotion department, while the void of services and support for our faculty and staff remained apparent. When the opportunity to develop the WorkStrong program to target our injured employees on campus presented itself and I moved over to Occupational Health. Through the development and implementation of WorkStrong, I had the idea that this program focusing on our highest risk faculty and staff could ideally be offered to all faculty and staff.
Over the years, I have been involved with a number of wellness committees with incredible leaders and passionate individuals advocating for the health and well-being of our faculty and staff. Unfortunately, lack of funding and dedicated staff time posed as challenges to establishing a comprehensive program. "Wellness by committee" can be effective at a small company without many resources, but at a major University, the business case is strong for investing in our faculty and staff. It is a "win-win" for both our faculty and staff and UC Davis. Investing in prevention and in our faculty and staff not only benefits our community, it saves the university money.
In 2015, I chaired the Staff and Faculty Health and Wellness Committee through Staff Assembly. We completed a Needs Assessment/Interest Survey that was disseminated to all staff and faculty and developed a White Paper with recommendations and a comprehensive asset map for senior leadership based on these results. Findings and recommendations were presented and senior leadership approved funding for one full time staff member dedicated to staff and faculty health and well-being as well as a modest start up budget.
This position is support for all of the good work that is going on at the health system and on campus - I will advocate on behalf of staff and faculty for resources for health and well-being. Existing resources will be aligned to reduce duplication and to provide best practice programming and services to our staff and faculty. The needs assessment/interest survey results will guide strategic planning for the program and we will aim to fill in the gaps of programming and services to positively impact our workforce and advocate for a healthy culture at UC Davis. 
How will the new program benefit UC Davis faculty and staff?
Our vision is that UC Davis is the healthiest community in the nation. As mentioned above, the new program will align, promote and support existing programs and services at the health system and campus. In addition, we will fill in the gaps requested by our staff and faculty and create programs, develop and promote policies based in best practices that will have the biggest impact on creating a culture of health and well-being at UC Davis. 
What do you like best about working at UC Davis?
UC Davis has been my home since 1997. I studied here, moved away, studied here again, moved away, but I always knew that this place was special. When I moved back to work for UC Davis in 2007, I knew that I was home for good. I enjoy the small town feel, running into colleagues downtown, raising my kids in such a diverse environment, the list goes on. UC Davis is a great place to work and I'm so excited to have the chance to make it an even better place to work.
What's the most challenging part of your job?
My job is a new position and has a constituency of almost 30,000 staff and faculty across two campuses and including remote sites. I have the challenge of creating and building this program from the ground up and meeting the needs of all of our staff and faculty. One might say that this sounds overwhelming, but I work in the field of behavior change so, obviously I enjoy a challenge!

Tell us one thing about yourself that most people wouldn't know.
I met my husband in Sydney, Australia while studying abroad from UC Davis. We both signed up for a "bushwalking" trip to Tasmania. We named our son Taz in honor!
What's something you like to do when you aren't at work?
When I'm not at work and not spending time with my family, you can find me at the pool. I love to swim and have been a Davis Aquatic Masters swimmer since coming back to Davis in 2007.
Category