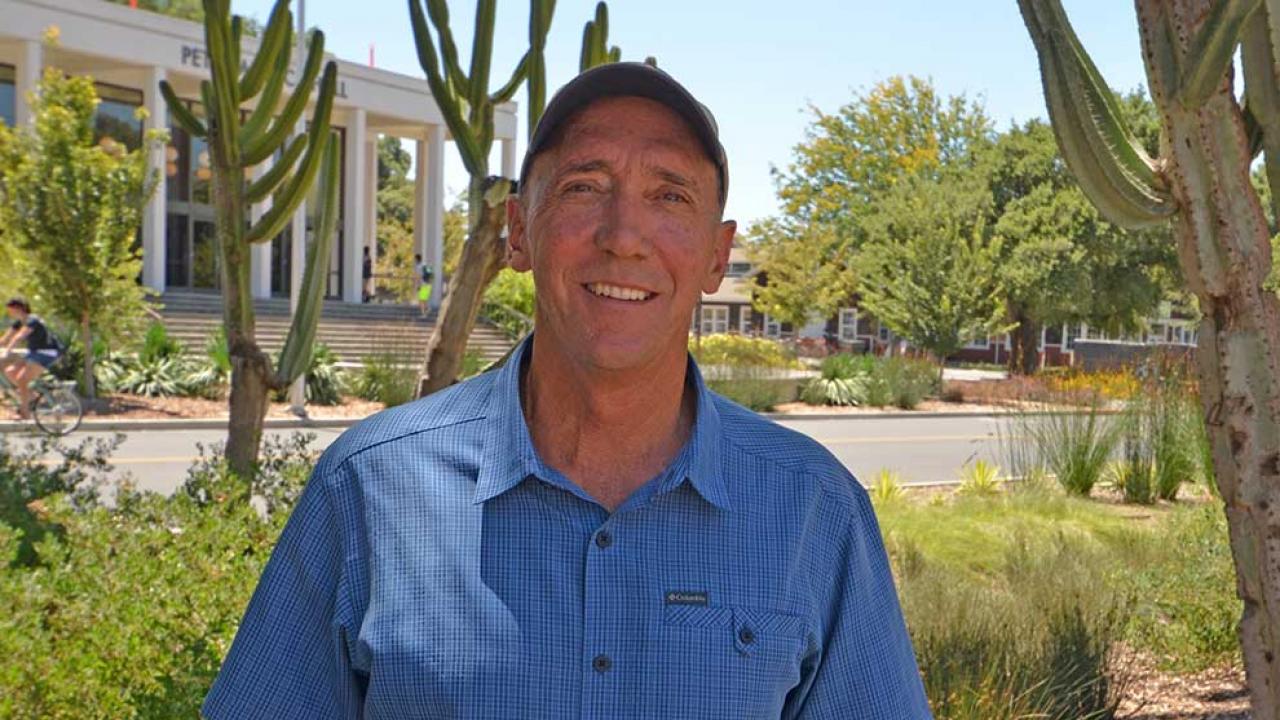 "This place is so alive with interesting, creative people...you always want to foster an environment that stimulates learning and enjoyment of the outdoors."
Skip Mezger is the Campus Landscape Architect and works with the Campus Planning and Landscape Architecture unit.
---
When did you join the University?
Strangely, it feels like have been an Aggie my whole life. My parents were both students at UC Davis in the 1940's. (I have a picture of them in front of South Hall in 1946.) I can remember coming to Picnic Day in the 1950's. I became a UC Davis student in 1970 and graduated in 1974. I worked as a landscape architect in the Davis/Sacramento region after graduation and lectured in the UC Davis Landscape Architecture program from 1985 to 1999. I officially joined the university full time in 1999 as a landscape architect for the Grounds Division and now with Campus Planning and Community Resources.
What is your day to day role in stewarding university resources?
As the Campus Landscape Architect my responsibilities are many. The Campus Planning and Landscape Architecture group handles most of the design of our campus grounds, or, as we say "everything outside the building walls." We create sustainable planting schemes, we design ornamental fences, gates, seating walls, site furniture, and low-water irrigation systems. We also assist Arboretum and Public Garden staff with many of their landscape design needs. We plan and design the bike and pedestrian pavements, bike parking areas, bike crossings and bike round-a-bouts. In addition to these larger projects there are many daily challenges. With 32,000 students rushing to classes every day, hot summers, cold winters, and low-quality irrigation water, our grounds take a beating – it's a challenge to keep our landscapes safe and healthy every day.
What's an example of how you delight customers?
In many customers' eyes, landscape architects have traditionally been seen as the "good guys" on construction projects. Everyone loves and needs landscape to brighten up their plans. So, after the architects and the engineers have done their thing, it's the landscape that people really look forward to and remember. Ask any graduate what they remember about the campus, they usually say it was the trees. I can't think of any better job than to work than as a university landscape architect. This place is so alive with interesting, creative people. It rubs off on you. You always want to foster an environment that stimulates learning and enjoyment of the outdoors. Hopefully, UC Davis is that kind of place.
What do you like best about working at UC Davis?
I love the place and the people. Designing the campus is really a collaborative process -- everyone has a say in the outcome. Faculty, police and fire departments, TAPS, Student Housing, and Campus Recreation – what we do has to work for everyone, especially our students. They are the best part about working here. In addition to collaborating on projects with students, I have recruited and worked with UC Davis student interns from day one. They keep me informed and challenged. I am amazed in the growth they exhibit in just one year working in the office. I love to see them get jobs after college or get into grad school because of the experiences they have had in the classroom as well as working on our projects.
What's the most challenging part of your job?
Keeping up! Designing, attending meetings, inspecting construction projects, reviewing plans, working with interns, staying up to date with the trends and technology -- we are always on the run. But that is what makes the job interesting – it's fast paced and fun.
Tell us one thing about yourself that most people wouldn't know.
To stay with the UC Davis theme . . . I played tight end on the UC Davis football team back in the early 1970's. I was on "Hall of Fame Coach" Jim Sochor's first championship team and played alongside another UC Davis coach Bob Biggs when he was the Aggie's quarterback. Needless to say, I was a little heavier in those days! Also, my relatives settled in Yolo County in 1868!
What's something you like to do when you're not at work?
I am an avid sportsman and love being outdoors. I like backpacking, fishing, camping, golfing, biking, and traveling the world. My favorite retreat is to hike the east side of the Sierra. And, when I am not doing one of those activities, you will find me in my own garden!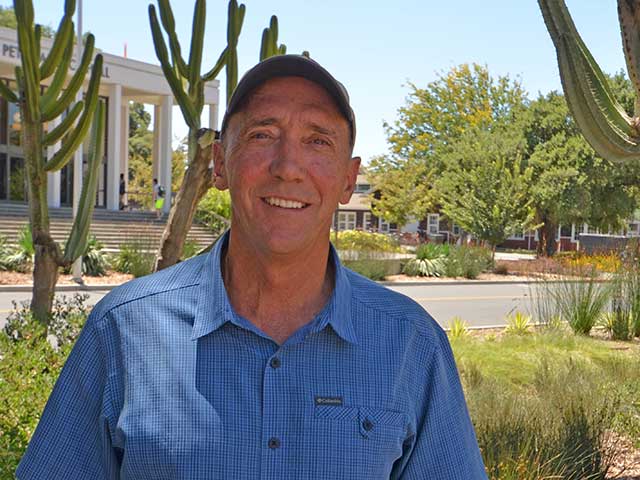 Category