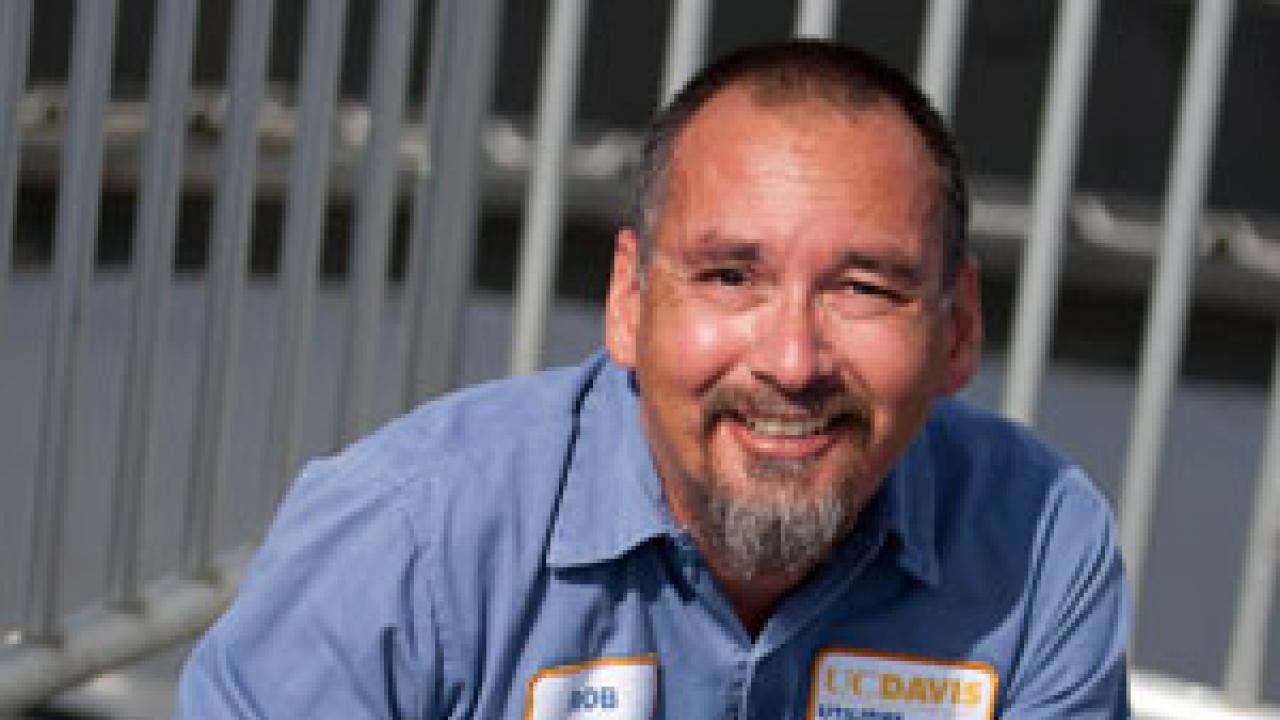 "We're a small group, I've made some really good friends here."
Rob Guider is one of our most senior wastewater treatment operators with VC-CFO's Utilities.
Guider recently volunteered to mentor two apprentice wastewater operators. With Rob's help, both passed several rigorous rounds of testing to demonstrate competency in water treatment, math and chemistry.
---
When did you join the university?
I joined the University 11 years ago as a Wastewater Treatment Plant Operator, under the direction of Michael Fan.
What's your day-to-day role in stewarding university resources?
My day-to-day role at the wastewater treatment plant (WWTP) includes ensuring that our treatment processes are working properly and efficiently, maintaining the process equipment, and ensuring our treated water is 100% compliant with state mandates. I also assist in the training of apprentice operators, instructing them in the fundamentals of wastewater treatment, mathematics and process control.
What's an example of how you delight customers?
I really enjoy giving WWTP tours to people who are interested in what we do and how we do it. A few years ago, I gave regular tours of the campus WWTP to a wastewater class from Sac City College. The students were interested in becoming wastewater operators in the future, and were excited to visit our unique treatment plant. I was happy to answer their many questions, and to share my 15 years of wastewater industry knowledge.
I invite anyone who would like a tour to come by anytime, Monday through Friday!
What do you like best about working at UC Davis?
The thing I like most about working at UC Davis is probably the wastewater treatment plant itself. Davis is the only UC campus with a WWTP, and even though it's a small treatment plant, it has its ups and downs and can be very challenging to operate at times. As opposed to an average city, where the population is stable and sewage flows remain steady seven days a week, our campus plant sees a flow drop off on weekends, holidays, and especially summer breaks, when the students, faculty and staff are at a minimum. So, we adjust the plant processes according to the current population of the campus itself. Big storms are a challenge also but that is a whole other story.
I also like my fellow employees at the plant. We're a small group of nine, and I've made some really good friends here. They're fun to be around and work with everyday.
What's the most challenging part of your job?
That would be the wastewater itself ¬– the sludge and other "unmentionable" things I've had to deal with in this job. But I guess when you work in an industry such as wastewater, you just get used to it and keep working!
Utilities, a unit of the Office of the Vice Chancellor and Chief Financial Officer, owns and manages the campus' municipal services including electricity, heating and cooling, water and natural gas, GIS mapping, solid waste, and wastewater treatment.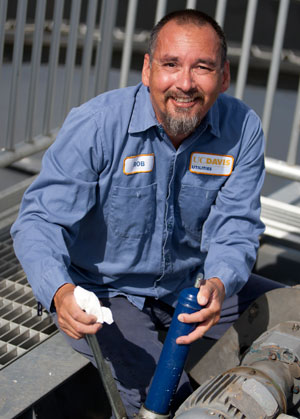 Category