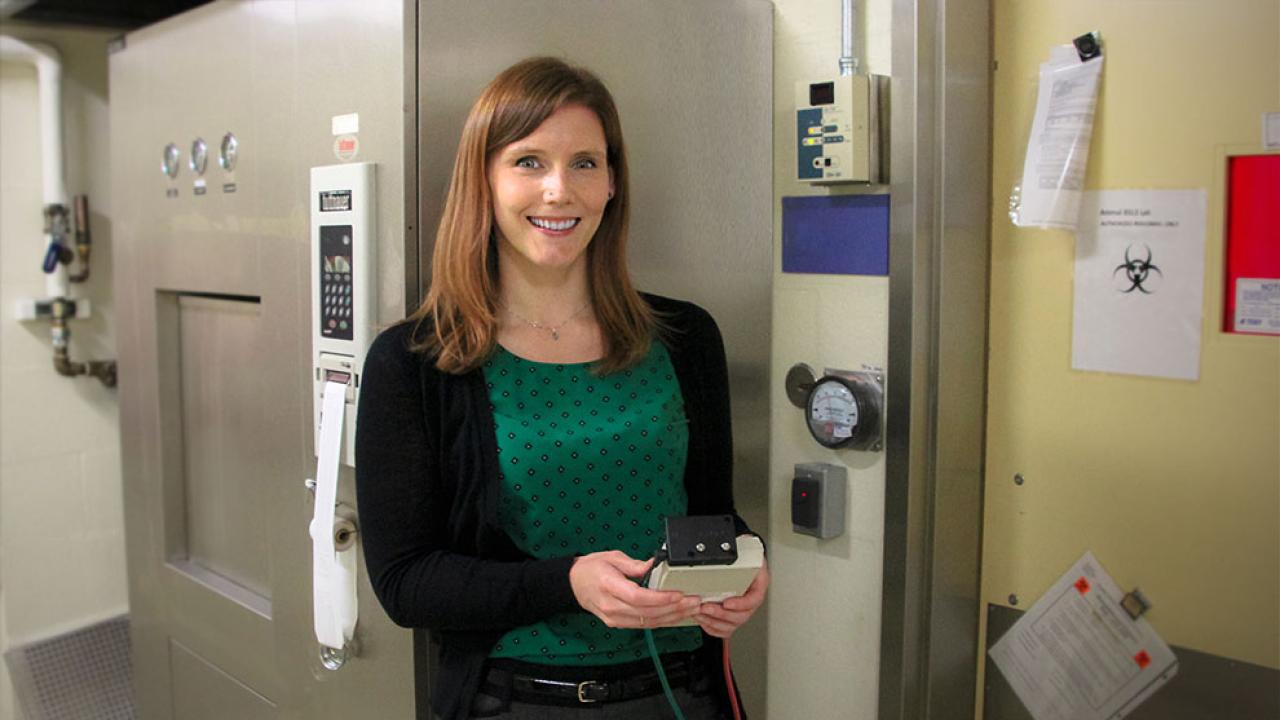 "My goal is to make it as easy as possible for researchers to do their work safely."
Chelsea A. Schiano, Ph.D, is a High-Containment Facility Officer with Safety Services.
---
When did you join the university?
I joined UC Davis in September of 2015. My position was created based on recommendations made to President Napolitano by the University of California-wide task force on high-containment lab safety.
What's your day-to-day role in stewarding university resources?
As the High-Containment Facility Officer, I am responsible for ensuring that the high-containment labs on campus are compliant with UCOP, state and federal regulations related to working with various high-risk pathogens. I meet with personnel who use these labs as well as Departmental Safety Coordinators, Emergency Responders, Facilities Management, Design and Construction Management and many others to explain regulations, provide training and recommend best practices for workflow and lab safety. My goal is to make it as easy as possible for researchers to do their work safely, and to avoid unnecessary expenses in facility design or maintenance while still appropriately managing risk.
What's an example of how you delight customers?
We had some pretty serious damage to one of our BSL-3 facilities, which put one of our PIs in a position where their critical research on infectious diseases would not be able to proceed for almost a year while repairs were made to that facility. In order to find this group a temporary home, a rather large group of people, including myself, worked to identify a space, develop and review design plans to retrofit it for our researcher's needs, and get it commissioned and certified for work in less than six months. They are thrilled to be in their new space! I am committed to being a resource for the high-containment research personnel, and to those who support their mission, in any way that I can.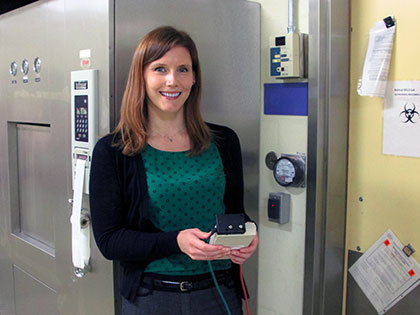 What do you like best about working at UC Davis?
I like being able to facilitate such a diverse research portfolio. Some institutions have a very limited scope of work, but here I can be reviewing the safety of a protocol for plant pathogens in the morning, and then discussing the logistics for a non-human primate study in the afternoon. I love being able to think about so many different scientific questions in any given day!
What's the most challenging part of your job?
I think that the most challenging part of my job is enforcing regulations or changes in the work practices of my researchers that are required to improve a critical safety aspect of their operation, because in some circumstances I know that those changes may be perceived as cumbersome. I worked in a lab for many years, so I really understand their perspective on that, but I strive to provide evidence-based reasons for those changes, and I think that scientists respect that approach.
Tell us one thing about yourself that most people wouldn't know.
I sing soprano in the Davis Community Chorale – I have actually been involved in chorus since the age of 10, but I took a hiatus during graduate school and my post-doc. I'm very happy to be back into it!
What's something you like to do when you're not at work?
When I'm not at work I try to be outdoors as much as possible. I enjoy hiking, camping, swimming, skiing or just relaxing outside.
Category